| | | |
| --- | --- | --- |
| Welcome | | You are not currently logged in. |
| | | |
| --- | --- | --- |
| | | |
| | | |
| | | |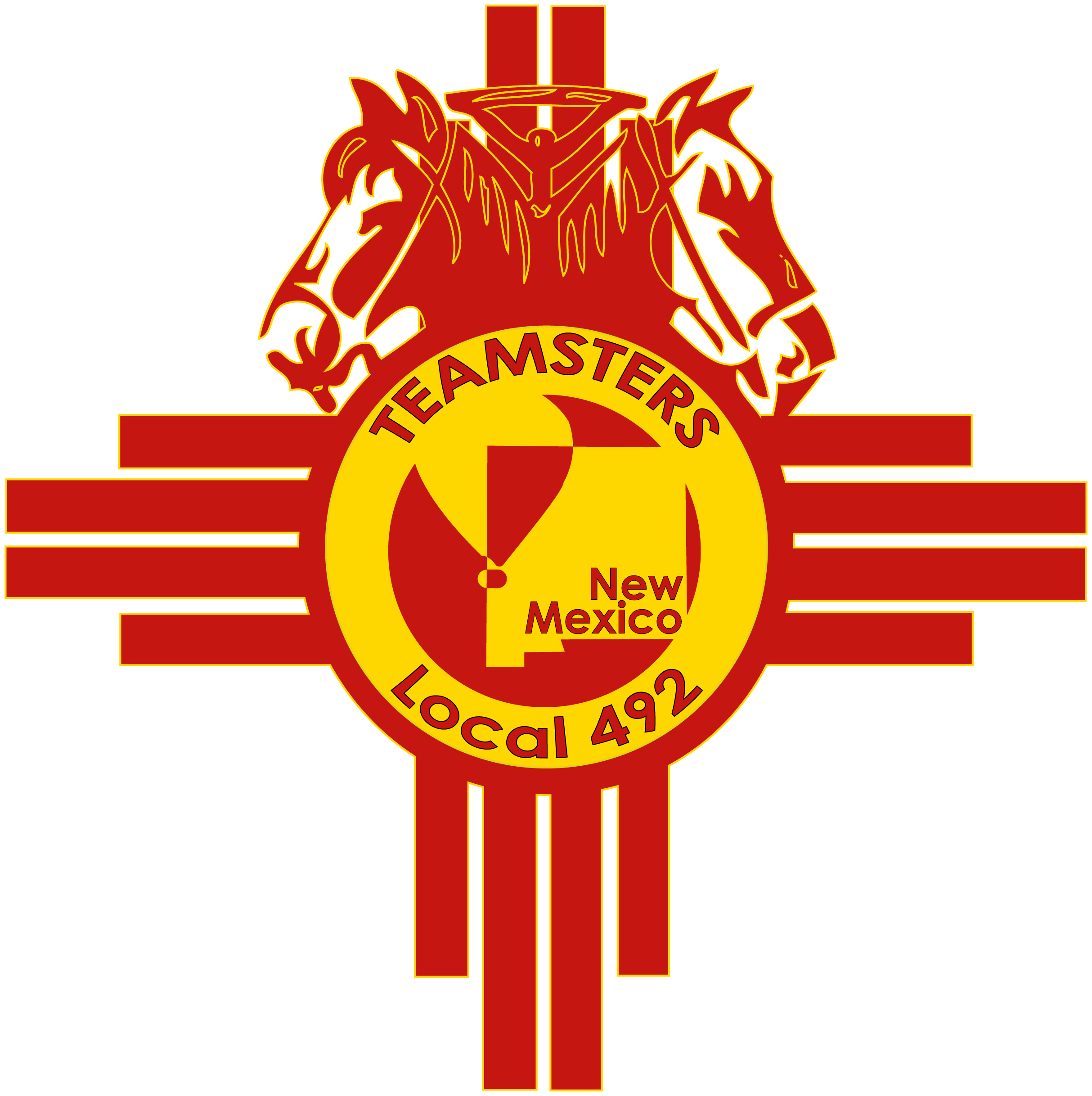 If you are a member in good standing, please register (log in) to participate in Member Only features, which include being able to view or download the Rocky Mountain Teamster, receive email and/or cell phone text updates in your industry from the local, download grievance forms and much more. Click here to read the Local 492 Welcome Message From Secretary-Treasurer, Walter R. Maestas.
Get Updates On Your Phone!The Union is only as strong as its members so please encourage all of your co-workers to text TEAM492 to 86466.

Teamster Bus Driver Leo Valencia Takes Top Honors at 2016 Annual Bus Roadeo and Conference
Teamster Leo Valencia who is a driver for North Central Regional Transit District took first place in the Cutaway Bus competition at this year's Bus Roadeo and Conference. The April 3 event was held during the Annual Conference and Expo which took place at the Hotel Encanto de Las Cruces in Las Cruces, New Mexico. (See Photos Here)
A warm round of congratulations from NCRTD Board Members and Board meeting attendees greeted Leo on April 8 where NCRTD Executive Director, Anthony Mortillaro, presented him with the NMPTA plaque honoring him for his First Place finish.
As winner of the New Mexico State Roadeo, Leo went to Portland for the National Roadeo event at the Community Transportation Association Expo in May where he, along with other New Mexico Roadeo conference winners, represented the Land of Enchantment. This is the 4th time in the last 5 years Leo has won 1st place in the state competition. Leo placed 14th in the national competition.
Leo Valencia drives for the RTD 340 Chile Line Red and began driving for the Chile Line in back in 2010.
Always a highlight of the Annual NMPTA Conference, the Roadeo is a fun and friendly challenge among transit drivers from across the State. What might look like a maze of randomly placed orange cones to the untrained eye, the expert drivers know exactly what they need to do to maneuver the course with precision. The timed course contains obstacles that test every phase a bus operator encounters under normal driving conditions. In addition to driving skills and written test, participants are also tested on ADA wheelchair securement standards and pre-trip vehicle inspection.
The competition is a showcase of vehicle operator skills and promotes safety, professionalism and excellence in transit operations.

The New Mexico Truck Driving Championships were held this year at the Isleta Resort for the second year. There was a large spectator turnout and the event is looking more like a "state fair/balloon fiesta" type function every year. With ABF, Sysco, UPS Freight, and YRC all having cook outs, it was a great family day for all that attended. See Photos Here
This year, the event had not only trucking companies showcasing their driver's talents, but some companies set up booths for people to learn more about their company. There were also vendors with booths of their own giving out goodies which included; Mack Truck, Rush Truck Center, Pre-Pass, NM Trucking, NM DOT-ITS (Intelligent Transportation Systems), Penske, and Legal Shield. There were also "show trucks" there, including the Teamster Joint Council #3 Truck, (thanks to Teamster retiree Jim Adams for bringing it in from Colorado) the ATA Share-The-Road Truck, San Juan Community College Truck, and the Veterans Day-POW Tanker by EMG Ltd.
The Teamster Companies were well represented again this year with 35 Teamsters from 5 Companies competing including ABF, Sysco, TeamOne, UPS Freight, and YRC sending their best of the best. Teamsters Local 492 is proud of these great drivers for competing in the TDC this year. Whether they placed or not, having such a strong Teamster presence of Professional Drivers at these functions speaks volumes in the trucking industry.
Congratulations to all the competitors and winners for another great Truck Roadeo! A special thanks to Teamsters Robert Aragon, Albert Lujan, Kenton Newbill, and Chad Sullins for volunteering to hostle and to Teamster Roy Lucas and also Ron Cordova, Randy Archer and his wife for setting up all the tents and cooking for everyone again this year, and all of the other unnamed volunteers that helped cook for the members.
Below is a list of the Teamster Companies that competed (in alphabetical order). Some of the companies did not respond to our request for information, so we apologize if we missed anyone.
ABF had 17 drivers compete, 13 placed:
Straight Truck: Don Wood – 2nd Place
3 Axle: Robert Delgado – 2nd Place
4 Axle: Ralph Garcia – 1st Place
4 Axle: Justin Gallant – 2nd Place (Rookie)
5 Axle: Joey Padilla – 2nd Place (Rookie)
5 Axle: Duane Oldfield – 3rd Place
Flatbed: Michael Contreras – 1st Place
Flatbed: Josh Perez – 2nd Place (Rookie)
Sleeper: Joseph Carrillo – 1st Place
Sleeper: Charlie Estrada – 3rd Place
Tanker: Gerald Benavidez – 1st Place
Tanker: Carl Marquez – 2nd Place
Twins: Fernando Gonzalez – 2nd Place (Rookie)
Justin Gallant – Rookie of the Year
ABF received the Team of the Year Award for the highest points.
ABF also was awarded the Fleet Safety Awards in the following categories:
100k – 500k Miles Fleet (City Operations)
5 Million Miles plus (Line Haul Operations)
The following ABF Teamsters also competed: In the 3 Axle - Randel Amberman & Kirk Wise. In the Twins Trailers - Ricky Lucas & Steven Russell.
Sysco - David Logan won 3rd place in Tanker.
Sysco had 6 drivers competing this year: In 3 Axle - Thomas Humphries, Jose Salas, & Sean Smartt. In 5 Axle - Aaron Clanan. In Tanker Truck – David Logan and Martin Montez.
TeamOne (UPS Truckload) won the 500k to 1M Fleet Safety Award and had 2 drivers competing this year; Brian Thais 4-Axle (this is his 8th year competing) & Cam Misner 4-Axle (this is his 4th year competing)
UPS Freight had 6 drivers compete this year: In 3 Axle - Steve Lopez, Ginger Victoria McKeegan & Joe Seijas. In 4 Axle - Keith Brewer & Armondo Hernandez. In Flatbed - Wendell Ellis.
YRC had 4 drivers compete this year: Stanley Aragon in 4 Axle. In 5 Axle Sleeper - Michael McAfee & Jack Rojas, In 5 Axle - Steven Taylor.
It was another great event put on by the NMTA and it seems to improve and grow larger each year. It was also great to see such a strong Teamster presence again this year and we hope to see you all again next year! Click Here to view all the scores.
Download:

2016 Truck Roadeo Scores.pdf

Drivers Seek Better Benefits, Strong Retirement, Fair Work Rules
The fight and long-term Teamster commitment to organize workers at FedEx Freight and to win first contracts moves forward, and the drivers are committed to keeping up the pressure in their quest for justice at their workplace.
"The main thing we're fighting is corporate greed," said Mel Mendieta, who has worked as a city driver at FedEx Freight for more than 25 years. "The company was cutting our benefits and our retirement security is lousy. We needed to form our union to gain our voice and help rebuild the middle class."
In 2015, Mendieta and 49 of his co-workers voted to join Local 439 in Stockton, Calif. Like FedEx Freight workers who also made Teamster history by voting to join the union at three other locations, they are remaining positive and fighting to win their first contract. The contract fight is now in court and with the NLRB.
The Teamsters are making progress at both FedEx Freight and at Con-way Freight, with organizing, firstever national days of action at both companies, nationwide engagement and interaction with the workers and the bargaining process that's under way. The union has also filed unfair labor practices charges, is involved with federal court cases, is building nationwide activist committees, is conducting freight member organizing trainings, launching shareholder resolutions and other ongoing steps.
A Long-Term Effort
"I've said it before and I'll say it again, the campaigns to build Teamster power at FedEx Freight and Con-way are not sprints, they are marathons," said Tyson Johnson, Director of the Teamsters National Freight Division. "We are committed long-term to this fight so that FedEx Freight and Con-way workers will have an opportunity to enjoy a more secure future as Teamsters."
Carter Marshall, a road driver at FedEx Freight near Chicago, said he wants to form a union with the Teamsters so that he and his co-workers can fight for better health care and retirement, and consistent work rules.
"The work rules are constantly changing and you don't know from one day to the next what you need to do," Marshall said. "It makes the job very difficult."
In Charlotte, N.C. where FedEx Freight workers joined Local 71, they are also in court trying to get the company to bargain fairly for a contract.
"We're dropping anchor and getting ready for the long-term fight," said Patrick Harrington, a road driver at FedEx Freight in Charlotte. "We appreciate all the support from Teamster freight members."
Although workers don't yet have a contract, Harrington said conditions have improved dramatically.
"We have more job security in Charlotte since forming our union," he said. "It's a night and day difference. I'm ecstatic. We're getting stronger."
Already Successful
The Teamsters' campaign has already raised standards for workers at both companies. For example, Con-way has spent more than $60 million on pay raises since the campaign began, in addition to the big money it has spent on union busting.
FedEx Freight raised wages at some facilities by as much as $4 per hour and almost 10 cents a mile in compensation, which includes a company-first 90-cent across-the-board increase last October. It has also held the employees' costs for health care static for the first time in more than a decade. The union estimates that the company has spent nearly $300 million this past year on pay raises, benefits and union busting tactics.
Raising standards in the freight industry through the Teamsters' efforts is an important factor which helps the FedEx Freight and Con-way workers directly. The union's efforts also indirectly help all freight industry workers, including our Teamster freight membership.
Mendieta said he hopes other FedEx Freight workers will research how the company's corporate greed is hurting them. "The company is full of spin and deception," he said.
Workers are not giving up and they appreciate the support that Teamsters are providing. "
Our fight will continue," he said. "It's an uphill battle but there's strength in numbers."
Click Here To Read More About the FedEx Freight and XPO/Conway Organizing Campaigns
Download:

FedEx Conway Leader Article.pdf

On March 7, 2016, a federal appeals court enforced a decision of the National Labor Relations Board and ordered FedEx Freight to recognize and bargain with Teamster Local 71 in Charlotte, N.C. and Local 107 in Philadelphia, where members in separate elections had voted to join the Teamsters. FedEx Freight had refused to recognize the NLRB's bargaining unit determinations and the resulting union election victories. This decision is a major win for Teamsters at FedEx Freight! Read the latest decisions in the case.
FedEx Freight Employees Demand Bargaining Now
FedEx Freight workers who have joined the Teamsters are fighting for fair contracts and they are asking their co-workers at FedEx Freight to fill out a petition demanding that the company bargain with the union. Click Here to sign petition.