| | | |
| --- | --- | --- |
| Welcome | | You are not currently logged in. |
| | | |
| --- | --- | --- |
| | | |
| | | |
| | | |

Teamsters Local 492 would like to thank everyone who attended the 2nd annual Membership Appreciation Cookout held on September 20th, 2014. Click Here to see all of the photos. An estimated 400 Members and their families came to the event from a wide variety of crafts and companies which included (in alphabetical order) ABF, AmeriPride Linen, Creamland, Movies, Sysco, TeamOne, UPS, UPS Freight, and YRC. There were many Teamster Retirees that also attended as well as New Mexico Attorney General Gary King. The Executive Board and Business Agents and office staff were there and enjoyed meeting and talking to the Members in this social atmosphere which also gave the Members a chance to have quality time to ask questions and get to know the 492 E-Board & BA's better.
Teamster Members and their families were treated to Hamburgers & Hotdogs, Teamster T-shirts that commemorated the event, along with other Teamster Local 492 items. Attendees were also able to get an up-close look at the Teamster Joint Council #3 Tractor/Trailer which was brought down from Colorado by Retired Vice President of Local 455, Jim Adams.
There was a raffle held for the 84 members that signed up; Frank Lesku of ABF won the 32 inch TV, Yellow retiree Tony Tellez won a Blue tooth speaker set and Armando Hernandez of Creamland also won a Blue tooth speaker set.
John Wegrzynek of UPS won 1st place in the car show with his Silver & Red Mustang, Tony Tellez a Yellow Retiree won 2nd with his Green Truck, and David Snow of Creamland won 3rd place with his White Mustang.
We would like to thank Brother David Snow who is a Union Steward at Creamland for donating his time and jumper for the kids to play in on Saturday. As you can see from some of the photos, the kids had a great time.
Finally, Teamsters Local 492 would like to thank the volunteers that helped make the 2nd annual 492 Membership Appreciation event possible and so successful, which include Brother Joseph Carrillo of ABF and special thanks goes out to Brother Kevin Pohl and Brother Moises Ortega for organizing the event.
Thank you to all who participated and attended this event, we truly enjoyed seeing all of you and meeting your families and we hope to be able to do this again next year. On behalf the Teamsters Local 492 staff, Business Agents and Executive Board, we truly appreciate the Members of this Local Union and everything you do to make this Union great, and all the hard working Union Stewards that do such a great job helping their fellow Members, Thank you Teamster Brothers & Sisters.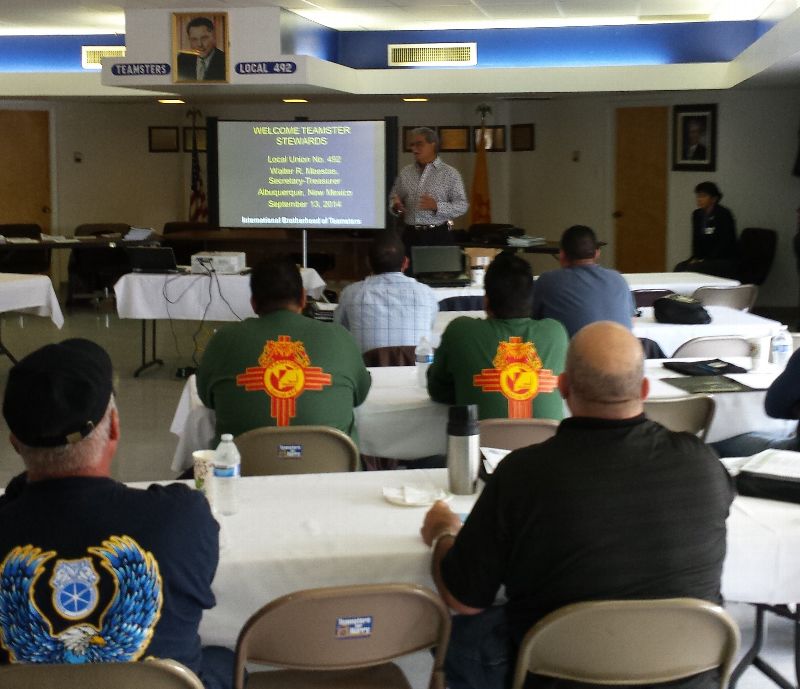 9-13 -14 Today, dozens of Teamster Union Stewards from all over New Mexico came together to better understand their duties and rights as Stewards and first heard from Teamsters Local 492 Secretary-Treasurer Walter R. Maestas about the importance of a good steward and thanked the stewards in attendance for everything they do to help their fellow members.
Teamster Sister Iliana Flores of the IBT training department taught the stewards about Teamster History, building a stronger Union through unity, proper investigation & grievance procedures, understanding "just cause", knowing the contract, work rules and policies, issue resolution, enforcing contracts, arbitration, understanding the rights through government programs like FMLA, and much more. (Click Here to view more photos)
New Mexico Attorney General Gary King spoke about his current work to curb the misclassification of workers, wage theft and other worker issues he deals with. He then answered questions from the stewards.
After a great Mexican food lunch, Teamsters Local 492 President Moises Ortega spoke about local politics and the "Right to Work" issue; he then introduced Teamster Brother Kevin Currie from the IBT Political Department who spoke about the importance of voting for political candidates that support the rights of workers. He also explained why "Right to Work" is a completely deceptive name for a law that hurts not only Unions and there members, but slowly erodes workers rights for everyone over time. Brother Brian Thais of TeamOne (Sara Lee) gave an example of this with his recent experience going through contract negotiations where the Teamsters in the New Mexico division fared much better than their counterparts in Arizona which is a "right-to-work" state.
The stewards that attended the seminar received a specially designed Teamsters shirt for New Mexico Stewards, Teamsters Local 492 license front plate, 492 steward lapel pin, 492 writing pen, a 97 page Stewards workbook & handouts, and a Teamsters Local 492 portfolio folder with note pad, calculator & the beautiful NM Teamster Logo on the front.
It was great to see all the Teamster knowledge, experience and pride in one room. We want to thank all of these dedicated Teamster Stewards for giving up their Saturday to improve their skills at helping their fellow Teamsters. Thanks to the entire Teamsters Local 492 Executive Board and Business Agents, all of whom donated their time to be there, and a special thanks to Kevin Pohl for organizing the seminar, it was a great experience.

YRC Freight recently held an employee safety ceremony to celebrate a safety streak that began in January 2013 which set an all time YRC company record, 15 million consecutive accident and injury-free miles accomplished by all 85 Albuquerque Line drivers.
As seen in the picture (click here to view more pictures), The Company presented a specially designed trailer saluting the drivers' achievement at the safety celebration which proudly includes the names of all 85 drivers and the logos of the New Mexico Teamsters and the IBT. Each driver received a die-cast replica of the equipment and tee-shirts commemorating the amazing accomplishment. You may have noticed the trailer shows 10 million miles and the tee-shirts say 14 million but they celebrated 15 million. That is because when they hit 10 million they started working on the trailer, they had passed 14 million when the shirts were printed, and by the time the celebration actually took place they had hit 15 million. They have now reportedly surpassed the 16 million mark, wow!
35% of these YRC Teamster drivers have driven one million miles or more, two have driven over 4 million miles, two over 3 million miles & 27 drivers have worked more than 25 years injury free.
Also honored (see pictures) at the ceremony were:
Al Weddle, 57 years and over 4 million miles injury and accident free
CB Montoya, 42 years and over 4 Million miles injury and accident free
Joe Wright, 37 years accident free
Wes Johnson, 36 years injury and accident free
In attendance, Johnny R. Johnson, Managing Director of the New Mexico Trucking Association and American Trucking Association Chairman Phil Byrd, who spoke at the event. Also in attendance, Teamsters Local 492 Secretary-Treasurer Walter R. Maestas and Business Agent Kevin Pohl, representatives from the Federal Motor Carrier Safety Administration, and New Mexico Transportation Police, who will be distributing the 85 donated new child car safety seats to families in need, in the name of each member of the YRC Freight Albuquerque driving team who has contributed to the safety milestone.
YRC Freight President Darren Hawkins said, "Having 85 drivers work together to achieve 15 million consecutive accident and injury-free miles is a testament to the professionalism of the Albuquerque team. It is a real honor to be in Albuquerque with the drivers today so that we can personally pay tribute to their achievement. The YRC Freight Albuquerque driving team's safety record is evidence of what a team can do when collectively focused not only on their own safety, but also on the safety of others."
Also speaking at the event was Albuquerque YRC Freight Linehaul Manager Hoss Salehian who said, "These Albuquerque drivers set an all time record of 15 million miles driving without lost time and preventable accidents. To put that in perspective, 15 million miles is equivalent of 60 trips between here and the moon and over 600 trips around the earth. I am pleased to recognize these 85 men for their achievement in transportation safety; this is a significant accomplishment that attests to their dedication to safety. These drivers embody the values and professionalism that is YRC Freight. I am very proud of these men and thankful for their dedication and remarkable achievement."
Teamsters Local 492 is also very proud of our brothers at YRC and wish to congratulate them on this amazing record. As the sign says above the door at the AQE facility, (see picture here) "Through This Door, Pass The Finest Union Drivers In North America," and they have certainly lived up to that!

In preparation for the Upcoming Membership Appreciation Day being held at the hall on September 20th, Trustee & ABF Driver Kelvin Holly, BA Kevin Pohl, & BA Kenny Duran put their gloves on and got to work. They pulled all of the old junipers that bordered Jefferson, trimmed trees and bushes, pulled weeds and much more. By doing this "in house", these 3 guys have saved the Members of Teamsters Local 492 a lot of money!
On behalf of all of the Members of Teamsters Local 492, a very big Thank You goes out to these 3 hard working Teamsters. Click here to view some of the pics we took of their hard work.