| | | |
| --- | --- | --- |
| Welcome | | You are not currently logged in. |
| | | |
| --- | --- | --- |
| | | |
| | | |
| | | |

In a historic first, dock associates at FedEx Freight in Surrey, British Columbia have joined Teamsters Local 31. Read Teamsters Canada press release, here.
It's a North American first for these workers at FedEx. Before this victory, the only unionized FedEx employees were the company's U.S.-based pilots.
"We are tremendously excited to welcome the FedEx Freight workers into the Teamsters, and we hope this is the first of many victories at this company," said Stan Hennessy, President of Delta, British Columbia-based Local 31, who is also an International Union Vice President. "We will now work hard to negotiate a strong first contract."
FedEx Freight workers in Delanco, New Jersey will be voting on October 10 in their Teamsters election, and numerous Teamster local unions in the United States have filed for elections at FedEx Freight.
"We are seeing workers at FedEx Freight across North America saying they want their wages, benefits and working conditions negotiated in a legally binding union contract," said Jim Hoffa, Teamsters General President. "They are turning to the Teamsters for help and we will be there for them."
The workers in British Columbia are seeking improved benefits, fair wages and a pension.
"Most of these new members only work 20 hours a week. How are they supposed to improve their quality of life?" said Stan Hennessy. "They have had enough of living without the slightest safety net!"
Local 31 collected cards from a majority of the 14 workers in the bargaining unit, then submitted an application on June 4, 2014 to represent the workers with the Canada Industrial Relations Board.
Local 31 was certified as the bargaining representative on September 15, 2014.
"The company sent representatives from other cities to the warehouse to meet with workers in group settings and one-on-one to dissuade them from supporting the union, but the workers remained united in their support to become Teamsters," said Ben Hennessey, Local 31 organizer.
Ben Hennessy said the victory was a group effort. He thanked Local 31 President Stan Hennessy, Teamsters Canada Organizer Grant Coleman and Local 31 Business Agent Mike Hennessy, as well as the local's staff members, for helping with the victory.
Local 31 will look into organizing other workers at the warehouse, which opened in 2012.
On a recent related note, on September 12, 2014, drivers and dockworkers at Con-Way Freight in Laredo, Texas also voted to join the Teamsters.
"This is a great victory for the workers at Con-Way and we hope this campaign spreads," said Frank Perkins, President of San Antonio-based Local 657. "These workers are seeking fair wages, respect on the job and job security. They also want to have a pension and improved health care coverage."
There are 113 workers in the bargaining unit.
"We chose Laredo because it is the busiest inland port in the United States," Perkins said. "Seven thousand trucks cross the border with Mexico every day."
On September 9, Teamsters Joint Council 42 in Southern California filed for election at three Con-Way terminals.
You can view or join the Conway conversation Here
Download:

fedex_Canada9-17-14.pdf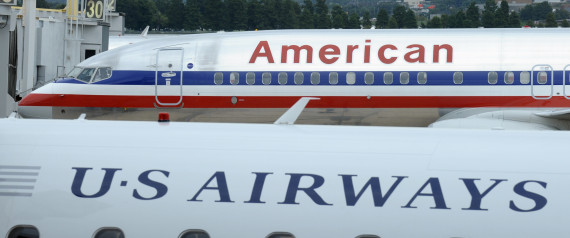 In a vote announced today by the National Mediation Board (NMB), more than 15,000 passenger service professionals at the newly-merged American-US Airways have voted to join the CWA-IBT Customer Service Employee Association. The joint effort to organize passenger service agents was led by Communication Workers of American (CWA) which will represent about 7,500 new members; 1,300 new members will be represented by the International Brotherhood of Teamsters.
Agents at both airlines voted over the phone and online in a month-long election administered by the NMB. The results were tallied and it was announced today that the workers had voted for the CWA-IBT Association by a 6-to-1 margin.
"We are honored to represent a total of more than 3,000 passenger service agents at the New American Airlines," said Teamsters Airline Division Director David Bourne. "The Teamsters are committed to providing American Airlines employees and our existing members at US Airways with strong representation as both airlines continue to integrate in this merger."
Prior to its merger with American Airlines, US Airways' passenger service agents were represented by CWA in the east with approximately 4,700 members and by the Teamsters in the west with about 1,800 members. The shared representation was the result of US Airways' merger in 2005 with America West Airlines whose customer service agents were Teamsters. US Airways' latest merger with American Airlines, whose agents were nonunion, led to an election to determine representation for all agents at the newly-merged carrier.
"With our partners in CWA, the Teamsters are leading the way in protecting airline professionals involved in the biggest airline merger in history," said Teamsters General President Jim Hoffa. "Our union is dedicated to fighting on behalf of workers in this volatile industry. Our new members at the combined American-US Airways now have two of the strongest airline unions in their corner."
American Airlines agents who have won representation for the first time are concerned about outsourcing, job security, fair work rules and having a strong contract. The agents know from experience how vulnerable they are without representation. American's 2011 bankruptcy led to layoffs, outsourced job titles, and sharp cuts in pay and benefits for those who kept their jobs.
"I can't tell you how great this victory is for us," said Debra Ewing, a 15-year US Airways agent in Phoenix, Ariz. "American Airlines customer service agents have tried for over 20 years to gain representation and the merger with US Airways allowed the Teamsters to step in and bring home a win. This means an end to so much outsourcing for American agents who will regain profit-sharing, shift differentials, a three-tiered medical plan, paid vacation and more. That's what union representation is – and now we all have it."
Agents at US Airways have enjoyed strong representation for years and are looking forward to having an even stronger voice in the merger process with 9,000 new agents at American strengthening their association.
To read a related Article from the Huffington Post, Click Here

Teamsters Local 492 would like to thank everyone who attended the 2nd annual Membership Appreciation Cookout held on September 20th, 2014. Click Here to see all of the photos. An estimated 400 Members and their families came to the event from a wide variety of crafts and companies which included (in alphabetical order) ABF, AmeriPride Linen, Creamland, Movies, Sysco, TeamOne, UPS, UPS Freight, and YRC. There were many Teamster Retirees that also attended as well as New Mexico Attorney General Gary King. The Executive Board and Business Agents and office staff were there and enjoyed meeting and talking to the Members in this social atmosphere which also gave the Members a chance to have quality time to ask questions and get to know the 492 E-Board & BA's better.
Teamster Members and their families were treated to Hamburgers & Hotdogs, Teamster T-shirts that commemorated the event, along with other Teamster Local 492 items. Attendees were also able to get an up-close look at the Teamster Joint Council #3 Tractor/Trailer which was brought down from Colorado by Retired Vice President of Local 455, Jim Adams.
There was a raffle held for the 84 members that signed up; Frank Lesku of ABF won the 32 inch TV, Yellow retiree Tony Tellez won a Blue tooth speaker set and Armando Hernandez of Creamland also won a Blue tooth speaker set.
John Wegrzynek of UPS won 1st place in the car show with his Silver & Red Mustang, Tony Tellez a Yellow Retiree won 2nd with his Green Truck, and David Snow of Creamland won 3rd place with his White Mustang.
We would like to thank Brother David Snow who is a Union Steward at Creamland for donating his time and jumper for the kids to play in on Saturday. As you can see from some of the photos, the kids had a great time.
Finally, Teamsters Local 492 would like to thank the volunteers that helped make the 2nd annual 492 Membership Appreciation event possible and so successful, which include Brother Joseph Carrillo of ABF and special thanks goes out to Brother Kevin Pohl and Brother Moises Ortega for organizing the event.
Thank you to all who participated and attended this event, we truly enjoyed seeing all of you and meeting your families and we hope to be able to do this again next year. On behalf the Teamsters Local 492 staff, Business Agents and Executive Board, we truly appreciate the Members of this Local Union and everything you do to make this Union great, and all the hard working Union Stewards that do such a great job helping their fellow Members, Thank you Teamster Brothers & Sisters.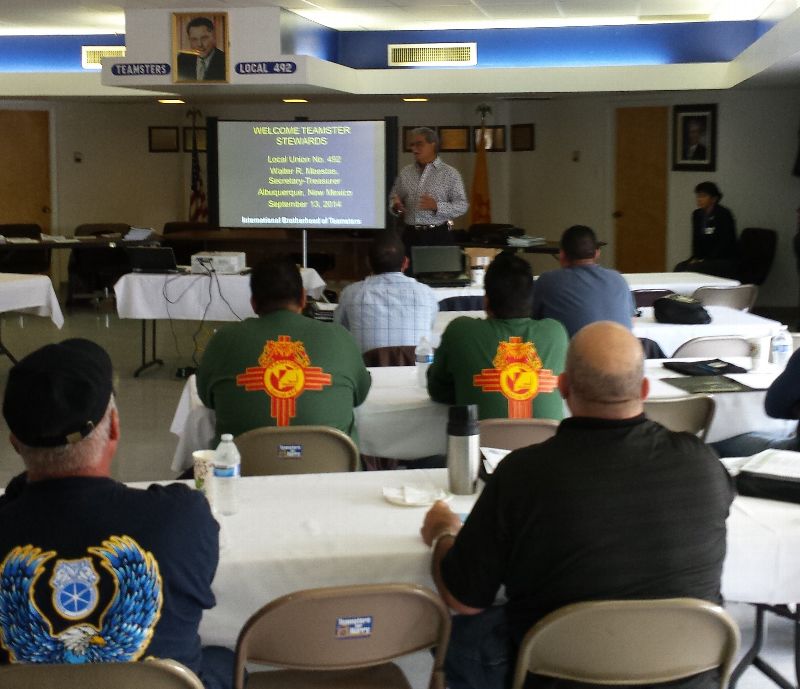 9-13 -14 Today, dozens of Teamster Union Stewards from all over New Mexico came together to better understand their duties and rights as Stewards and first heard from Teamsters Local 492 Secretary-Treasurer Walter R. Maestas about the importance of a good steward and thanked the stewards in attendance for everything they do to help their fellow members.
Teamster Sister Iliana Flores of the IBT training department taught the stewards about Teamster History, building a stronger Union through unity, proper investigation & grievance procedures, understanding "just cause", knowing the contract, work rules and policies, issue resolution, enforcing contracts, arbitration, understanding the rights through government programs like FMLA, and much more. (Click Here to view more photos)
New Mexico Attorney General Gary King spoke about his current work to curb the misclassification of workers, wage theft and other worker issues he deals with. He then answered questions from the stewards.
After a great Mexican food lunch, Teamsters Local 492 President Moises Ortega spoke about local politics and the "Right to Work" issue; he then introduced Teamster Brother Kevin Currie from the IBT Political Department who spoke about the importance of voting for political candidates that support the rights of workers. He also explained why "Right to Work" is a completely deceptive name for a law that hurts not only Unions and there members, but slowly erodes workers rights for everyone over time. Brother Brian Thais of TeamOne (Sara Lee) gave an example of this with his recent experience going through contract negotiations where the Teamsters in the New Mexico division fared much better than their counterparts in Arizona which is a "right-to-work" state.
The stewards that attended the seminar received a specially designed Teamsters shirt for New Mexico Stewards, Teamsters Local 492 license front plate, 492 steward lapel pin, 492 writing pen, a 97 page Stewards workbook & handouts, and a Teamsters Local 492 portfolio folder with note pad, calculator & the beautiful NM Teamster Logo on the front.
It was great to see all the Teamster knowledge, experience and pride in one room. We want to thank all of these dedicated Teamster Stewards for giving up their Saturday to improve their skills at helping their fellow Teamsters. Thanks to the entire Teamsters Local 492 Executive Board and Business Agents, all of whom donated their time to be there, and a special thanks to Kevin Pohl for organizing the seminar, it was a great experience.