| | | |
| --- | --- | --- |
| Welcome | | You are not currently logged in. |
| | | |
| --- | --- | --- |
| | | |
| | | |
| | | |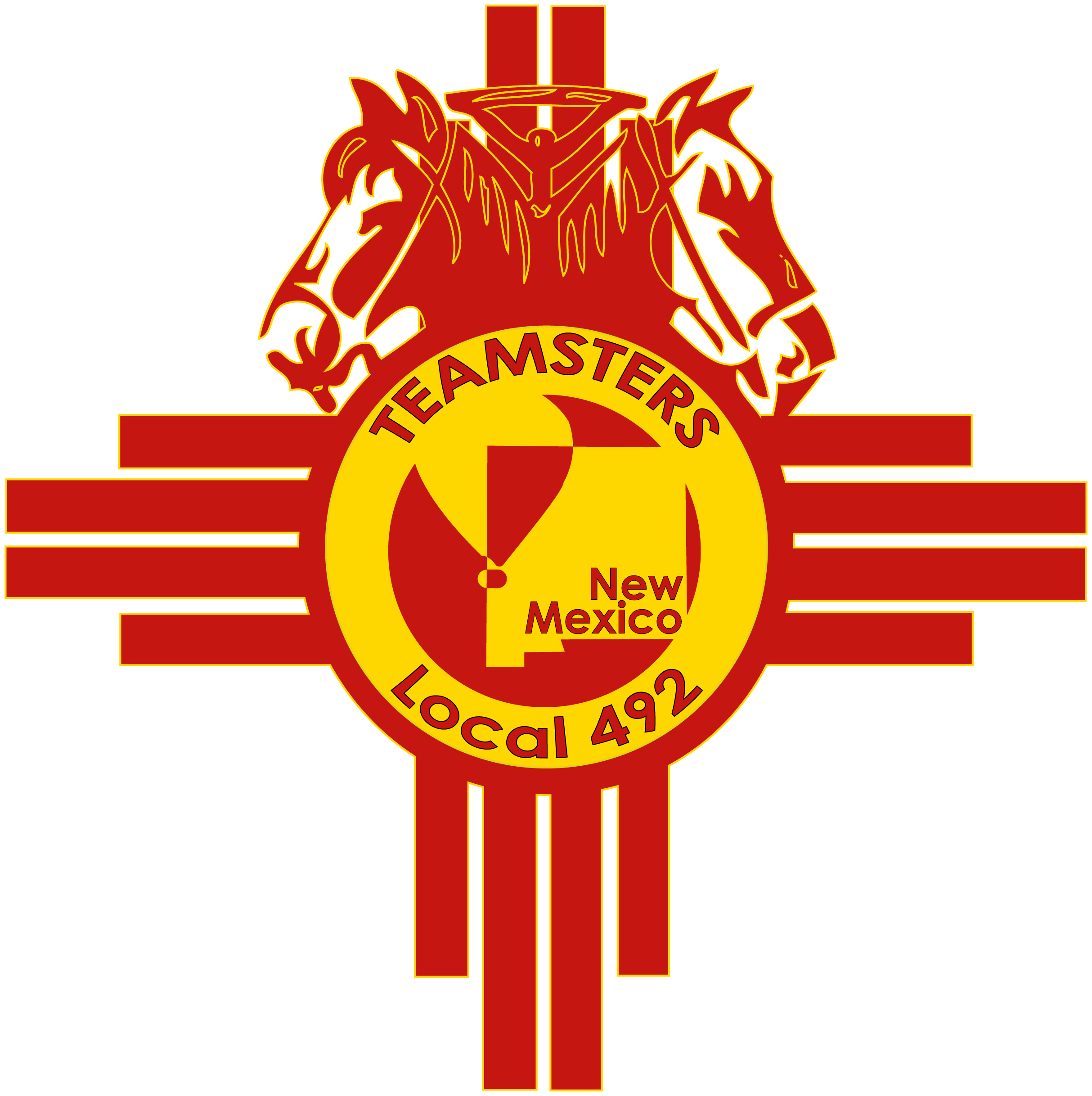 If you are a member in good standing, please register (log in) to participate in Member Only features, which include being able to view or download the Rocky Mountain Teamster, receive email and/or cell phone text updates in your industry from the local, download grievance forms and much more. Click here to read the Local 492 Welcome Message From Secretary-Treasurer, Walter R. Maestas.
Get Updates On Your Phone!The Union is only as strong as its members so please encourage all of your co-workers to text TEAM492 to 86466.
We had a big night in Santa Fe! Thank you to everyone who came out today and has helped us along the way. It's really been a team effort. Here is the update:
Right to Work: The Senate Public Affairs Committee (SPAC) heard SB 269, The Employee Preference Act (aka right to work) on Tuesday night. When the committee chair asked that everyone in the room opposed to the RTW bill to stand, the whole room stood up! Attached is a picture of the opposition to RTW standing in front of the committee. It's amazing!
Each side had 6 people speak to the committee about the effects of the bill. The first opposition speaker was Tim Crone from AFT. He delivered to the Committee the 4000 petition signatures we had gathered. The committee voted to table the bill (5-4). This essentially kills the bill. The fight isn't completely over yet, but this was a great night.
Prevailing Wage: A bad prevailing wage bill, HB200, passed the House (35-32) mostly along party lines and is headed to the Senate.
Lobby Day: UFCW had a lobby day today. They also delivered 112 letters from Working America to Senator Barela who is the newest member of the SPAC. Thank you letters where also delivered to Senator Campos.
New Mexico had one of the highest unemployment rates in the nation in recent months. You'd think that Gov. Susana Martinez and state legislators would focus on getting New Mexicans back to work and protecting good jobs.
But they're doing just the opposite. This week, the state House began debate on a bill that would eliminate prevailing wage laws for construction workers. This bill will lower the wages of hardworking New Mexicans, make it easier for construction companies to hire out-of-state workers for taxpayer-funded projects and make our schools, bridges and roads less safe and cost more.
The New Mexico House is expected to pass this bill, but we think we have a good shot at stopping it from moving out of the state Senate.
Send an email to your senator today and ask them to vote against any bill that would eliminate prevailing wage laws.
This one is pretty simple. Prevailing wage laws help to ensure that local workers, whose families shop and support local businesses in our communities, are hired to build our schools, bridges and other taxpayer-funded projects.
But if these laws are repealed, less-skilled, out-of-state construction workers will be brought in to do this work, which won't save our communities any money—in many cases, it costs more—because they won't be getting the job done right the first time. Also, having less-skilled workers do these jobs would make the schools, bridges and roads we use every day less safe.
That's not what our families and working people deserve.
Contact your senator today and ask them to protect existing prevailing wage laws.

On January 8th & 9th Teamsters Local 492 hosted a 2016 Legislative Session training day for 8 NM Unions, over 100 Union Members showed up to learn about the upcoming fight to keep anti-worker legislation out of New Mexico. Unions from across NM attended including AFT, AFSCME, IATSE, IAM, IBEW, IBT, NEA, & UFCW.
These members learned the real reason RTW and other anti-worker bills are actually be pushed in NM and why out-of-state organizations like ALEC are pressuring local legislators to pass these bills they have created.
Speakers of note were State Senator Mimi Stewart and Rep Patricia Roybal Caballero who discussed the importance of getting involved and reaching out to your legislators to let them know you are against anti-worker bills like RTW.
On behalf of everyone that attended, Teamsters Local 492 would like to thank Michelle Mayorga & Chelsey Evans for organizing the event.
To Read More about RTW and why it is bad for workers, Click Here.