| | | |
| --- | --- | --- |
| Welcome | | You are not currently logged in. |
| | | |
| --- | --- | --- |
| | | |
| | | |
| | | |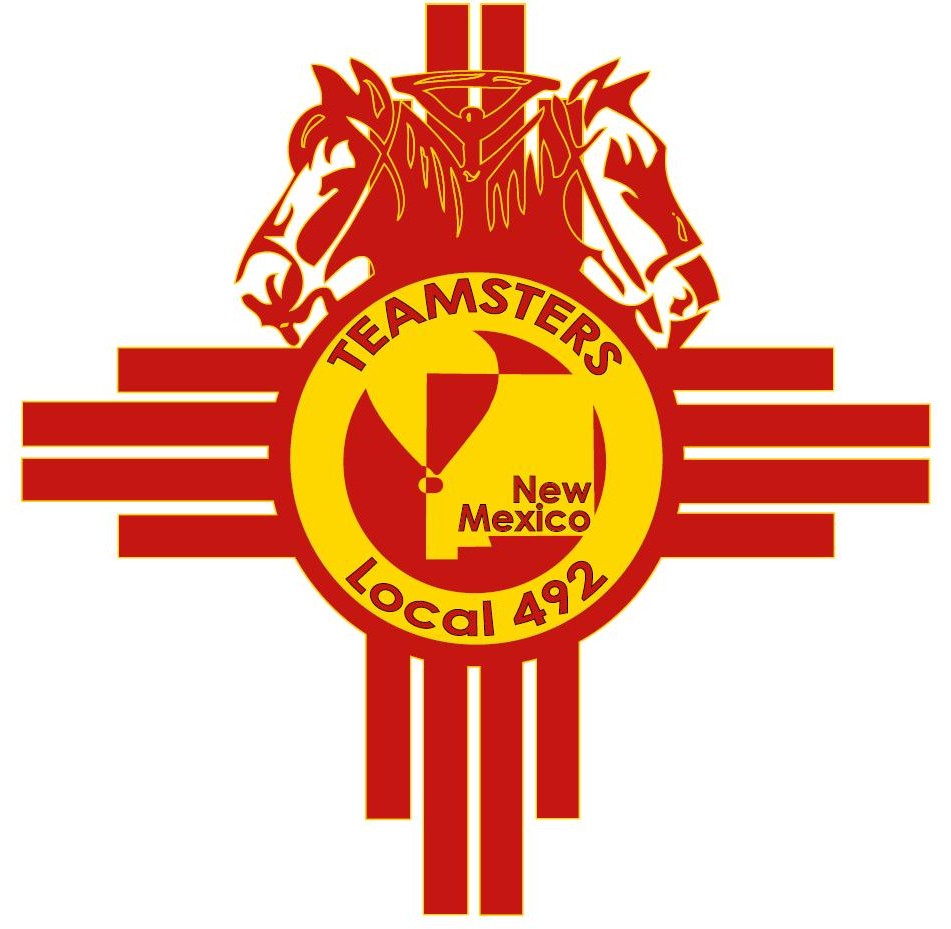 If you are a member in good standing, please register (log in) to participate in Member Only features, which include being able to view or download the Rocky Mountain Teamster, receive email and/or cell phone text updates in your industry from the local, download grievance forms and much more. Click here to read the Local 492 Welcome Message From Secretary-Treasurer, Walter R. Maestas.
Get Updates On Your Phone!The Union is only as strong as its members so please encourage all of your co-workers to text TEAM492 to 86466.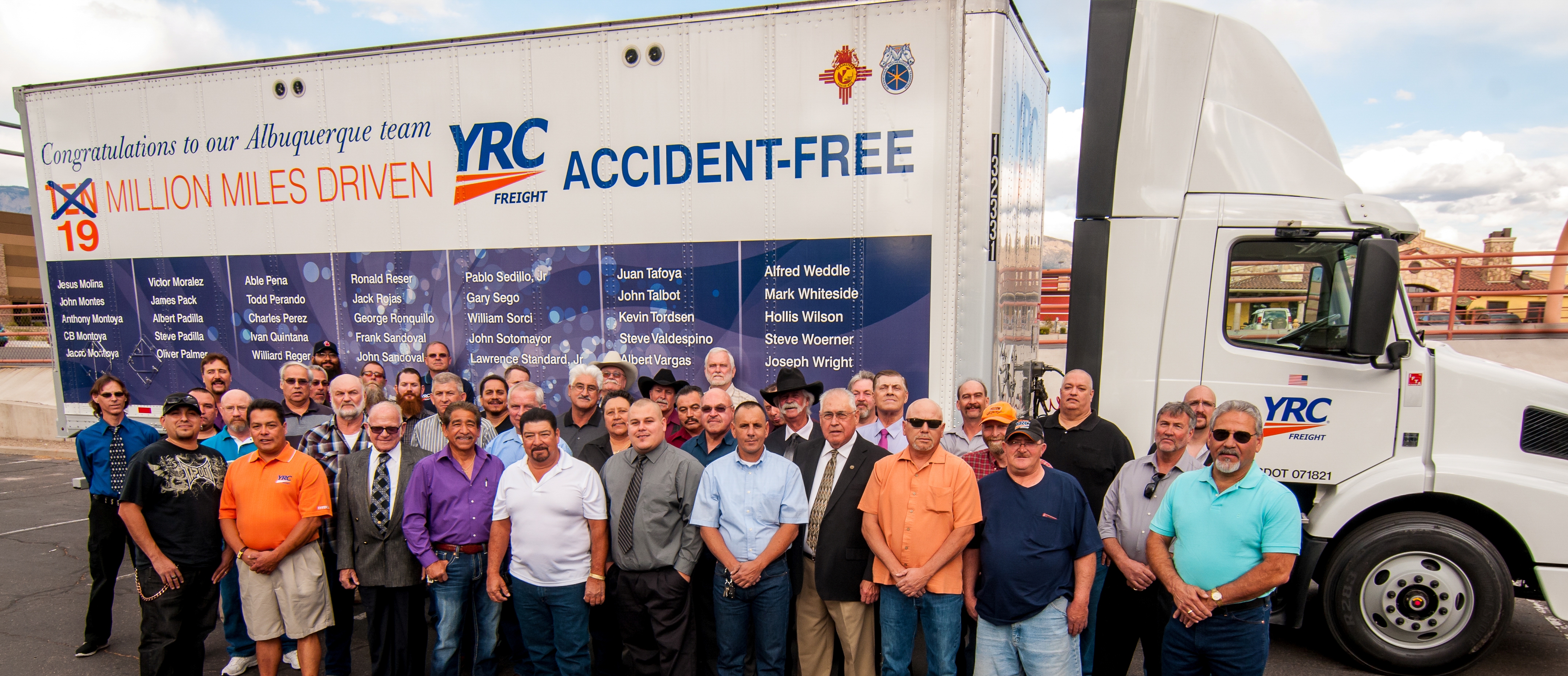 YRC Freight held an employee safety ceremony to celebrate a safety streak from January 2013 to January of 2015, which set an all time YRC company record, 19 million consecutive accident and injury-free miles accomplished by all 85 Albuquerque Line drivers. This article is an Updated version of an article originally posted on Teamsters492.org in September of 2014.
Shown in the picture (you can see more pictures by clicking here) the Company presented the specially designed and updated trailer saluting the drivers' achievement at the safety celebration which proudly includes the names of all 85 drivers and the logos of the New Mexico Teamsters and the IBT. It was altered to read 19 million miles in honor of the more current streak.
The trailer was originally presently in September 2014 at the 15 million mile celebration, when each driver received a die-cast replica of the equipment and tee-shirts commemorating the amazing accomplishment. You may have noticed the trailer originally showed "TEN" million miles, the tee-shirts given out said 14 million but they celebrated 15 million. That is because when they hit 10 million they started working on the trailer, they had passed 14 million when the shirts were printed, and by the time the celebration actually took place they had hit 15 million. In January of 2015 they hit the 19 million mark and the trailer was updated to reflect that.
As of September, 35% of these YRC Teamster drivers had driven one million miles or more, two had driven over 4 million miles, two over 3 million miles & 27 drivers had worked more than 25 years injury free.
Also honored at the September 2014 ceremony were:
Al Weddle, 57 years and over 4 million miles injury and accident free
CB Montoya, 42 years and over 4 Million miles injury and accident free
Joe Wright, 37 years accident free
Wes Johnson, 36 years injury and accident free
In attendance, Johnny R. Johnson, Managing Director of the New Mexico Trucking Association and American Trucking Association Chairman Phil Byrd, who spoke at the event. Also in attendance, Teamsters Local 492 Secretary-Treasurer Walter R. Maestas and Business Agent Kevin Pohl, representatives from the Federal Motor Carrier Safety Administration, and New Mexico Transportation Police, who distributed the 85 donated new child car safety seats to families in need, in the name of each member of the YRC Freight Albuquerque driving team who has contributed to the safety milestone.
YRC Freight President Darren Hawkins said at the September ceremony, "Having 85 drivers work together to achieve 15 million consecutive accident and injury-free miles is a testament to the professionalism of the Albuquerque team. It is a real honor to be in Albuquerque with the drivers today so that we can personally pay tribute to their achievement. The YRC Freight Albuquerque driving team's safety record is evidence of what a team can do when collectively focused not only on their own safety, but also on the safety of others." (There has been no press release from the company about the 19 million mile achievement yet)
Also speaking at the event was Albuquerque YRC Freight Linehaul Manager Hoss Salehian who said, "These Albuquerque drivers set an all time record of 15 million miles driving without lost time and preventable accidents. To put that in perspective, 15 million miles is equivalent of 60 trips between here and the moon and over 600 trips around the earth. I am pleased to recognize these 85 men for their achievement in transportation safety; this is a significant accomplishment that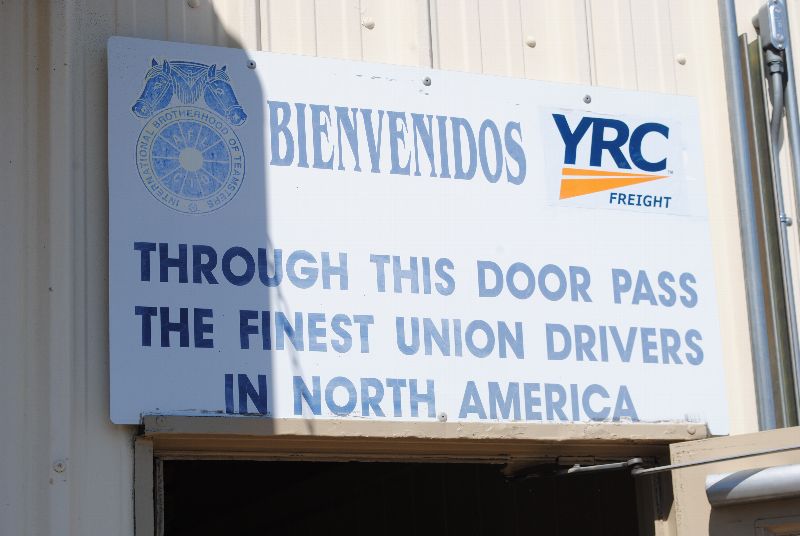 attests to their dedication to safety. These drivers embody the values and professionalism that is YRC Freight. I am very proud of these men and thankful for their dedication and remarkable achievement."
Teamsters Local 492 is also very proud of our brothers at YRC and wish to congratulate them on this amazing record. As the sign says above the door at the AQE facility, (see picture) "Through This Door, Pass The Finest Union Drivers In North America," and they have certainly lived up to that!

This was another good year for the Teamster represented Companies at the 2015 Truck Roadeo. New Mexico Teamsters Local 492 Secretary-Treasurer Walter R. Maestas was there to lend his support to all the Teamsters in the roadeo which included drivers from ABF, Sysco, TeamOne, UPS Freight, and YRC. Individual Teamsters from ABF, TeamOne & YRC took home 10 placement awards, 2 DOM awards and CB Montoya of YRC received the Driver of the Year Award.
Click Here to View Photos provided to us by Ruby Wilson, Thanks Ruby!
This article will be updated as info and pictures are provided to us. At this point only ABF & YRC have responded to our requests for info.
ABF
ABF had a large showing of supporters at this year's roadeo which included ABF Freight President Tim Thorne, VP of Line haul Mark McMinn, Regional VP Andy Upchurch, West Regional Director Ed Myers, ABF Local Management and employees from the shop, dock, line haul, and office.
Here are their results:
1st place in Sleeper class Ralph Garcia, which is his13th win in a row
1st place in 5-axle class Charlie Estrada
1st place Straight Truck class Donald Woods
2nd place Flatbed class Tito Torres
3rd place 4-axle class Ricky Lucas
3rd place Twins Chad Sullins, his 7th year in a row placing
3rd place 5-axle class Michael Contreras
ABF Freight had 2 drivers honored as "Driver of the Month" for 2014; Carroll Weaver for February and Fred White for March.
ABF won two Fleet safety Awards, the city operation won the 100,000 to 500,000 mile category which they also won last year, and Line Haul won the over 5,000,000 mile award for the 4th consecutive year!
Line Haul Manager Randy Archer received the 2015 "Jim Wilcox Award" recognizing service in the field of safety.
Also competing from ABF; Randy Amberman (out of Farmington, NM) and Kirk Weis in 3-axle, Gerald Benavidez in 4-axle, Craig Arellano in flatbed, Robert Delgado in tanker, Duane Oldfield in twins.
ABF Freight Safety department has agreed to sponsor a new award, to be called the "Ralph Garcia Award". It was awarded to ABF driver and 13 time winner Ralph Garcia this year and he will present it to other deserving competitors in the future. It is for continued excellence in safety and participation in the NM TDC's. The NM Safety Management Council was inspired by National "Neal Darmstadter Award" when creating this award.
YRC
YRC recently celebrated 19 million miles accident and injury free, the streak was from January 2013 to January 2015 (see picture above). Congratulations to all the Teamster drivers at YRC that made this happen! You truly have made us proud. YRC received the "Carrier of the Year" award at the NM TDC this year because of your phenomenal record! To read an article we posted when they hit 15 million, click here.
Jack Rojas took 2nd in the 5-axle sleeper and Michael Mcafee took 3rd in the 5-axle sleeper. CB Montoya received driver of the year for his 6 million miles accident and injury free. CB has been with YRC 43 years, is 77 years old and is still driving safe. Other Participants from YRC were Leroy EyHcio in 3-axle, Manny Gomez in 5-axle, James Aragon in Twins and Frank Sandoval in Twins.
Team One
Brian Thais took 2nd place also participating Cameron Misner in 4-axle.
Sysco
Participants included Sean Smartt, Thomas Humphreys, Jose Salas, Pascual Montes all in 3 axle and Aaron Clonan in flatbed.
UPS Freight
Participants included Luis Soliz, Jr & Jose Seijas in 3-axle, Keith Brewer & Stephen Lopez in Twins.
Congratulations to everyone and we look forward to 2016! To view the 2014 TDC article, Click Here.
To View The Score Sheet, Click Here
Download:

TDC Results 2015.pdf

The Teamster Horsemen Motorcycle Association is starting a new chapter in New Mexico. We are a nonprofit organization set to bring our Teamster Brothers & Sisters together to ride. We will raise funds to help out brother and sister members within the Teamster Union. Our purpose is to help charitable organizations, especially children's causes. We reflect the values of Teamster Brotherhood and camaraderie and support our local communities and greater biker community. We are open to all union members who ride any make of bike as well as others sponsored by a Union member.
For information on joining the NM chapter of the Teamster Horsemen, as well as other officer information, please contact Chuck W 505-401-8346 or Jason P 505-918-4270.
Click here to download a flyer
Download:

TeamsterHorsemenNM.pdf
Retirement Crisis: The Great 401(k) Experiment Has Failed for Many Americans
Kelley Holland for CNBC -You need to know this number: $18,433. That's the median amount in a 401(k) savings account, according to a recent report by the Employee Benefit Research Institute. Almost 40 percent of employees have less than $10,000, even as the proportion of companies offering alternatives like defined benefit pensions continues to drop.
Older workers do tend to have more savings. At Vanguard, for example, the median for savers aged 55 to 64 in 2013 was $76,381. But even at that level, millions of workers nearing retirement are on track to leave the workforce with savings that do not even approach what they will need for health care, let alone daily living. Not surprisingly, retirement is now Americans' top financial worry, according to a recent Gallup poll. Click Here to read more.