Teamster Drivers Take Home 15 Awards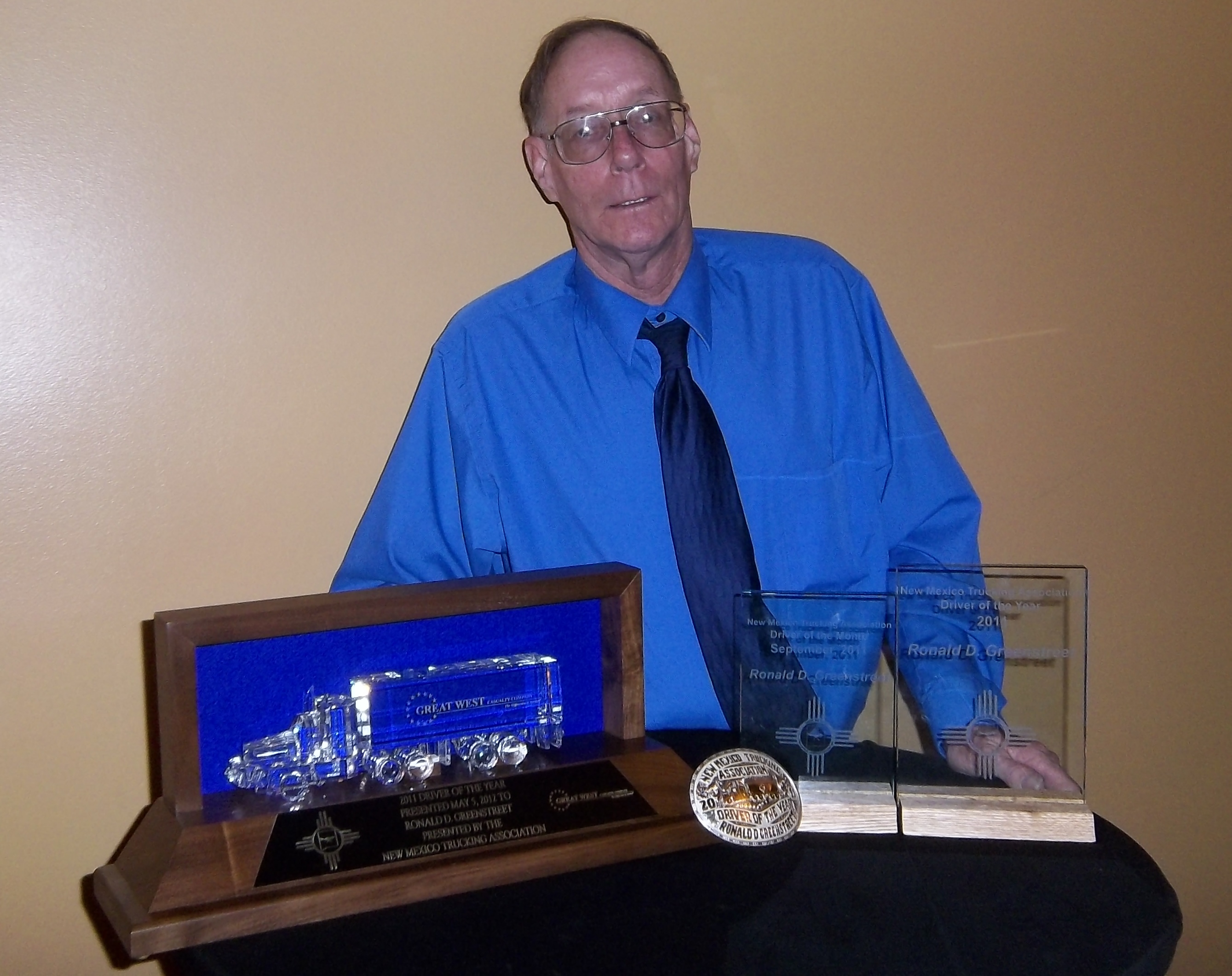 The 2012 NM Truck Roadeo held on May 5th was another success story for our Union Brothers that competed in the event taking home a combined total of 15 awards including first place in half of the categories, the Team Trophy (won by ABF) and also Driver of the Year won by Ronald Greenstreet of YRC (pictured). The Teamsters were represented by 4 companies this year; ABF, Sandia National Labs, TDI/UPS (Sara Lee), and YRC. Teamsters Local 492 would like to thank all 21 Teamster members who competed this year.
We would also like to thank the Teamster members/retirees that helped make the event run so smooth which include; Jim Wilcox (retired YRC) who was the committee chairman for course set up, Steve Limas (retired ABF) who was committee chair responsible for the starters, Jim Curtis (ABF) & Dan Medley (retired YRC) who were instrumental in the course set up, take down, and all around help, David Boyd (retired ABF) who was a starter, and Robert Aragon (retired ABF) who helped keep things rolling smoothly with his hostling skills, not to mention his great grill!
Finally, thanks to Randy Archer, Hoss Salehian, and Chad & Dennis Sullins for supplying the information for this article and all the great pictures (
click here to view photos
). If you have any photos you would like to share, let us know,
click here
.
Below is a list of the Awards and participants separated by company:
Ralph Garcia----------------1st in 4 axle for the 10th time
Michael Contreras----------1st in 5 axle for the 4th time
Gerald Benavidez-----------1st in Sleeper for the 2nd time
Charlie Estrada--------------1st in Flatbed
Chad Sullins.-----------------2nd in Twins
Robert Delgado.-------------3rd in Flatbed
Carl Marquez (rookie)------3rd in Sleeper
Jim Curtis--------------------Driver of the Month for March
Chad Sullins-----------------Driver of the Month for June
ABF won the Team Trophy for the 6th straight year
ABF also won the Fleet safety award over 5,000,000 miles
ABF's other participants: Craig Arellano, James Morgan, Donnie Tafoya, Tito Torres, Kirk Weis and Don Wood.
Kevin Romero competed in the straight truck
TDI/UPS Logistics (Sara Lee)
Brian Thais competed in the 3 axle and Jerry Trujillo competed in the 4 axle.
Jack Rojas-------------------2nd place 3 Axle
Frank Sandoval-------------3rd place Twin
Ronald Greenstreet---------Driver of the Month for September
Ronald Greenstreet---------Driver of the Year 2011
YRC's other participants: Gilbert Gonzales, Andre Lobato and Matt Beaudet.
Click here to read last years Truck Roadeo Article