Stewards Educated At Teamsters Local 492 Steward Seminar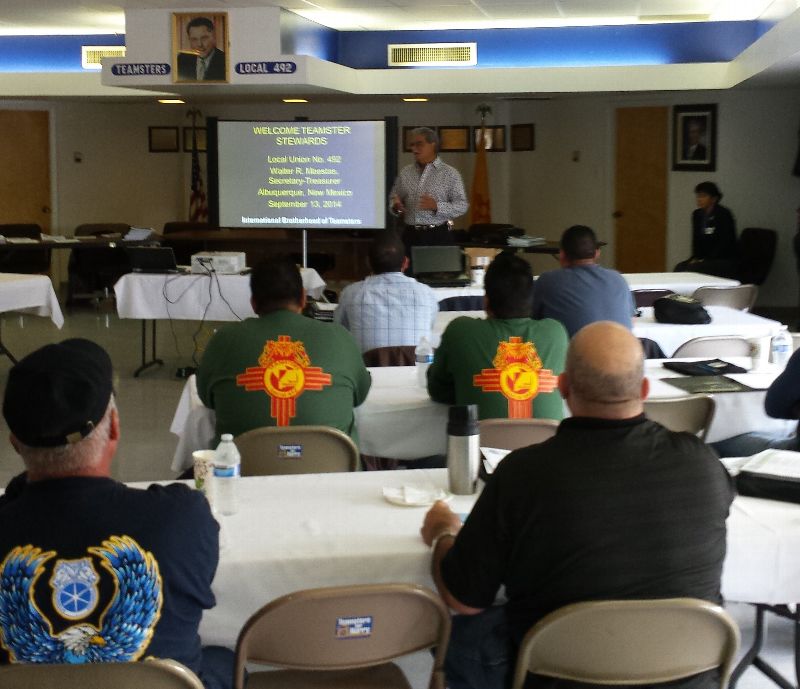 9-13 -14 Today, dozens of Teamster Union Stewards from all over New Mexico came together to better understand their duties and rights as Stewards and first heard from Teamsters Local 492 Secretary-Treasurer Walter R. Maestas about the importance of a good steward and thanked the stewards in attendance for everything they do to help their fellow members.
Teamster Sister Iliana Flores of the IBT training department taught the stewards about Teamster History, building a stronger Union through unity, proper investigation & grievance procedures, understanding "just cause", knowing the contract, work rules and policies, issue resolution, enforcing contracts, arbitration, understanding the rights through government programs like FMLA, and much more. (Click Here to view more photos)
New Mexico Attorney General Gary King spoke about his current work to curb the misclassification of workers, wage theft and other worker issues he deals with. He then answered questions from the stewards.
After a great Mexican food lunch, Teamsters Local 492 President Moises Ortega spoke about local politics and the "Right to Work" issue; he then introduced Teamster Brother Kevin Currie from the IBT Political Department who spoke about the importance of voting for political candidates that support the rights of workers. He also explained why "Right to Work" is a completely deceptive name for a law that hurts not only Unions and there members, but slowly erodes workers rights for everyone over time. Brother Brian Thais of TeamOne (Sara Lee) gave an example of this with his recent experience going through contract negotiations where the Teamsters in the New Mexico division fared much better than their counterparts in Arizona which is a "right-to-work" state.
The stewards that attended the seminar received a specially designed Teamsters shirt for New Mexico Stewards, Teamsters Local 492 license front plate, 492 steward lapel pin, 492 writing pen, a 97 page Stewards workbook & handouts, and a Teamsters Local 492 portfolio folder with note pad, calculator & the beautiful NM Teamster Logo on the front.
It was great to see all the Teamster knowledge, experience and pride in one room. We want to thank all of these dedicated Teamster Stewards for giving up their Saturday to improve their skills at helping their fellow Teamsters. Thanks to the entire Teamsters Local 492 Executive Board and Business Agents, all of whom donated their time to be there, and a special thanks to Kevin Pohl for organizing the seminar, it was a great experience.