YRC-AQE Hits 19 Million Safety Miles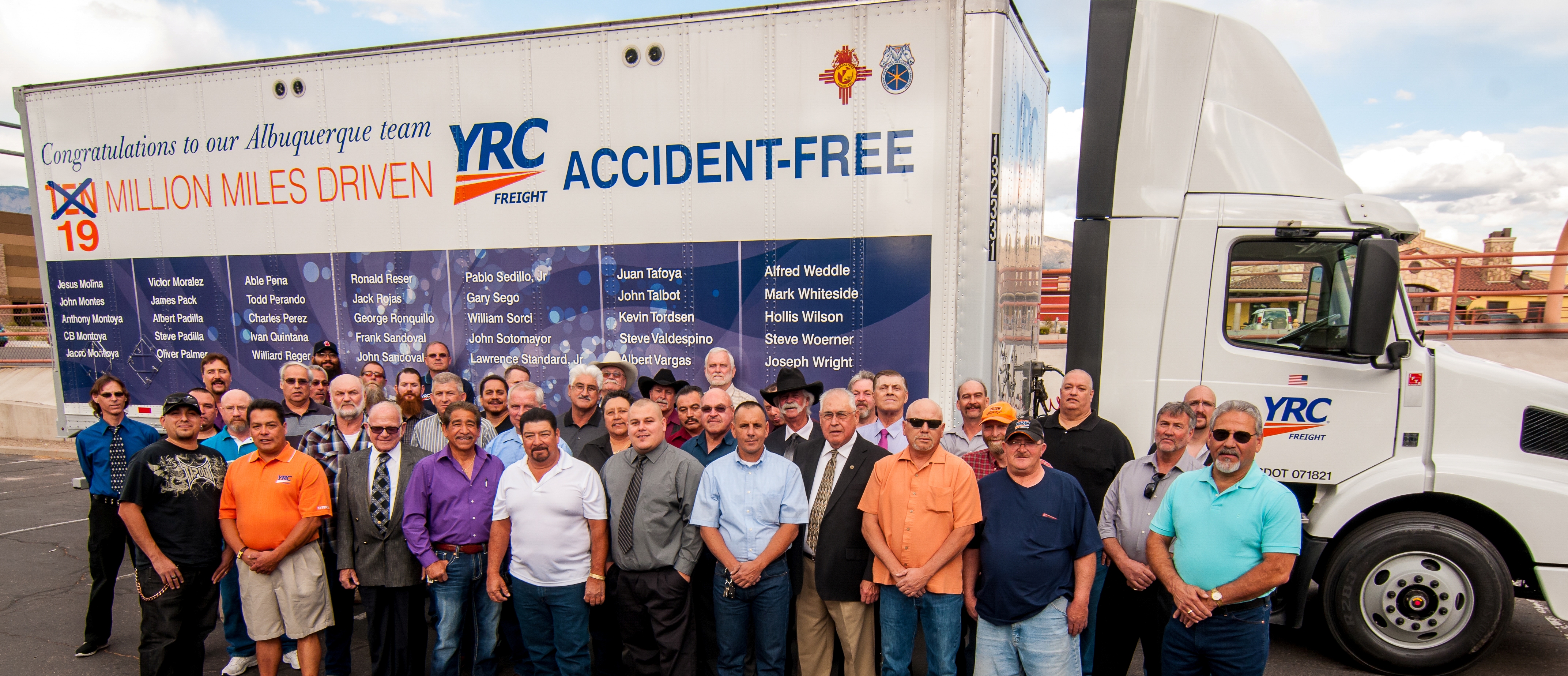 YRC Freight held an employee safety ceremony to celebrate a safety streak from January 2013 to January of 2015, which set an all time YRC company record, 19 million consecutive accident and injury-free miles accomplished by all 85 Albuquerque Line drivers. This article is an Updated version of an article originally posted on Teamsters492.org in September of 2014.
Shown in the picture (you can see more pictures by clicking here) the Company presented the specially designed and updated trailer saluting the drivers' achievement at the safety celebration which proudly includes the names of all 85 drivers and the logos of the New Mexico Teamsters and the IBT. It was altered to read 19 million miles in honor of the more current streak.
The trailer was originally presently in September 2014 at the 15 million mile celebration, when each driver received a die-cast replica of the equipment and tee-shirts commemorating the amazing accomplishment. You may have noticed the trailer originally showed "TEN" million miles, the tee-shirts given out said 14 million but they celebrated 15 million. That is because when they hit 10 million they started working on the trailer, they had passed 14 million when the shirts were printed, and by the time the celebration actually took place they had hit 15 million. In January of 2015 they hit the 19 million mark and the trailer was updated to reflect that.
As of September, 35% of these YRC Teamster drivers had driven one million miles or more, two had driven over 4 million miles, two over 3 million miles & 27 drivers had worked more than 25 years injury free.
Also honored at the September 2014 ceremony were:
Al Weddle, 57 years and over 4 million miles injury and accident free
CB Montoya, 42 years and over 4 Million miles injury and accident free
Joe Wright, 37 years accident free
Wes Johnson, 36 years injury and accident free
In attendance, Johnny R. Johnson, Managing Director of the New Mexico Trucking Association and American Trucking Association Chairman Phil Byrd, who spoke at the event. Also in attendance, Teamsters Local 492 Secretary-Treasurer Walter R. Maestas and Business Agent Kevin Pohl, representatives from the Federal Motor Carrier Safety Administration, and New Mexico Transportation Police, who distributed the 85 donated new child car safety seats to families in need, in the name of each member of the YRC Freight Albuquerque driving team who has contributed to the safety milestone.
YRC Freight President Darren Hawkins said at the September ceremony, "Having 85 drivers work together to achieve 15 million consecutive accident and injury-free miles is a testament to the professionalism of the Albuquerque team. It is a real honor to be in Albuquerque with the drivers today so that we can personally pay tribute to their achievement. The YRC Freight Albuquerque driving team's safety record is evidence of what a team can do when collectively focused not only on their own safety, but also on the safety of others." (There has been no press release from the company about the 19 million mile achievement yet)
Also speaking at the event was Albuquerque YRC Freight Linehaul Manager Hoss Salehian who said, "These Albuquerque drivers set an all time record of 15 million miles driving without lost time and preventable accidents. To put that in perspective, 15 million miles is equivalent of 60 trips between here and the moon and over 600 trips around the earth. I am pleased to recognize these 85 men for their achievement in transportation safety; this is a significant accomplishment that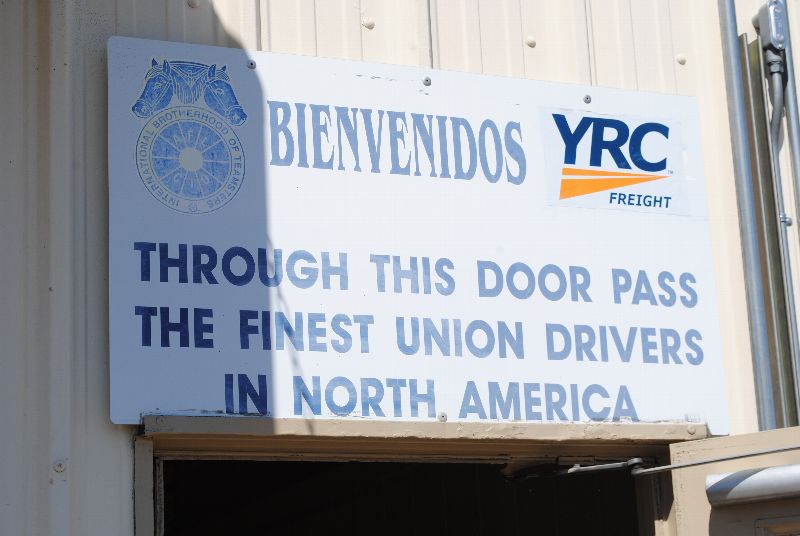 attests to their dedication to safety. These drivers embody the values and professionalism that is YRC Freight. I am very proud of these men and thankful for their dedication and remarkable achievement."
Teamsters Local 492 is also very proud of our brothers at YRC and wish to congratulate them on this amazing record. As the sign says above the door at the AQE facility, (see picture) "Through This Door, Pass The Finest Union Drivers In North America," and they have certainly lived up to that!