Great Turnout for NM Teamster Appreciation Day 2018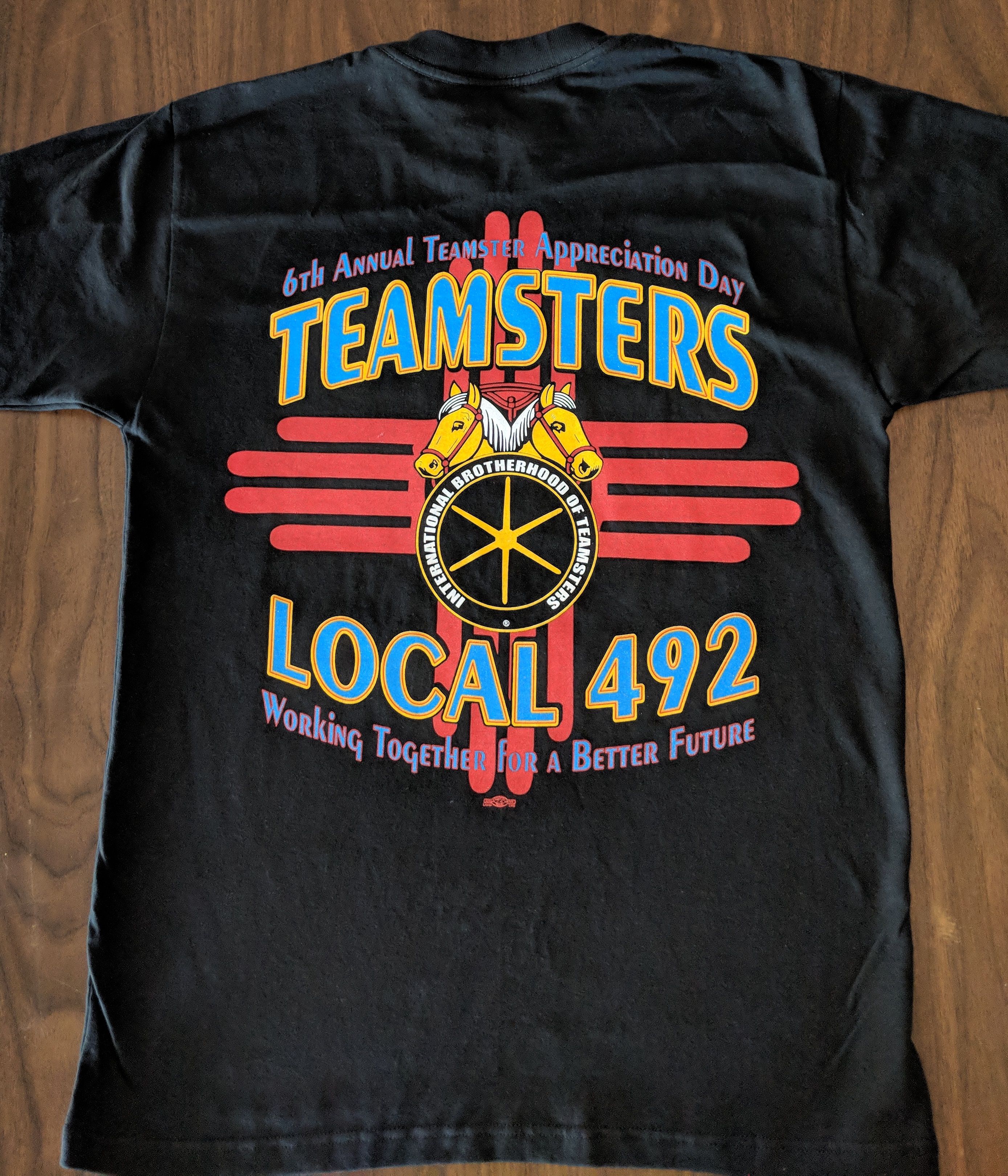 Record for Member Attendance at NM Teamster Appreciation Day 2018
Over 500 people came to the 2018 New Mexico Teamsters Appreciation Day on Saturday Sept 22nd which included reaching an all-time high this year for the amount of active 492 Members attending. Local 492 Teamsters came from a wide variety of crafts and companies which included are very large number from the Freight and Package industries (in order of highest member turnout) UPS, ABF, YRC, 492 Movie Drivers & Wranglers, Sysco, UPS Freight, AmeriPride Linen, Creamland, TeamOne, Franklins, LANS, OMI, RTD Blue Bus, Sandia Labs, and Sara Lee Thrift Stores. There were Teamster Retirees that also attended and Brother Phil Tuff had a booth set up for info on the Teamster Retiree Club.
Photos of the Event can be Viewed Here.
Secretary-Treasurer Walter R. Maestas was there along with other members of the Teamsters 492 Executive Board; Vice-President Richard Martinez, Recording Secretary/BA Trey White, Trustee Joseph Carrillo and Trustee Andrew Palmer, along with Business Agents Melissa Malcom & Tracy McCarty. You may have run into them busy working to make sure the event ran smooth.
Local 492 received tons of complements on the change in food with the Box Lunches from Firehouse Subs. In addition to the food, Members enjoyed the music, perfect weather and they received a free Teamster shirt and other gifts. The kids enjoyed the face painting (by Sister Silvana Cufré of ABF), a new 5 in 1 Jumper Castle, and free Teamsters Local 492 Frisbees. There were also some new games provided which many enjoyed, plus Rafael Trujillo (ABF) and Rafael Trujillo Jr. (ABF) treated the attendees to their wonderful singing.
Local 492 gave away 35 great prizes this year including a 50" Flat screen TV (won by Sysco Steward Sergio Morales), a deep freezer (won by UPS Brother Lawrence Ryan Padilla), 2 piece luggage set (won by ABF Brother Ricardo Mimbela), a patio heater (won by YRC Brother Winslow), and six custom 492 Steel Cutout Logos. We also raffled three custom made 492 Teamster Disk-it's, won by UPS Brother Arsenio Martinez, UPS Brother Jeff Slingerland & YRC Brother Salomon Aguilar.
The Teamsters Joint Council #3 Truck was there again this year thanks to Retired 455 Vice President, Jim and Maria Adams who drove it down from Colorado and helped on Saturday with set up and take down.
Also at the event was Xochitl Torres Small, who is a pro-Union and pro-worker candidate running for the open United States House Congressional 2nd District seat in southern New Mexico. We want to thank Xochitl for driving all the way from Las Cruces to come to our event, she even helped put everything away after it was over; she is amazing! We will need more people like Xochitl Torres Small in congress if we ever hope to get bills like the Butch Lewis Act passed!
This is the 6th year Teamsters Local 492 has hosted an event to celebrate the Teamsters of New Mexico, and the fourth year we had a committee of Volunteer Teamsters Members plan the event. On behalf of all of the Members who enjoyed the event, The Teamsters Local 492 Executive Board would like to thank The 492 Volunteer Event Committee for all of their hard work and the countless hours of their personal time they donated to this great Union over the past months preparing for this day. In addition to the planning, The NMTAD Committee worked all day Thursday & Friday to set-up the inside of the hall and came in at 8 am Saturday morning to prepare the outside. The NMTAD Committee also worked the entire event to insure the Members would enjoy themselves.
In alphabetical order, The 2018 Committee was once again led by Brother Joseph Carrillo (ABF) (event coordinator). Lacey Eversole (ABF), Sister Rori Hall (ABF), Sister Melissa Malcom, and Brother Trey White were the other 4 on the committee this year and you probably saw them the day of the event volunteering at the check-in/food tables. A special thanks to Brother Tracy McCarty who was our supply runner on the day of the event, and also helped with set-up and take down, and to Brian Chavez and Tanner Chavez for picking up the delicious Box Lunches from Firehouse Subs before the event and again in the afternoon, which enabled everyone to enjoy a fresh sandwich.
Volunteers (in alphabetical order) who came in early on Saturday to help set up the event were; Shane Barrows (YRC), Anthony Boswell (Sysco), Robert Delgado (ABF), Alfred Esquibel Jr, (ABF), Arsenio Martinez (UPS), Ramona Medina (UPS), Anthony Perea (AmeriPride), Becky Powell, Eli Powell, Mya Powell, Robert Sanders (ABF) who also drove the truck with the tents and volunteered at the DRIVE table, Frank Sandoval (Movies), Lawrence Standard (YRC), Brother Kirk Weis (ABF), John Wegrzynek (UPS), and Brother Donald Wood (ABF), who also helped direct members as the came in.
Other volunteers that helped during the event (in alphabetical order); office secretary Darlene Archuleta ran the 492 Teamster store, Sister Silvana Cufré (ABF) did the Face painting by herself this year and did a great job once again, Theron Graham (Movies) did a great job keeping the sodas & water cold and trash cans empty, John Petit (UPS) helped with food, Brittany Thorpe volunteered at the check-in/food table, and Sister Marie Wilson helped at the Teamster store.
Thank you to all who participated and attended this event, we truly enjoyed seeing all of you and meeting your families. On behalf the Teamsters Local 492 staff, Business Agents and Executive Board, we truly appreciate the Members of this Local Union and everything you do to make this Union great, and all the hard working Union Stewards that do such a great job helping their fellow Members, Thank you Teamster Brothers & Sisters! Go down memory lane below:
(2017) 500 Teamsters & Family Attend NM Teamster Appreciation Day 2017
(2016) Great Turnout for NM Teamster Appreciation Day
(2015) 492 Teamster Day 2015 Turns Out Record Attendees
(2014) Membership Appreciation Day
(2013) Great Time Had At The First Ever 492 Membership Appreciation Event