UPS, UPS FREIGHT NEGOTIATIONS RECESS WITH PROGRESS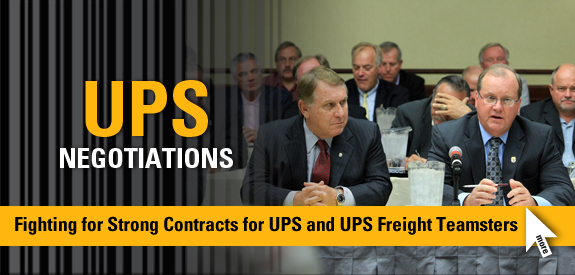 January 17, 2013
Two weeks of negotiations with UPS and UPS Freight wrapped up on Jan. 17 in Washington with progress made on both the UPS and UPS Freight contracts, said General Secretary-Treasurer Ken Hall, Package Division Director.
In UPS Freight negotiations, the UPS Freight National Negotiating Committee has been making steady progress. The Committee addressed seniority and work week issues, as well as protections for medically disqualified drivers.
In UPS negotiations, progress was made on 9.5 language, military leave and stewards' rights. The UPS National Negotiating Committee began tackling the issue of SurePost, including redirecting more packages to Teamster drivers.
"On the issue of health care, I reiterated that we will fight UPS' outrageous plan to dramatically increase the cost of health care for retirees in company plans," Hall said. "We will not allow the company put the entire burden of health care on the backs of the retirees who made the company what it is today."
UPS has continually complained about health care costs at the bargaining table. Unfortunately, we expect UPS negotiators to propose that Teamsters pay a substantial portion of their monthly premiums for health insurance. We will fight any attempt by the company to raise the cost of health care for actives.
Negotiations for both UPS and UPS Freight are scheduled to resume Jan. 28 in Dallas. For more updates, Click Here