Article Archives:
Next of 306 articles
Essential Working NM Teamster Heroes
Updated On: May 22, 2020 (22:56:00)
Essential Working NM Teamster Heroes
We want to thank all of you that have been working during this pandemic. You have been called working heroes and we agree! Pictured here are some of Local 492's Working Teamster Heroes. Click on the picture to enlarge:
CORONAVIRUS PANDEMIC - COVID-19
Updated On: Jul 21, 2020 (15:21:00)
Please Click Here to view information about 492 office hours, meetings ans scheduling changes due to the COVID-19 pandemic. The Retiree lunches are canceled indefinitely. Please go to the 492 retiree page (or click here) for updates.
The IBT has established an information resource center at www.teamster.org/covid-19 for members who are seeking additional information.
We have been getting a lot of complaints of companies not following the NM Mandate. If you wish to report non-compliance within a business or other violations of the public order, you may click here to report them or email the report to covid.enforcement@state.nm.us or contact your local police or sheriff's department on their non-emergency phone lines. When submitting a non-compliance complaint, please provide the following:
Date and time of observed violation,

City

County

Business Name

Business Address
You can also call the Hotline: 1-855-600-3453 to ask questions about the health order or other COVID-19 concerns.
For the latest updates from NM Gov and mandadtes, Click Here.
6/3/2020 - Local 492 has had several calls about the legality of companies asking health questions of its employees, taking temps or requiring them to wear masks. We have also been asked what the Unions position is on these subjects.
The Unions position is that the Company should follow the guidance of the CDC and the Law. The NM State Government has mandated masks. The EEOC has weighed in on the legality of companies asking health questions of its employees. In short it is legal, but you can read the Q&A from EEOC by clicking here. We highly recommend everyone read this document. We have highlighted some points of interest for you convenience.
5/13/2020 - COVID-19 Testing in NM - Governor Lujan Grisham has announced that there will now be COVID-19 testing available to everyone, not just those that have symptoms or have been exposed. This is great news for NM, as we are one of the few states that has made this testing available to EVERYONE. These tests are provided at no cost to New Mexicans. There has also been an expansion of facilities statewide that are doing these tests. To find a testing location nearest to you, Click Here.
NM State Mask Mandate: New public health emergency changes include a requirement, beginning Saturday, May 16th, that everyone wear face coverings in public, with exceptions for eating, drinking and exercising. Under the expiring order, only retail workers were required to wear face coverings.
"As the state opens up and our risk increases, the only way we save lives and keep the gating criteria where it is if we're all wearing face coverings," the governor said. "It's not a guarantee against the virus, but it really helps slow the spread, and that's why we're mandating it." You can Read More Here
Local 492 encourages everyone to continue to help flatten the curve in NM by washing your hands, do not touch your face and wear a face covering whenever you are at work and in public. We all need to do our part to get NM safely opened again.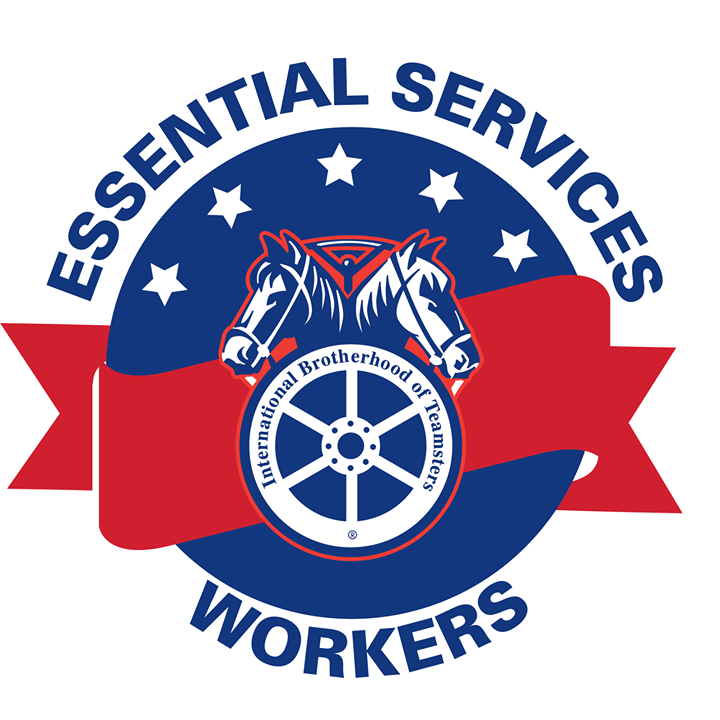 Emergency Waivers for CDL/CLP and Medical Certificate Renewals
Commercial drivers are experiencing problems renewing their Commercial Driver's Licenses (CDLs) and Medical Certificates as many State Driver's Licensing Agencies are complying with the Centers for Disease Control (CDC) guidance on social distancing. Medical providers nationwide have reprogrammed their activities and resources to meet the increasing need for medical support to deal with the public health crisis we are facing due to the Coronavirus. In response to this growing crisis, the Federal Motor Carrier Safety Administration (FMCSA) granted waivers that provide temporary regulatory relief as detailed below through June 30, 2020. Click Here For More Info

Episode 191: Coronavirus Update #6 - Listen to the newest special edition of the Teamster Nation Podcast, and hear the latest health and safety tips for those on the job, as well as news from the Port and Waste divisions. Plus, UPS driver delivers hand sanitizer to New York's finest.
Episode 190: Coronavirus Update #5 - Listen to the latest special edition of the Teamster Nation Podcast, and hear an update from the union's Rail Conference and Motion Picture and Theatrical Trade Division, as well as the Organizing Department. Plus, what it's like to work inside a grocery warehouse in the age of COVID-19.
Episode 189: Coronavirus Update #4 Face Masks & Respirators, Stimulus Checks, Car Rental Industry Update. EPISODE NOTES: Listen to the latest special edition of the Teamster Nation Podcast, and hear the latest health and safety tips regarding Face masks and respirators for those on the job, as well Capitol Hill legislative action and news from the union's Industrial Trades and Airline divisions. Plus, inside the daily work of a New Jersey sanitation worker.
Popular Topics:
FMCSA Waivers For Commercial Drivers CDL & Medical Cards
Cares ACT Fact Sheet (Unemployment, Paid Sick, Stimulus Check, etc.)
New Unemployment Ins. Guidance
UPS & UPS Freight COVID-19 Update, Click Here
UPS Freight Health Care COVID-19 Update Click Here
ABF & YRC Freight COVID-19 Updates, Click Here
Movie Workers COVID-19 Updates, Click Here
Sysco - Best Practice Policies: COVID-19 Food Supply Emergency
Airline COVID-19 Update, Click Here
Unions Help In Workplace Safety
Exposed and Infected Workers Rights And Employer Responsibilities Updated 4/24/20!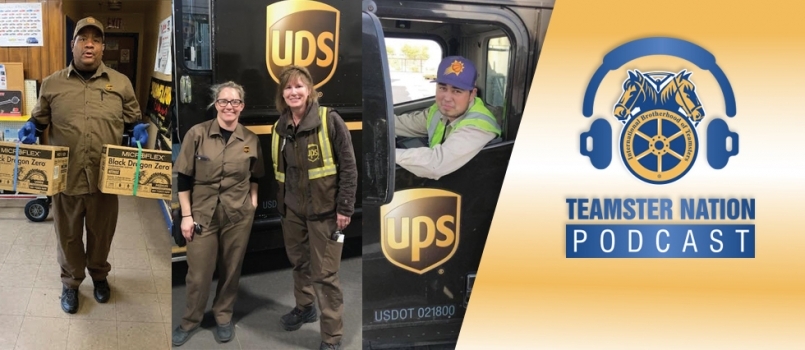 EPISODE NOTES: Click Here to listen to this special episode of the Teamster Nation Podcast focused on UPS Teamsters and learn what the union is doing to protect the health and safety of these essential logistics workers. Featuring interviews with Teamsters General President Jim Hoffa; Teamsters Package Division Director Denis Taylor; and Teamsters Health and Safety Department Director Lamont Byrd.
The IBT is now posting Pictures of Teamster Hidden Heroes. Simply reply to this email with pictures or You and/or your Coworkers at work and we will submit them for post. Click the picture below to view the current pics.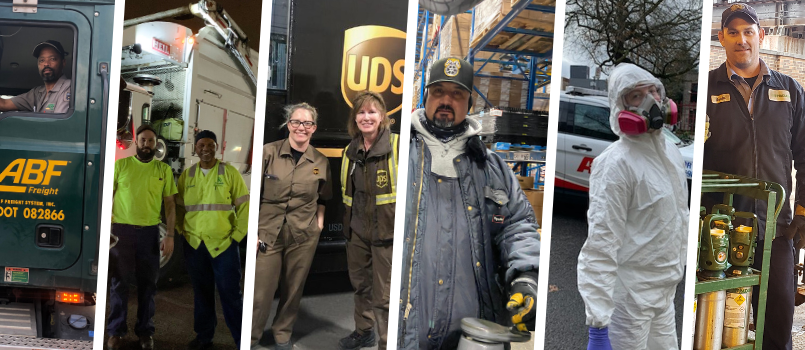 COVID-19 EPISODE #2 3/30/2020 -NOTES: Listen to this second special edition of the Teamster Nation Podcast dealing with the coronavirus epidemic, and get the latest health, safety and legislative news from America's Strongest Union. Plus get updates from the heads of the Package and Convention, Trade Show and Casino divisions. Listen here: http://ibt.io/COVID19UPDATE2
TEAMSTERS WANT STIMULUS BILL TO ADDRESS SAFETY FOR ALL WORKERS
Union Says Those Working Outside of Health Care Industry Must Also Be Protected
3/25/2020 - The Teamsters are raising concerns that coronavirus-related stimulus legislation still being negotiated in Congress is not addressing the health and safety of workers across industries.
Whether it's those in food processing, drivers who transport goods to market, those who stock the shelves, or cashiers who handle the sales, these are critical workers who need to be on the job right now. They, and others like them, want the federal government to outline standards that would ensure their personal safety in the midst of this COVID-19 crisis.
Of course, there are many others who are still working at this time and whose health must be considered, including public sector, sanitation and medical waste workers who are putting their lives at risk by doing their jobs during this pandemic.
"We understand during this outbreak that the welfare of health care workers is paramount," Teamsters General President Jim Hoffa said. "But we are concerned that other essential frontline workers will be left out of mandates for federal OSHA guidance and funding for personal protective equipment (PPEs)."
The Teamsters have called on the Administration to issue a comprehensive Temporary Emergency Standard from OSHA to provide guidance and compel action from employers to keep members safe on the job, and the unions need funding for PPEs for these workers as well. The union is also urging Congress and the Administration to take swift action to address these critical health and safety needs in the stimulus bill currently being debated.

COVID-19 EPISODE #1 NOTES: Listen to this special episode of the Teamster Nation Podcast addressing the coronavirus outbreak, where Teamster staff lets members know what they are doing to help members stem both illness and economic loss. Plus a look at the special challenges going on the Healthcare and Solid Waste and Recycling divisions during this challenging time.
The International Brotherhood of Teamsters is closely monitoring the global health crisis caused by the coronavirus pandemic. View factsheet from the Safety & Health Department below.
The following is a list of additional resources from the CDC, OSHA, WHO and other agencies to help us all get through this challenging period.
*This is an emerging, rapidly-evolving situation. This page will be updated as the pandemic and responses to it are developed.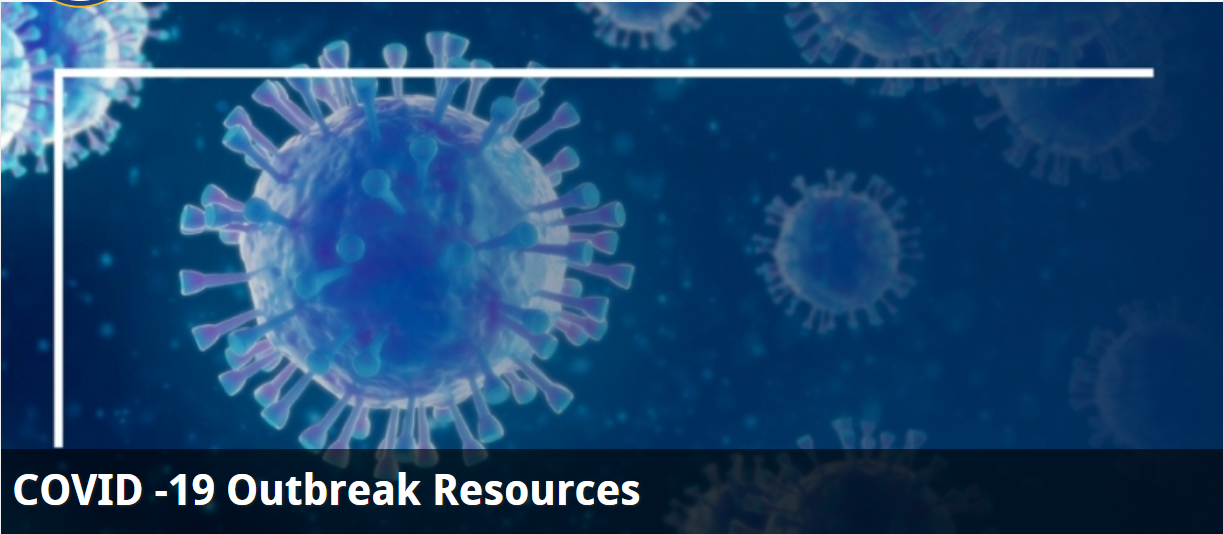 TEAMSTERS STATEMENT ON CORONAVIRUS PANDEMIC
(WASHINGTON) – As the United States responds to the outbreak of COVID-19, we must ensure that working people are able to perform their jobs in a safe working environment and that sick leave is available to all workers. Without adequate sick leave, workers will be forced to continue working in order to provide food and housing for their families, thus potentially exposing others to the virus.
Federal, state and local governments, as well employers, need to listen to front-line workers in every industry about the actions needed to keep working people safe on the job and to protect our communities.
Teamster members have greater job protections than nonunion workers. However, every worker must be provided basic economic security and protections during this crisis.
The Teamsters will fight to ensure that:
Everyone has access to free COVID-19 testing;

Every worker is provided some form of paid sick leave;

Workers are not punished for calling in sick;

Frontline workers who treat potentially infected populations be provided with the appropriate protective equipment;

Workers understand that they are entitled to worker compensation benefits if they are infected as a result of their work;
Those receiving unemployment benefits while affected by COVID-19 are exempt from searching for work during that time. It is imperative that we come together as a nation to ensure that sick workers and their families stay home when they are sick, continue to be compensated and protected during this time and that federal, state and local governments do everything in their power to keep workers protected during this crisis. We have established an information resource center at www.teamster.org/covid-19 for members who are seeking additional information.
Download:

fmcsa_waivers_for_commercial_driversweb.pdf

unionsroleinworkplacepreparationkm.pdf

facemaskandrespiratoruse.pdf

CaresAct.pdf

covid19positiveworker.pdf

Exposed_Infected_Workers RightsCOVID.pdf

Best_Practice_Food_Supply.pdf

EEOC_Q&A.pdf
PEBA Bill HB 364 Good for Workers
Updated On: May 12, 2020 (12:46:00)
Governor Lujan Grisham Signs House Bill 364 Into Law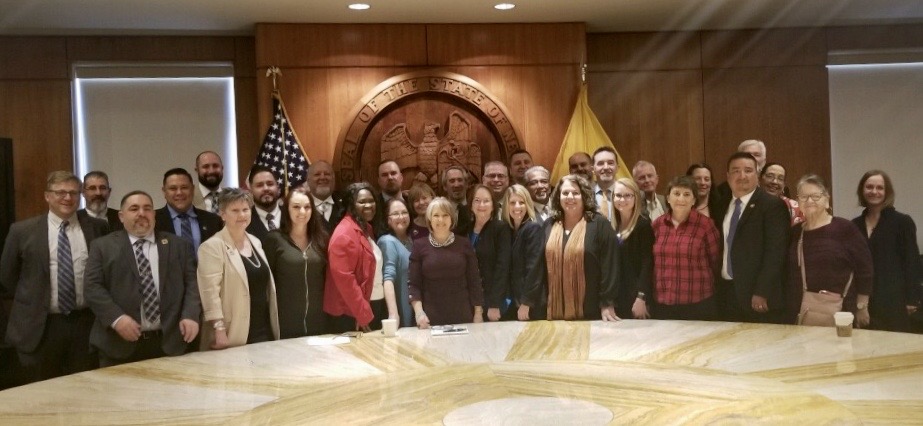 Measure Ushers in Public Sector Labor Law Reform in New Mexico
HB 364 was signed into law on March 5, 2020. Pictured are all of the labor leaders that had a hand in pushing the law up the hill including Teamsters Local 492 Political Coordinator Melissa Malcom (shown above in front row 4th from the left).
"House Bill 364 modernizes New Mexico's Public Employees Bargaining Act (PEBA) and provides public sector employers and employees with the currently used tools necessary to create a coherent and consistent labor policy in New Mexico, in step with laws recently modified by other states. HB 364 represents a true and hard fought compromise between New Mexico's public servants and State and local governments. Though HB 364 incorporates many changes, the provisions which are most significant can be summarized as follows: labor board restructuring, freedom to choose a Union without intimidation (election reform), dues deduction reform, and protecting employees' rights to fair representation.
Every person in New Mexico deserves the right to come together and stand up for their safety and economic well-being, and HB 364 strengthens this right for New Mexicans. With this bill, championed by Senators Mimi Stewart and Daniel Ivey-Soto, and Representatives Sheryl Williams Stapleton, Christine Trujillo, and Daymon Ely, we solidified that public servants will have their voices heard. We want to extend our greatest appreciation to Governor Michelle Lujan Grisham and every member of the House of Representatives and the State Senate who stood in solidarity with working New Mexicans. We appreciate your courage to respect and empower the working women and men of our state," said Labor Attorney Shane Youtz.
Film & Media Day 2020 Santa Fe NM
Posted On: Feb 11, 2020 (23:28:00)
Film & Media Day 2020 Santa Fe NM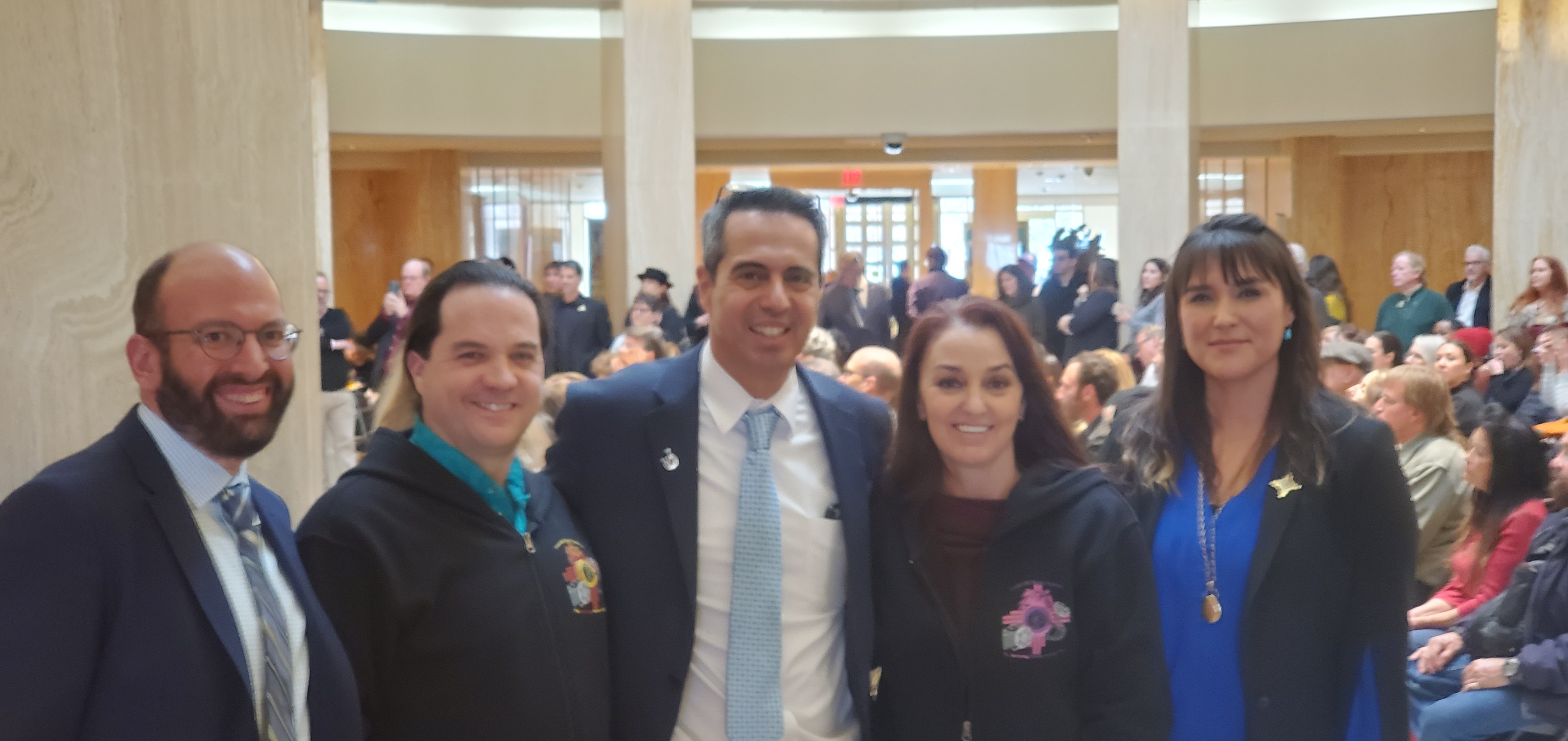 Film & Media day was held on 2/10/2020 in Santa Fe, NM at the State Capital. Shown in the picture above are some of the key figures responsible for the passage of SB2 NM Film Incentive bill (left to right); NM Federation of Labor Consultant Jon Lipshutz, Local 492 President Trey White, New Mexico House Representative, Antonio "Moe" Maestas, Local 492 Film Business Agent Melissa Malcom, and IATSE 480 President Liz Pecos. Thank you to all of those that work so hard to improve the lives of NM Film Workers and Local 492 looks forward to future collaborative efforts to ensure the great local residents of New Mexico have even more opportunities in the future to work in the NM Film Industry!
ABF Will Pay 2019 Profit-Sharing Bonus To Teamster Employees
Updated On: Feb 03, 2020 (10:40:00)

ABF Freight to Pay 2019 Profit-Sharing Bonus to Eligible Union Employees
Bonus payment for reaching 95.2 percent operating ratio achieved in 2019

Payment to all eligible union employees, representing nearly all union employees, is first in company's history
January 30, 2020 - ABF Freight announced it will pay a profit-sharing bonus to all qualifying union-represented employees in return for the company achieving a 95.2 percent operating ratio in 2019. See Profit Sharing MOU Here.
"Returning ABF to historical margins has been a long-term goal, and the bonus payment is something we have hoped to do for some time," said ABF President Tim Thorne. "Thanks to successful yield initiatives, focused account management and prudent cost management, we reached the required levels to pay the bonus and we thank all of our employees for their hard work and dedication to the company and our customers. This is a proud day for ABF."
The profit-sharing bonus for employees represented by the International Brotherhood of Teamsters, ABF's largest bargaining group, will be 1% of qualifying employees' W-2 earnings as specified in the 2018 ABF National Master Freight Agreement ratified in July 2018. Employees in smaller union groups will receive similar payments. The total number of employees who will receive the bonus is approximately 7400.
This is the first time in ABF's nearly 100-year history that a profit-sharing bonus will be paid to all eligible union-represented employees in return for hitting specific financial targets. Only a small group is ineligible this year, having been paid last year. Operating ratio refers to the ratio of operating expenses to operating revenue and is generally considered a measure of profitability and efficiency in the trucking industry. According to terms of the collective bargaining agreement with the IBT, the bonus will be paid by check within 60 days of the 2019 calendar year-end.
Download:

2019-2022_ABF_Profit_Sharing_Bonus.pdf
Pension Accrual Rate Increased!
Updated On: Jan 28, 2020 (00:34:00)

Western States Pension Accrual Rate Increased! Pension Fund Nearing Full Funding Status!
As we begin a new year and a new decade, I am pleased to announce the Western Conference of Teamsters Pension Plan Board of Trustees and professional staff have taken several steps that will make the Plan stronger and more secure in the years ahead, while at the same time providing Plan Participants with an increase in the accrual formula for work performed in 2020 and expanding opportunities for retirees to work additional hours without having their monthly benefit suspended. Click Here to Read the New Hour Limits Document
The Plan is moving closer to full funding each year and has just enjoyed an exceptional investment return for 2019 in conjunction with record contribution levels. In this current moment of strength, it is timely to take this prudent step to ensure future funding stability. Taken together, these steps are a positive. On the one hand, they will strengthen Plan funding and stability and on the other, they will increase member retirement benefits in 2020 and provide greater choices for our retired members.
These key initiatives are as follows:
1) Effective for hours worked in 2020 the basic accrual rate used to calculate benefit levels will move from 1.2% to 1.5% for each contribution dollar, an increase of 25%. This is the first accrual increase in more than a decade and we hope it will be a pattern for further improvements in the years ahead. Click Here to view the 1987-2020 Accrual Chart.
The Plan has largely recovered from the Great Recession and the Trustees appreciate the patience of Teamster members. Their loyalty has been a major factor in ensuring the funding stability of the Plan was strong and solid enough to support benefit improvements. That time is now at hand. One caveat- the accrual increase is applicable only to hours worked in 2020. Future increases will depend on market returns and continued strength in the Plan1s funding metrics.
2) The Trustees have expanded the amount of work a retiree may perform without incurring a suspension of his or her monthly pension payment. Beginning in January 2020 the monthly hours of otherwise suspendible work has been increased for retirees under the age of 60. In the past, they could work less than 50 hours per month without a suspension. That has now increased to less than 60 hours per month. For a retiree aged 60 to 65, the hours limit remains at less than 85 hours in a calendar month. In addition to the change above, the new rules allow all retirees under age 65 to work as many hours of otherwise suspendible employment as they wish during any three calendar months in a calendar year. The three months need not be consecutive and are the choice of the retiree. It's important that retirees carefully monitor the number of hours and months that they work or for which they are paid. The rules are somewhat complicated, if you have questions please check the Trust's website or call the Administrative Office in your geographical area. We're pleased with these changes to retiree work rules. They will allow retirees under age 65 greater choice and the opportunity to strengthen their financial security.
To read the full letter from the Pension Office, Click Here
Download:

2020WesternPensionAccrual_Increase.pdf

WCTPT_Hours_Limits_Relaxed_Post-Retirement_Employment_2020.pdf

Pension_Contribution_Rate_Chart_1987-2020.png
Teamsters Public Services Member Town Hall
Updated On: Jun 25, 2020 (23:54:00)
JOIN US THURSDAY, JUNE 25
Teamsters Public Services Member Town Hall
Staying Safe and Sane at Work During the COVID-19 Crisis
The Teamsters will be hosting a town hall webinar for Public Services Division members on Thursday, June 25.
The town hall will feature General President James P. Hoffa, Public Services Division Director Jason Rabinowitz as well as Gretchen Grindle, Licensed Professional Counselor, to talk about members can manage stress during these uncertain times. Lamont Byrd, of our Safety & Health Department will also join us to speak about workplace safety during COVID-19.
To register in advance for this webinar, please visit:
After registering, you will receive a confirmation email containing information about joining the webinar. If you can't join the video portion, then call-in information will also be sent when you register.
We hope you will join the Teamsters Public Services Division as we explore how to manage the challenges ahead.
WHAT: Teamsters Public Services Member Town Hall
WHEN: Thursday, June 25
TIME: 4:00 P.M. MT
Martin Luther King Remembered
Updated On: Jan 20, 2020 (01:38:00)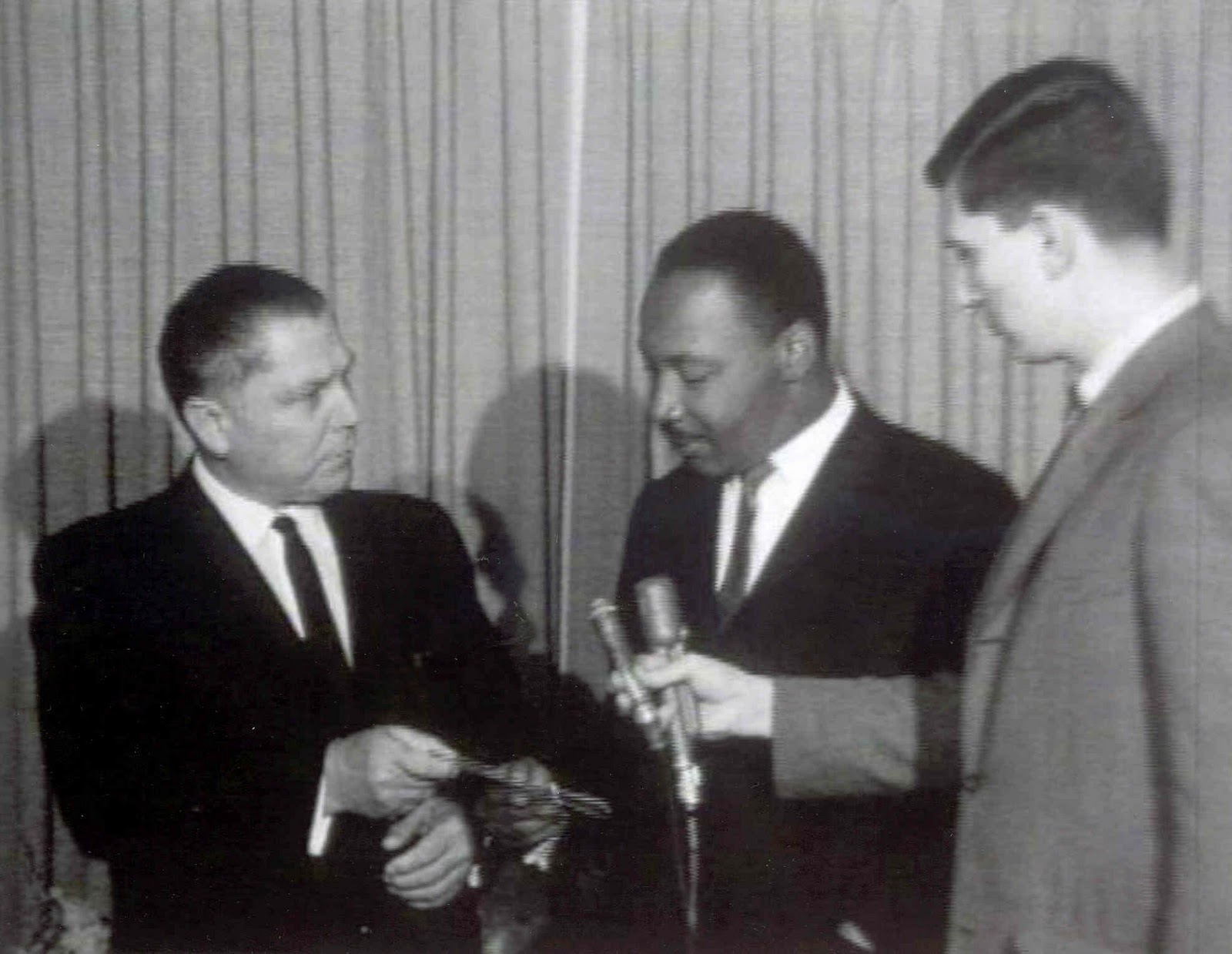 On the night before he died, Martin Luther King gave a speech about the dignity of labor. It still rings true. He was in Memphis, Tenn., supporting sanitation workers' rights to respect and a decent wage. He said: "Whenever you are engaged in work that serves humanity and is for the building of humanity, it has dignity and it has worth."
Dr. King's spirit lives on, especially in the hearts of 32,000 Teamsters solid waste workers who've been able to better their lives with a Teamsters contract. And it lives on in the workers who today are fighting the growing attacks from corporations that want to lower wages through right-to-work (for LESS) laws. Dr. King had this to say about "right to work:"
"In our glorious fight for civil rights, we must guard against being fooled by false slogans, such as 'right-to-work.' It provides no 'rights' and no 'works.' Its purpose is to destroy labor unions and the freedom of collective bargaining…. We demand this fraud be stopped."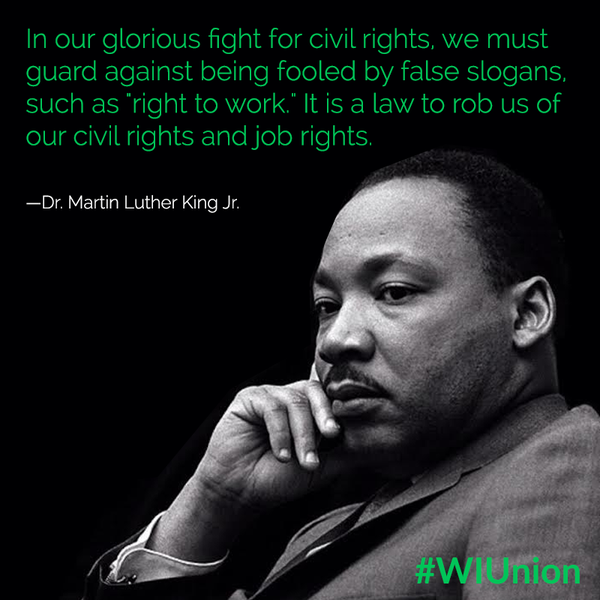 Dr. King believed that the civil rights movement and the labor movement together would have the greatest impact in the struggle for human dignity. The Teamsters shared that view. Early Teamsters leaders were strongly against separate unions for African-Americans. In 1919 the union adopted the slogan, "Equal Pay for Equal Work," signaling their strong support for all their members.
Teamsters General President James R. Hoffa opposed segregation and chose to forfeit prospective members because of it. "We don't need 'em," he said. "Their way is not the Teamster way."
Teamsters in 1961 gave food and clothing to African-American families who were punished for registering to vote in the 1960 presidential election. Teamsters marched with Dr. King in Chicago in 1966.
I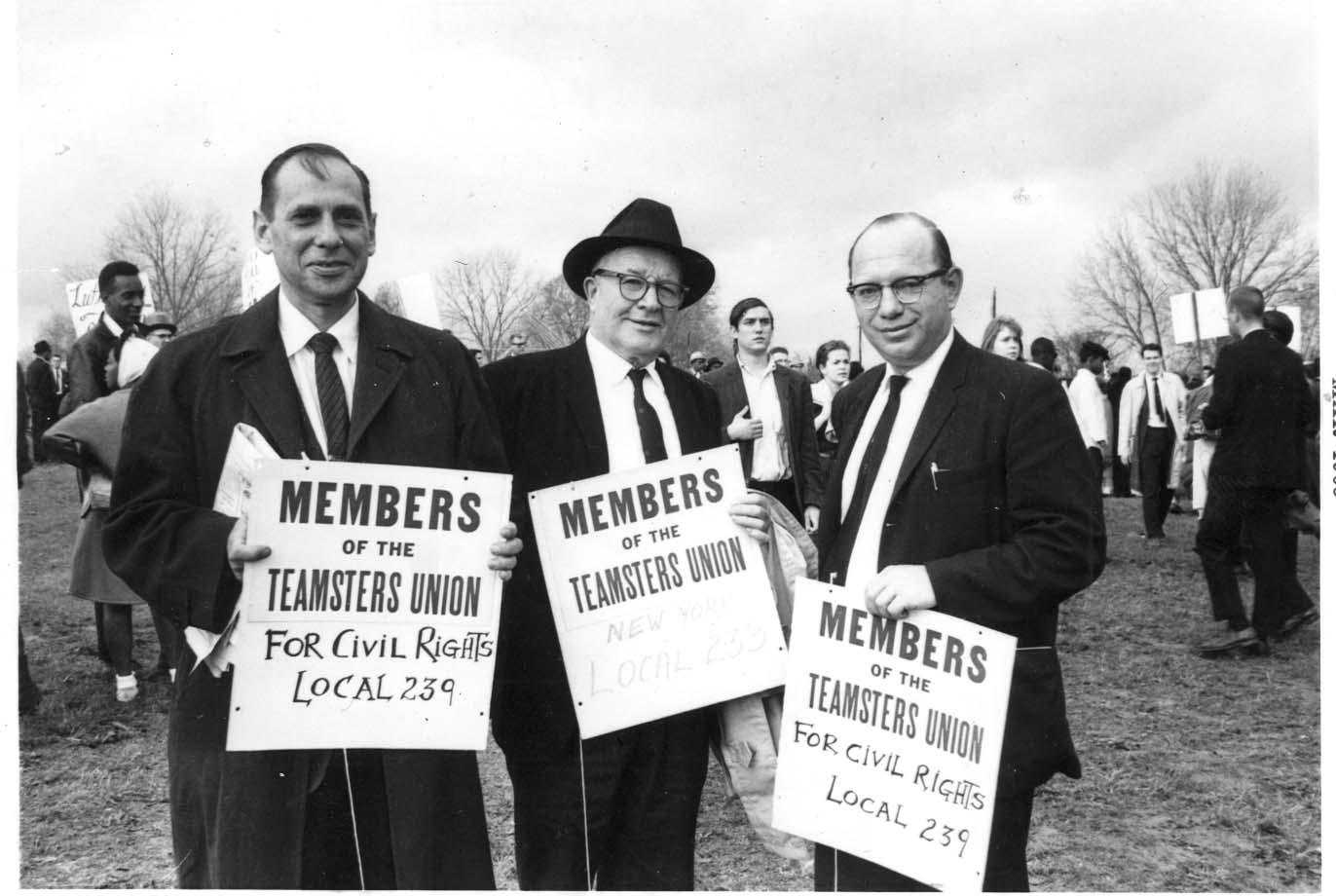 n 1963, scores of Teamsters joined the historic March on Washington. Buses carrying Teamsters arrived from near and far, some driving through the night to join the activities on time. Locals that were especially involved included Locals 810 and 239 of New York City, Local 875 of Flushing, New York, Local 20 of Toledo, Local 688 of St. Louis and Local 743 of Chicago.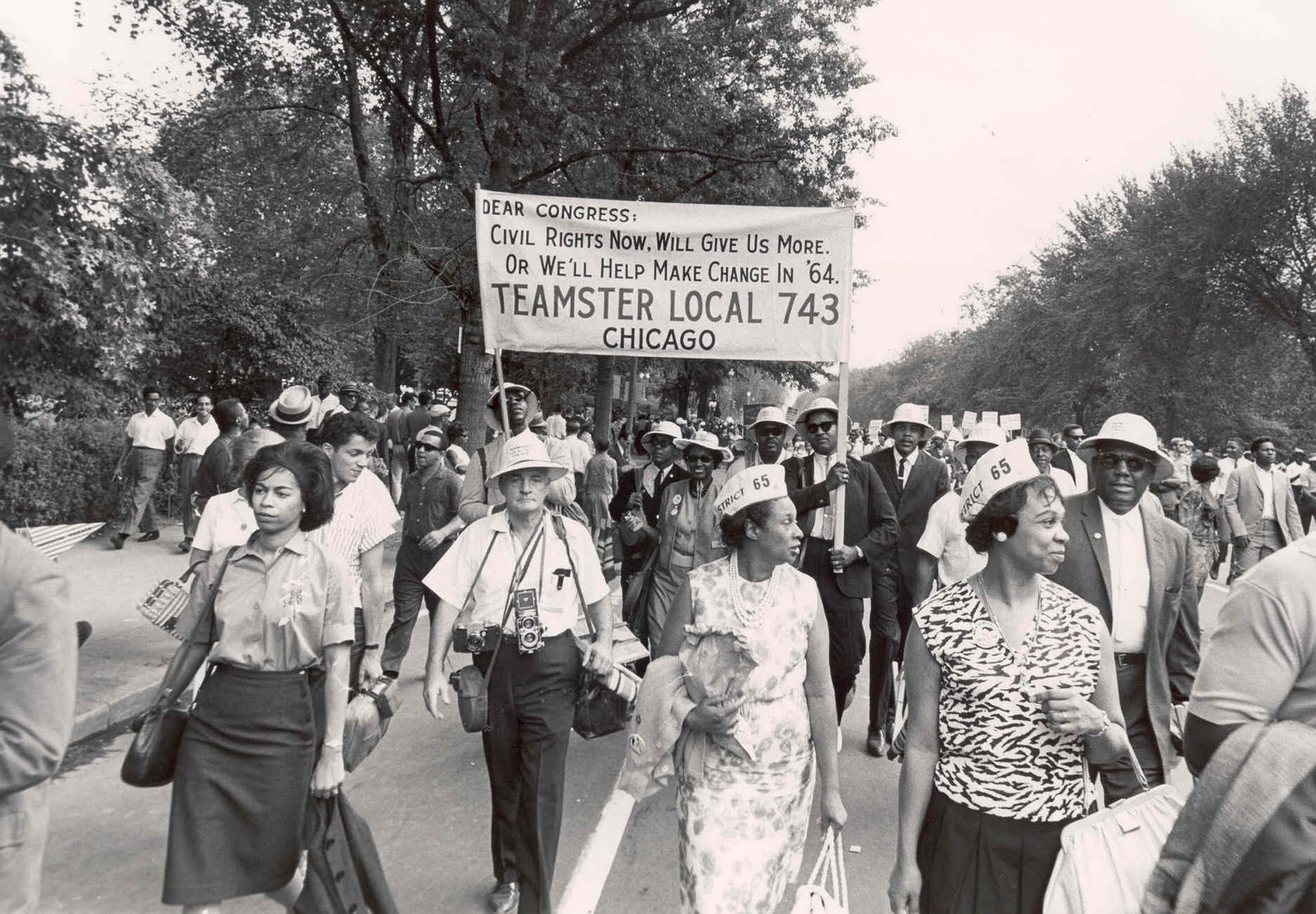 In 1968 Teamsters leaders and rank-and-file members marched in Dr. King's funeral procession.
Today, the Teamsters are honoring the memory of Dr. King both in words and in the battle to lift up workers to a better life.
Teamsters General President Jim Hoffa had this to say: "Even in death, Martin Luther King Jr. continues to inspire and guide us. His legacy lives on in every union member, every labor activist, and every American who has stood up in the name of justice, equality, peace and compassion."
Cadillac Tax' Repeal on Health Plans is Big Victory for Union Workers
Posted On: Dec 19, 2019 (17:35:13)

TEAMSTERS: SPENDING BILL OFFERS RELIEF, BUT PASSES THE BUCK ON LARGER PENSION FIX
'Cadillac Tax' Repeal on Health Plans is Big Victory for Union Workers
(WASHINGTON) – The fiscal year 2020 omnibus spending bill approved by Congress this week provides resources for many critical investments that better the lives of working Americans, but also misses the mark by not including a broad fix for the nation's faltering multiemployer pension plans.
While the repeal of a 40 percent excise tax on high-quality health benefits held by many Teamsters and others has long been sought by the union, the Teamsters are deeply disappointed that Congress did not include the House-passed Rehabilitation for Multiemployer Pensions Act – also known as the Butch Lewis Act – in the final version of the spending deal.
"While we recognize the precarious position of the mineworkers' pension and health funds which the spending package addresses, they are not alone," Teamsters General President Jim Hoffa said. "Through no fault of their own, the earned pension benefits of millions of retirees and workers – Teamsters, ironworkers, bakery & confectionery workers, musicians, among others – are being threatened due to the pending insolvency of a number of other multiemployer pension plans.
"These retirees and families should not have to live with this uncertainty and continue to have their lives turned upside down," he continued. "The Teamsters Union will continue to fight vigorously for passage of the Butch Lewis Act in the new year."
The bipartisan legislation, thanks in large part to the hard work of Reps. Richard Neal of Massachusetts and Peter King of New York, passed the House on a 264-169 vote and was sent to the Senate on July 25. The Butch Lewis Act aims at financially supporting critical and declining pension plans so they don't fail. The measure ensures that retirees and workers receive the benefits they have earned through decades of hard work.
On the "Cadillac Tax" repeal, Congress' approval of the language marks the culmination of a 10-year effort led by Rep. Joe Courtney (D-Conn.) to strip the needlessly punitive provision that would have hit hardworking Americans hard, Hoffa said.
"It is a huge win not only for our Teamster families, but for all middle-class families who were facing this misguided tax on their hard-won health care benefits," he said. "With working families facing the hollowing out of health care benefits and increasing out-of-pocket costs, it is past time to reverse this misguided policy."
Additionally, the omnibus spending bill:
Restores the steep funding cut proposed for the National Labor Board which protects a worker's right to organize and bargain collectively;

Provides increased funds to the Labor Department's Wage & Hour Division and OSHA to ensure that workers receive the wages and overtime pay they have earned, and that they have a safe and healthy workplace;

Increases funding for grants to improve countries' capacity to enforce labor rights agreed to under U.S. trade agreements and trade preference programs by providing resources for additional monitoring and enforcement staff, including at critical U.S. embassies for monitoring and labor compliance; and


Continues a vigorous effort to combat the scourge of the opioid epidemic faced by far too many communities and families, including Teamster families.
James R. Hoffa Memorial Scholarship 2020
Posted On: Dec 18, 2019 (16:45:00)

The application process for the 2020 year is now open.
To access the JRHMSF application process (administered by ISTS), go to: https://aim.applyists.net
Please use JRHMSF for the "Key"
Eligibility: For the sons, daughters and financial dependents of Teamster members (including the BMWED, BLET, GCC and TCRC). Academic scholarships ranging from $1,000 to $10,000 for high school seniors planning to attend a four-year college or university and Training/Vocational program awards of up to $2,000 for use at community colleges and trade schools. For more details, Click Here.
Application Open: November 30, 2019

DEADLINE: March 31, 2020 at 11:59 PM Pacific Time Zone

Membership Verification Deadline: March 31, 2020

Notification of Selection Results: June 2020

Funds Disbursed: August 2020
For general questions about the James R. Hoffa Memorial Scholarship Fund, please call 855-670-ISTS (4787) or Email: contactus@applyISTS.com
College Tuition Discount Network
As a Teamster member, there is a college tuition discount program that is available to you and members of your family. The ISTS Tuition Discount Network (TDN) is a list of For-Profit and Non-Profit colleges and universities that offer reduced tuition. The amount of the reduction can varies by school and can sometimes be as specific as major. Make sure you identify yourself as a Teamster when applying.
The link to the TDN is http://www.applyists.com/tuition-discount-network/. Click on the school's logo to view the discount.
About James R. Hoffa Memorial Scholarship Fund
James R. Hoffa became a Teamster member in 1934 and served as General President for 14 years, and, in recognition of his tireless service to the union and its members, was honored as General President Emeritus for life. At the November 1999 General Executive Board meeting, then-General Secretary-Treasurer C. Thomas Keegel presented a resolution to establish the new scholarship fund. This site describes the James R. Hoffa Memorial Scholarship Fund (JRHMSF) and outlines eligibility requirements and application procedures. Please click here.
The James R. Hoffa Memorial Scholarship Fund is an independent organization established and registered as a tax-exempt entity under Section 501(c)(3) of the Internal Revenue Code. The Fund is established solely to provide scholarships to the child or dependent of a member of the International Brotherhood of Teamsters, and contributions to the Fund are deductible as charitable contributions to the extent permitted by law.
Article Archives:
Next of 306 articles