Article Archives:
Next of 269 articles
UPS Freight Teamsters Ratify LBFO
Updated On: Nov 12, 2018 (20:54:00)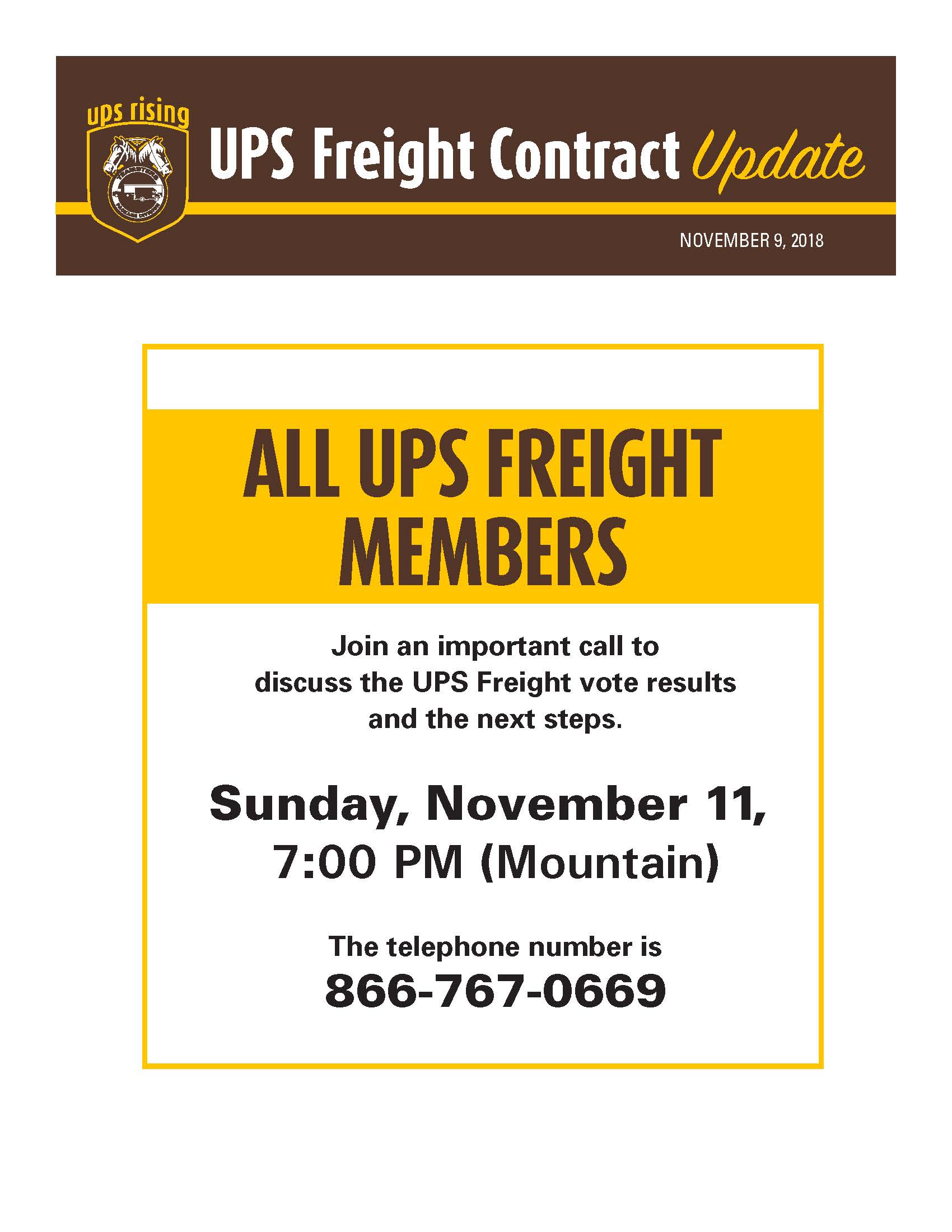 UPS FREIGHT TEAMSTERS RATIFY COMPANY'S FINAL CONTRACT OFFER
For those of you that were not able to hear the call. It was only 6 mins long and the following is what was discussed:
The Union will Ensure Company Compliance with Agreement Terms – Workers at UPS Freight represented by the Teamsters Union have ratified a new five-year agreement that was the company's last, best and final offer, averting a national strike. Members approved the contract by a 77 percent to 23 percent margin at local union meetings held from Nov. 7 until today. The agreement covers approximately 11,600 with 10773 eligible voters of whom 9002 workers at the company voted. The final vote was 6,935 (77%) in favor and 2,067 (23%) with 84 percent of eligible members voting, which was a 16% increase in turnout from the last vote. View the UPSF LBFO IBT Vote Totals & Press Release Here
Recalls will be in seniority order by classification and qualification. Members not called back should file for unemployment. The IBT also recommends UPS Freight members not recalled apply at ABF or YRC ASAP as most locations are hiring.
Tracy McCarty been in contact with Myrlon and UPSF will be working on the 11-12-2018. Myrlon will be in the office and start setting up schedules. If there are any questions contact Tracy at the office.
Thank you to everyone that came out to witness the UPSF vote count and thank you to everyone that voted, Teamsters Local 492 had 100% turnout! The total for Teamsters Local 492 was 17 (71%) to accept the contract and 7 (29%) to reject.
Netflix Buys First Studio in ABQ
Updated On: Nov 05, 2018 (22:04:00)

10-18-2018 Update - Your Teamsters Local 492 Film Industry Business Agent Melissa Malcom and Recording Secretary Trey White were in attendance at the City Council Meeting in October where ABQ city councilors unanimously approved $4.5 million (plus $10 million for the State of NM) in incentives from the Local Economic Development Act (LEDA) Fund which helped Netflix purchase Albuquerque Studios. In turn, Netflix will refurbish the studios to shoot films & TV series, spending at least $1 Billion on film productions in the first 10 years of operations. Instructors from CNM at the meeting stated the school is ready to help Netflix fill jobs. "We don't just have filmmakers at CNM, we have builders, we have carpenters...we have any jobs in the film industry. We can do it," Charlie O'Dowd said. Netflix is making Albuquerque its home away from home. The entertainment giant has purchased Albuquerque Studios and will make it a production hub over the next year. Mayor Tim Keller said, "There will be 1,000 jobs per year, which is the largest Albuquerque-based jobs program that we can think of." Local 492 welcomes Netflix and looks forward to the next 10 years!!!
Netflix says it will use the new studio for production of its irreverent apocalypse dramedy Daybreak, supernatural drama Chambers, and epic, suspenseful drama Messiah. The streaming giant said it has found New Mexico to be well-suited for production, with its hospitable climate, great exteriors and interiors and an experienced crew who've built infrastructure in the years since the city provided the backdrop for Breaking Bad. It previously produced the Emmy-winning limited series Godless, The Ridiculous Six and Longmire in NM among many others. "Our experience producing shows and films in New Mexico inspired us to jump at the chance to establish a new production hub here," said Ty Warren, Netflix's VP Physical Production. "The people, the landscape and the facilities are all stellar and we can't wait to get to work — and employ lots of New Mexicans — creating entertainment for the world to enjoy."
Albuquerque Studios consists of nine sound stages with over 170,000 sq ft, and another 100,000 sq ft for production offices which often doubles for filming locations, mill space and a back lot. They also offer a variety of production support from in-house lighting and grip to equipment rental. View a list of recent productions that have been filmed in part of Albuquerque Studios Here. According to a press release Monday, the company is in the final negotiations to purchase Albuquerque Studios and plans to bring $1 Billion in production to New Mexico over the next ten years. This will be Netflix's first purchase of a production studio complex. The company will produce film and television series in the new facility. They will also film at locations around the state. New Mexico will provide up to $10 million in Local Economic Development Act (LEDA) funding and Albuquerque will commit up to $4.5 million in local LEDA funding.
Albuquerque has regularly been ranked in the top 10 of Moviemaker's best places to be a filmmaker. The New Mexico film industry has seen steady growth for more than 15 years. "This deal helps define us," Mayor Keller says. "This is Intel equivalent. There has been nothing like this in central New Mexico other than Intel. For us though, Intel was one of 13 fab (fabrication) plants. This is it. It is their only studio they have in the United States that they've purchased. [Netflix is] putting their anchor here and it's going to redefine the economic landscape in Albuquerque and the Southwest."
Keller said Albuquerque beat out other places such as Denver, Salt Lake City, Austin, New York, Georgia and Los Angeles. Netflix was impressed with the experience of crew in New Mexico. "Our workforce was ready. The jobs don't require a particular degree and they are accessible from all walks of life. They are high paying and that is extremely rare. The film industry has its own career ladder. It doesn't matter where you went to school and it's one of the great industries where you are rewarded for as good as you are at your job."
"Albuquerque Studios has been a rental house for years," Alicia J. Keyes, city of Albuquerque's film liaison said. "Now you have a production and distribution company that can create their own content. They won't be looking for people to rent the space. Netflix's commitment to Albuquerque is the result of years of support for this industry by the legislature, the administrations and the New Mexico people. Our state's commitment to the entertainment industry has paid off in a big way, especially when you consider the amount of outside money flowing into our community. Last year, just in Albuquerque, film/TV brought in over $180 million of direct spend, and that does not count the indirect money from tourism and monies spent outside of production."
At its recent peak in 2016, New Mexico's film industry injected $505 million (more than a half a billion dollars) into the economy, shattering the previous record by more than $115 million. In that same year (2016), the U.S. Department of Commerce ranked New Mexico's economy the third-fastest growing in the nation and seventh in the nation for private-sector job growth. The 2016 data showed that the industry continues to support more jobs, with over 448,304 worker days in FY17. Local 492 had about 300 Teamsters working in the NM film Industry in 2016. Brian O'Leary, Senior Vice President Tax NBCUniversal said, "The stability of the tax credit program, an expanding and increasingly skilled local workforce, and best in class industry support from the New Mexico film office are just some of the critical elements that have led to a thriving industry cluster in New Mexico."
Some of the other major Studios in NM include, I-25 studios, Garson Studios, and Santa Fe Studios. "It's really good for the state and they will be hiring people from New Mexico," Nick Maniatis, NM Film Office director said. "It won't have a negative impact. The rest of the [NM] studios will be busy with work that would normally go to Albuquerque Studios."
"Having Netflix set down roots in Albuquerque guarantees that the city will remain a major production center for the entertainment industry," Keller said. "Thanks to the strong leadership of our Albuquerque Film Office, who initiated the deal, and the groundwork laid by previous and current film industry partners, we're ready to welcome Netflix to Albuquerque as a long-term partner in building our state's economy." Netflix has 130 million memberships in over 190 countries.
Portions of this article came from the Albuquerque Journal, KRQE News and Deadline
UPS & UPSF Vote Results (Oct 5, 2018)
Updated On: Nov 30, 2018 (14:24:00)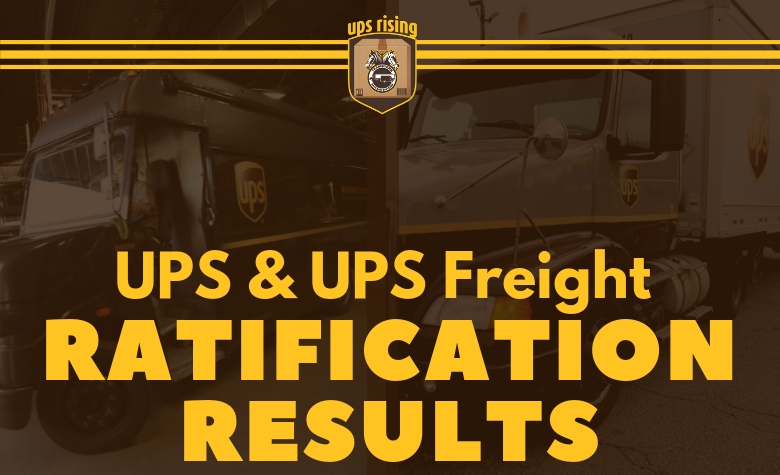 11-30-18 - TWO OUTSTANDING UPS SUPPLEMENTS TO BE RE-VOTED SOON
11-11-18 UPSF Teamsters Ratify LBFO
11-1-18 - UPSF Says They Are No Longer Taking Freight
10-31-18 - IBT UPS Freight Re-Vote Mailer
10-30-18 PM - UPS Freight Re-Vote Authorized by Locals
10-30-18 - Local 492 Voting Info Notice (Login to view)
10-30-18 - IBT & 492 Conference Calls Poster (Login to view)
10-25-18 - UPS Freight Last Best & Final Offer (Summary)
10-25-18 - UPS Freight Last Best & Final Offer (Details)
10-11-18 - UPS Freight New Negotiations Scheduled
10-11-18 - UPS Freight Contract Update
In light of UPS Freight members rejecting the National Master Agreement, the Teamsters National UPS Freight Negotiating Committee has notified the company that the contract extension will terminate on November 12. The negotiating committee will work with local union officers to determine member priorities.
Following those discussions, the committee will hold further negotiating meetings with the company to address the members' concerns. The first such negotiations are scheduled the week of October 22.
The extension agreement requires a minimum 30-day notice to terminate. The union sent a termination notice on Tuesday, October 9 and set an expiration date of Monday, November 12.

10-11-18 - UPS Contract Update
The National Master UPS Agreement has been ratified, but it will not go into effect until all the rejected supplements have been re-voted and approved. Following the vote count on Friday, October 5, the results showed that six supplements were rejected. The union will be reaching out to the chairs of the supplements and then will arrange for a meeting with the company. The rejected supplements are:
• Teamsters Central Pennsylvania Tentative Agreement;
• Teamsters Local 243 and Metro Detroit Tentative Agreement;
• Teamsters Local 804 Tentative Agreement;
• Teamsters Trailer Conditioners Inc. (TCI) Tentative Agreement;
• Teamsters Upstate and West New York Tentative Agreement; and
• Teamsters Western Pennsylvania and Local 926 Car Wash Tentative Agreement.
Package Division Director Denis Taylor has reached out to UPS requesting a meeting to discuss the contract. We will keep the Local Unions informed as this process continues. Once these six outstanding agreements are ratified, the national agreement will then go into effect, with economic improvements retroactive to August 1, 2018.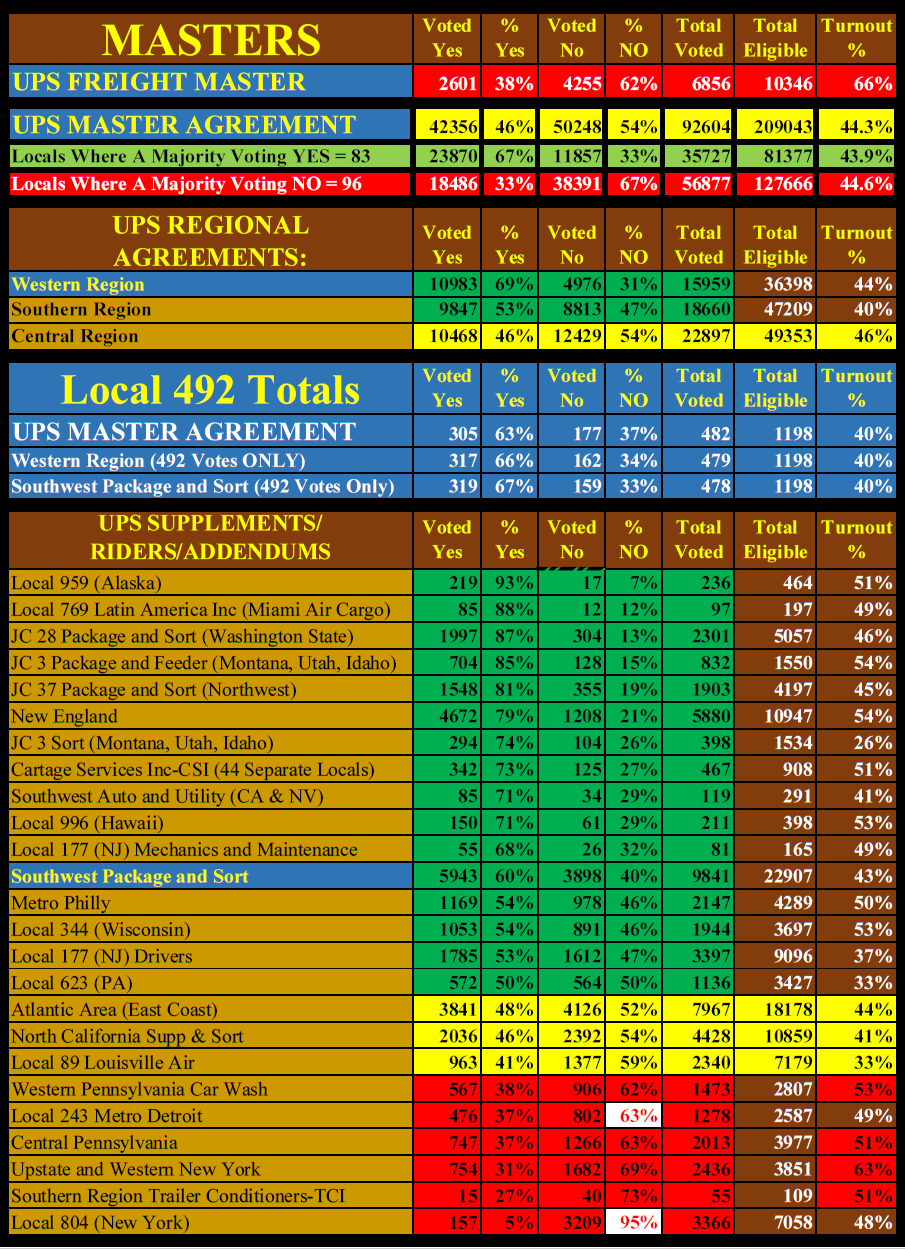 UPS National Master and Supplements Results
Since the announcement that a tentative agreement had been reached with UPS, the National Negotiating Committee (NNC) has provided members with an unprecedented number of leaflets and summaries explaining the terms of the proposed contract. We have conducted teleconferences to highlight the improvements in the new agreement and take questions from members, which were answered in writing and available on several electronic platforms. Members supporting and opposing the tentative agreement have freely and energetically exchanged their views through social media and in the workplace, examining every aspect of the proposal. The debate has been vigorous, and any member could easily obtain information necessary to determine whether to support or oppose the National Master Agreement as well as his/her applicable Supplement and Rider.
Once the ballot materials were printed and ready for mailing to the members, both the NNC and opponents to the agreement have repeatedly encouraged members to vote. The NNC contacted members through postcards, social media messages, text messages and robo-calls urging them to exercise their right to vote. Every Local Union reached out to its members with similar programs designed to encourage membership participation in the ratification.
In an effort to make voting more convenient and to simplify the process, the NNC implemented electronic voting, replacing traditional paper mail ballots. All members could easily vote via computer or telephone in order to express their opinion of the contract. Further, the new procedures allowed members to change their vote up until the close of voting.
Despite of all of these efforts made by the NNC, Local Unions and individual members to encourage voting, only 44.3 percent of the eligible UPS membership participated in the ratification referendum on the National Master Agreement. Of the 209,043 members who were eligible to vote, only 92,604 (44.3%) cast a vote. The results of the tabulation show that 42,356 (45.8%) voted for the proposed contract and 50,248 (54.2%) voted against it.
In such circumstances where less than 50 percent of the membership votes on a final contract offer, the International Constitution provides that "a two-thirds (2/3) vote of those voting shall be required to reject such final offer…" Failure to reject the offer by at least two-thirds vote of those voting "shall require the negotiating committee to accept such final offer or such additional provisions as can be negotiated by it." As the vote tally indicates, a majority of members did not vote and a two-thirds majority of those who did vote did not oppose the contract.
The International Constitution does not give the NNC an option in these circumstances. As required by law, the NNC informed UPS of the ratification requirements at the beginning of negotiations. This provision has been in the Constitution since the 1991 Convention. If a majority of the eligible members had exercised their right to vote in this ratification, as did the members employed by UPS Freight, then a simple majority of those voting would have been needed to either accept or reject the agreement. But not enough members covered by the National Master UPS Agreement exercised their right to vote. And as we saw in the 2016 U.S. Presidential election, winning the popular vote does not necessarily win the election when the Constitution requires you to win the Electoral College vote. As Teamsters, we too must abide by the rules in our Constitution. Thus, the National Master UPS Agreement has been ratified.
The Committee fully intends to demand that UPS return to the bargaining table to address a number of member concerns with the National Master UPS Agreement. We will keep you informed. However, based on the results announced this evening, the National Master UPS Agreement has been ratified. Additionally, regional and local supplements and riders were tallied and the National Negotiating Committee will follow up with those committees to move forward.
The entire National Master UPS Agreement is not final until all of the Supplements and Riders have been resolved. Accordingly, the NNC is prepared to assist the Supplemental Negotiating Committees secure another contract offer that will be presented to the affected membership.
This has been a lengthy process. While we attempt to resolve the outstanding Supplements/Riders and discuss the National Master with UPS, you are reminded that the terms of the 2013 Agreement remain in effect, including the no strike/no lockout clause. Under the terms of the extension agreement, all of the wage increases and other economic improvements in the new contract will be paid retroactively to August 1, 2018.
UPS Freight Results
The union also announced that UPS Freight Teamsters have rejected a proposed five-year national agreement with UPS Freight by a vote of 2,601 in favor and 4,255 opposed with 66.2 percent of eligible members voting.
The Teamsters National UPS Freight Negotiating Committee will notify the company that the union is terminating the contract extension, and the committee will contact the company to request another round of negotiations in order to address members' concerns. That agreement, which covers about 11,600 union-represented workers, will then need to be voted on again by the members.
Great Turnout for NM Teamster Appreciation Day 2018
Updated On: Oct 08, 2018 (16:17:00)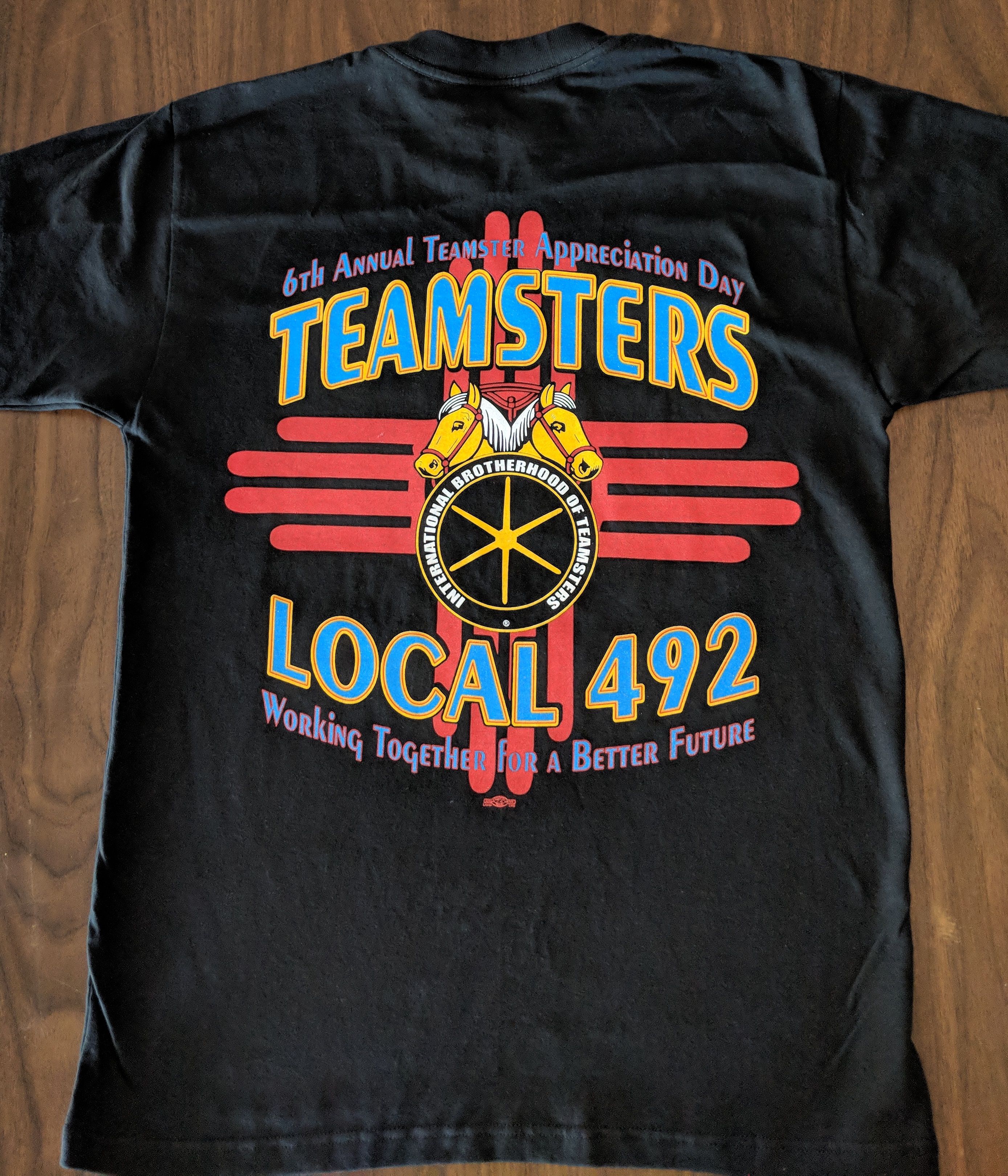 Record for Member Attendance at NM Teamster Appreciation Day 2018
Over 500 people came to the 2018 New Mexico Teamsters Appreciation Day on Saturday Sept 22nd which included reaching an all-time high this year for the amount of active 492 Members attending. Local 492 Teamsters came from a wide variety of crafts and companies which included are very large number from the Freight and Package industries (in order of highest member turnout) UPS, ABF, YRC, 492 Movie Drivers & Wranglers, Sysco, UPS Freight, AmeriPride Linen, Creamland, TeamOne, Franklins, LANS, OMI, RTD Blue Bus, Sandia Labs, and Sara Lee Thrift Stores. There were Teamster Retirees that also attended and Brother Phil Tuff had a booth set up for info on the Teamster Retiree Club.
Photos of the Event can be Viewed Here.
Secretary-Treasurer Walter R. Maestas was there along with other members of the Teamsters 492 Executive Board; Vice-President Richard Martinez, Recording Secretary/BA Trey White, Trustee Joseph Carrillo and Trustee Andrew Palmer, along with Business Agents Melissa Malcom & Tracy McCarty. You may have run into them busy working to make sure the event ran smooth.
Local 492 received tons of complements on the change in food with the Box Lunches from Firehouse Subs. In addition to the food, Members enjoyed the music, perfect weather and they received a free Teamster shirt and other gifts. The kids enjoyed the face painting (by Sister Silvana Cufré of ABF), a new 5 in 1 Jumper Castle, and free Teamsters Local 492 Frisbees. There were also some new games provided which many enjoyed, plus Rafael Trujillo (ABF) and Rafael Trujillo Jr. (ABF) treated the attendees to their wonderful singing.
Local 492 gave away 35 great prizes this year including a 50" Flat screen TV (won by Sysco Steward Sergio Morales), a deep freezer (won by UPS Brother Lawrence Ryan Padilla), 2 piece luggage set (won by ABF Brother Ricardo Mimbela), a patio heater (won by YRC Brother Winslow), and six custom 492 Steel Cutout Logos. We also raffled three custom made 492 Teamster Disk-it's, won by UPS Brother Arsenio Martinez, UPS Brother Jeff Slingerland & YRC Brother Salomon Aguilar.
The Teamsters Joint Council #3 Truck was there again this year thanks to Retired 455 Vice President, Jim and Maria Adams who drove it down from Colorado and helped on Saturday with set up and take down.
Also at the event was Xochitl Torres Small, who is a pro-Union and pro-worker candidate running for the open United States House Congressional 2nd District seat in southern New Mexico. We want to thank Xochitl for driving all the way from Las Cruces to come to our event, she even helped put everything away after it was over; she is amazing! We will need more people like Xochitl Torres Small in congress if we ever hope to get bills like the Butch Lewis Act passed!
This is the 6th year Teamsters Local 492 has hosted an event to celebrate the Teamsters of New Mexico, and the fourth year we had a committee of Volunteer Teamsters Members plan the event. On behalf of all of the Members who enjoyed the event, The Teamsters Local 492 Executive Board would like to thank The 492 Volunteer Event Committee for all of their hard work and the countless hours of their personal time they donated to this great Union over the past months preparing for this day. In addition to the planning, The NMTAD Committee worked all day Thursday & Friday to set-up the inside of the hall and came in at 8 am Saturday morning to prepare the outside. The NMTAD Committee also worked the entire event to insure the Members would enjoy themselves.
In alphabetical order, The 2018 Committee was once again led by Brother Joseph Carrillo (ABF) (event coordinator). Lacey Eversole (ABF), Sister Rori Hall (ABF), Sister Melissa Malcom, and Brother Trey White were the other 4 on the committee this year and you probably saw them the day of the event volunteering at the check-in/food tables. A special thanks to Brother Tracy McCarty who was our supply runner on the day of the event, and also helped with set-up and take down, and to Brian Chavez and Tanner Chavez for picking up the delicious Box Lunches from Firehouse Subs before the event and again in the afternoon, which enabled everyone to enjoy a fresh sandwich.
Volunteers (in alphabetical order) who came in early on Saturday to help set up the event were; Shane Barrows (YRC), Anthony Boswell (Sysco), Robert Delgado (ABF), Alfred Esquibel Jr, (ABF), Arsenio Martinez (UPS), Ramona Medina (UPS), Anthony Perea (AmeriPride), Becky Powell, Eli Powell, Mya Powell, Robert Sanders (ABF) who also drove the truck with the tents and volunteered at the DRIVE table, Frank Sandoval (Movies), Lawrence Standard (YRC), Brother Kirk Weis (ABF), John Wegrzynek (UPS), and Brother Donald Wood (ABF), who also helped direct members as the came in.
Other volunteers that helped during the event (in alphabetical order); office secretary Darlene Archuleta ran the 492 Teamster store, Sister Silvana Cufré (ABF) did the Face painting by herself this year and did a great job once again, Theron Graham (Movies) did a great job keeping the sodas & water cold and trash cans empty, John Petit (UPS) helped with food, Brittany Thorpe volunteered at the check-in/food table, and Sister Marie Wilson helped at the Teamster store.
Thank you to all who participated and attended this event, we truly enjoyed seeing all of you and meeting your families. On behalf the Teamsters Local 492 staff, Business Agents and Executive Board, we truly appreciate the Members of this Local Union and everything you do to make this Union great, and all the hard working Union Stewards that do such a great job helping their fellow Members, Thank you Teamster Brothers & Sisters! Go down memory lane below:
(2017) 500 Teamsters & Family Attend NM Teamster Appreciation Day 2017
(2016) Great Turnout for NM Teamster Appreciation Day
(2015) 492 Teamster Day 2015 Turns Out Record Attendees
(2014) Membership Appreciation Day
(2013) Great Time Had At The First Ever 492 Membership Appreciation Event
492 Riders/Supplements Now Available-Locals Approve UPS TA
Updated On: Oct 05, 2018 (22:36:00)

Leaders of UPS and UPS Freight Local Unions Approve

Tentative Agreement
9-19-18 - UPS Freight IBT 2nd Mailer
9-18-19 - UPS Freight Postcard
9-17-18 - UPS IBT 4th Mailer*
9-16-18 - UPS Fulltime Progression Flier
9-13-18 - Listen to the UPS Partimer Conf Call from Sept 8
9-13-18- UPS Feeder Driver Flier
9-12-18-UPS IBT 3rd Mailer
9-11-18 -UPS Freight IBT Mailer
9-10-18 -Ballots are being mailed out this week. Listed below is a layout of the materials that UPS & UPS Freight Members will find in their ballot package:
Mailing Envelope

Voting Notice and Instructions, including recipient's name, address and personal access code

Voting Guide, which lists the specific agreements the recipient will be voting on

Image of online introductory screen for members who choose to vote online

Image of online voting screen

Language member will hear if voting by phone

Introductory letter from mailed ballot packet, including highlights and Q & A

Actual agreements, including highlights when available
Local 492 has also posted the following new materials related to the vote (login to view):
UPS SouthWest Package TA Summary
UPS National Highlights Plus Q&A
Local 492 Pension Explanation & Chart
Please be advised the official date for balloting materials to be mailed to all eligible members at UPS and UPS Freight will be between Tuesday, September 11th and Friday, September 14, 2018. The ballots will be counted on Friday, October 5, 2018 at 6:00 p.m. Mountain Time.
To Download Flyers and/or Read Updates, Click:
9-5-18 UPS Freight Conference Call Sept 9 at 5 pm
9-4-18 - IBT Mailer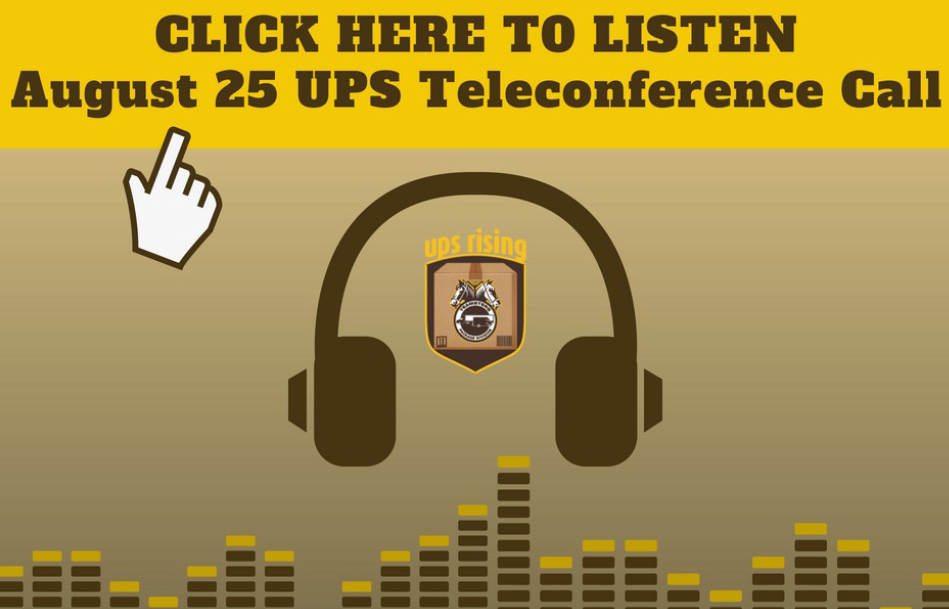 8-29-18 -Listen to Aug 25 Teleconference Call Teamsters Package Division Director Denis Taylor hosted a conference call on August 25 and focused on 22.4 combination drivers, excessive overtime and less subcontracting in Feeders.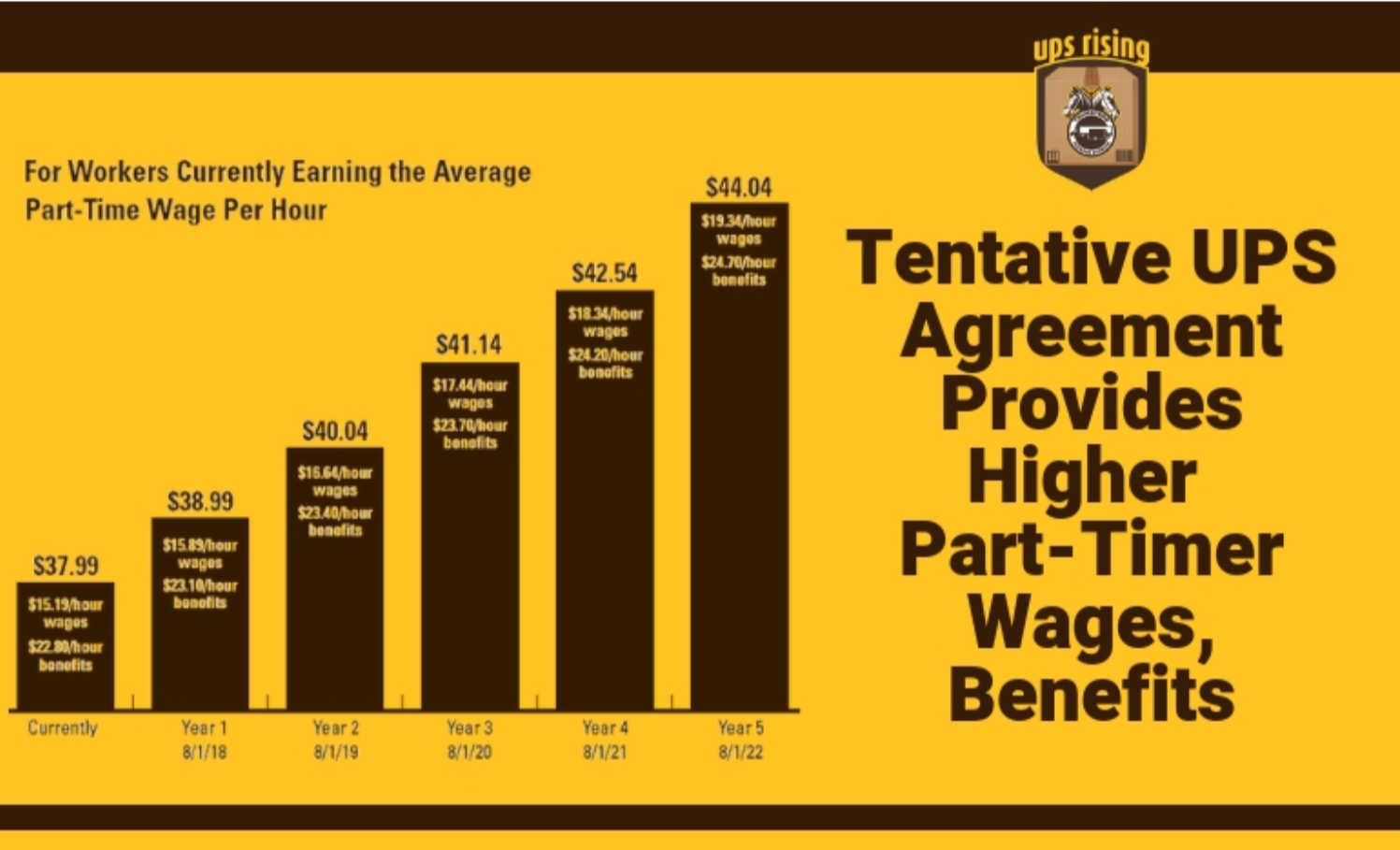 8-28-18 - Get Facts About How The UPS Contract Was Negotiated!
New! - 22.4 Combo, Harassment, Part-Time, Subcontracting, Flyer
New! - UPS Member Questions From August 11 Tele-forum Call
New Video! – How 22.4 Will Affect All Current UPS Employees
New! - UPS 10 Reasons Vote Yes Flyer
New! - UPS Conference Call August 25, 2018 Flyer
UPS TA Informational Flyers/Posters
492 Wage, Pension, Health Increase Chart
492/Southwest Contract Improvement Flyer
Safety & Health Improvements Flyer
TA Strengthens Protections Against Harassment, Excessive Overtime Flyer
Part-Time Rates & Wage Increases Flyers
Frequently Asked Questions Flyer
UPS Freight TA:
New! - Tentative UPS Freight Agreement Provides Numerous Improvements
2018 National Master UPS Freight Tentative Agreement (Changes)
2018 National Master UPS Freight Tentative Agreement (Highlights)
UPS Package TA:
2018 Full Teamsters UPS Package National TA
2018 Teamsters UPS Package National TA (Highlights)
Click here to login, then you can view the Supplement/Rider Changes to:
2018 Southwest Package Rider (TA)
2018 Southwest Sort Rider (TA)
2018 Western Supplement (TA)
492/Southwest Contract Improvement Flyer

See this video about the 22.4 combination driver positions in the tentative UPS national contract, which will protect package-car drivers' jobs and allow package-car drivers to spend more time with their families on weekends, among other improvements. Meanwhile, the positions will provide full-time status to the new combination drivers with full-time health, welfare and pension benefits and the opportunity to become package-car drivers. It's a win-win for both package-car drivers and the new combination drivers!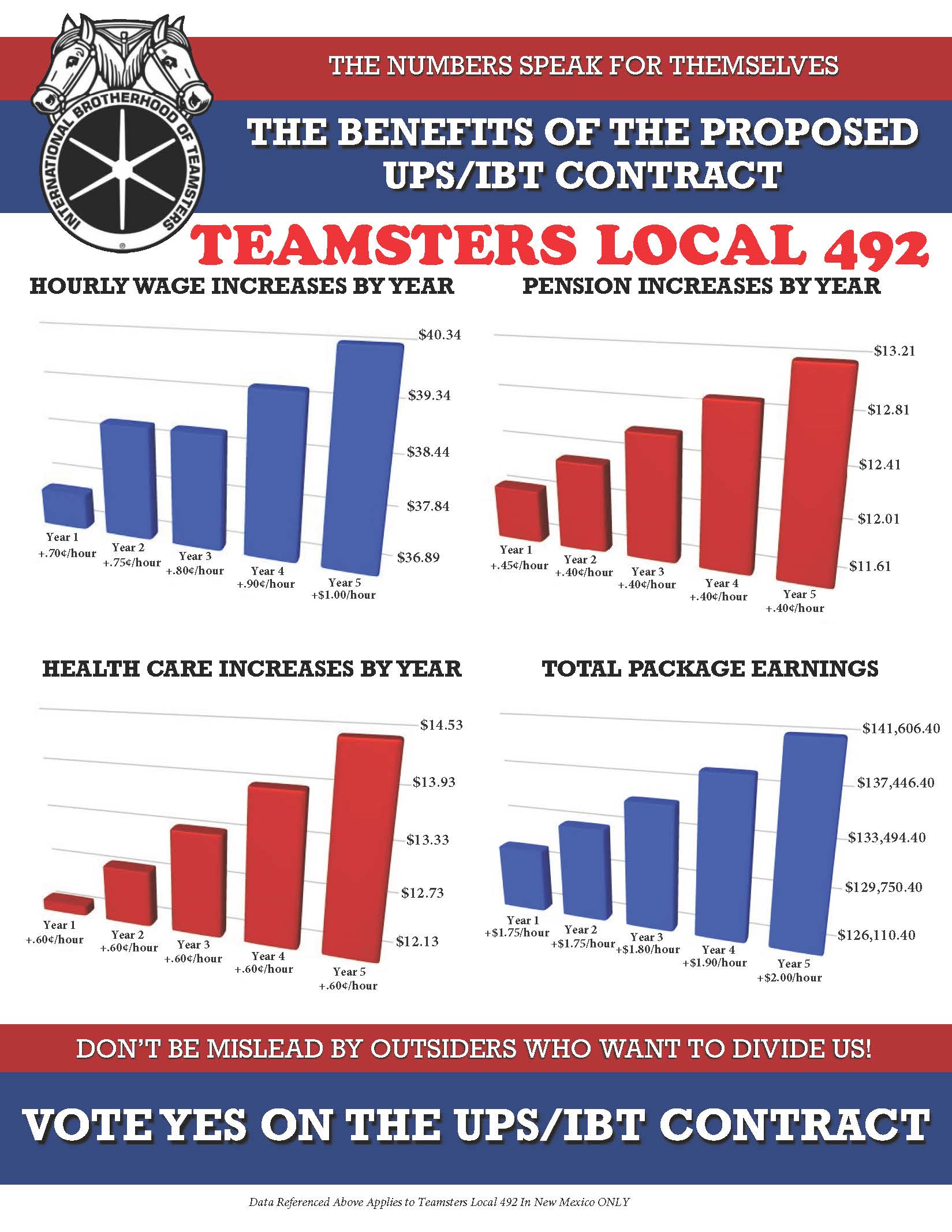 8-9-18 Leaders of UPS and UPS Freight Local Unions Approve Tentative Agreements:
Leaders of local unions that represent UPS and UPS Freight Teamsters met today and approved the two separate tentative national agreements, paving the way for members to vote by electronic ballot starting next month.
Regarding the UPS tentative agreement, "Today's vote was a very strong indication of the support nationwide from local union leaders and it sends the national agreement, regional supplements and riders to the members for a ratification vote," said Denis Taylor, Director of the Teamsters Package Division and Co-Chairman of the Teamsters National UPS Negotiating Committee. "This agreement provides all our UPS members with tremendous gains in wages, benefits and working conditions and excellent opportunities for part-time workers to gain full-time employment."
The tentative five-year UPS contract addresses several major issues:

Wage increase/increased start rates for part-timers.

The tentative agreement provides annual wage increases for full-time and part-time workers and for the first time in many years contains increases in the part-time start rates, a key issue for hundreds of thousands of our members and future members.

Protects strong health care and pension benefits.

UPS Teamsters will continue to receive their health insurance without paying premiums. UPS is required to make up the difference in the event Central States reduces benefits so that members who were covered by that Fund receive the full pension they earned.

Addresses harassment and excessive overtime.

Stronger grievance enforcement for harassment with a sitting arbitrator and monetary penalties, and a new procedure making it easier to get on or off the overtime (9.5) list.

5,000 new full-time jobs.

The agreement requires UPS to create 5,000 new full-time jobs during the agreement, including a minimum of 2,000 sleeper team jobs by taking work off the railroad, and a new combination driver classification that addresses the changes brought on through the e-commerce revolution.
Likewise, "The UPS Freight tentative agreement provides our members with economic security and job security over the next five years and beyond," said Kris Taylor, the Teamsters UPS Freight coordinator.
The tentative five-year UPS Freight contract addresses numerous major issues, including subcontracting, wage increases, pension increases, seniority, bidding, penalty pay, increased paid leave for casuals and more.
Early next month, members will receive voting information. The votes will be by secret ballot as it always has been, but this time members will vote via the Internet or phone.
The votes will be conducted through the BallotPoint Election Services voting system. In the packet being mailed in early September, members will find the agreements and a summary of the highlights including questions and answers. But instead of a paper ballot, members will find an individual access code and simple instructions on how to use the access code to vote by telephone or Internet.
BallotPoint is an election services provider which has specialized in electronic balloting and polling since 1999. The company has conducted nearly 4,000 union elections with nearly 2 million votes cast, and have never had an election compromised. Their system is secure and protects the secrecy of each member's vote. In other words, no one will know how you voted!
The Teamsters Union has used BallotPoint extensively over the past three years to conduct contract ratifications, including the recent ABF Freight election. All of the ratifications were conducted without incident or challenges.
For more information on BallotPoint, visit their website here.
Join the Contract Update teleforum call on Saturday, August 11 at 3:00 pm (Mountain) to learn more about the contract: Call-In Number is (866) 767-0669
There will be a UPS Freight members contract update tele- forum call scheduled in the near future.
NM Teamster Appreciation Day 2018
Updated On: Oct 05, 2018 (22:37:00)
New Mexico Teamster Appreciation Day 2018
2018 NM Teamster Appreciation Day event is tomorrow, Saturday September 22nd, 2018 from 11am to 2:30pm. For the kids, we will have a jumper castle and face painting along with some other fun games.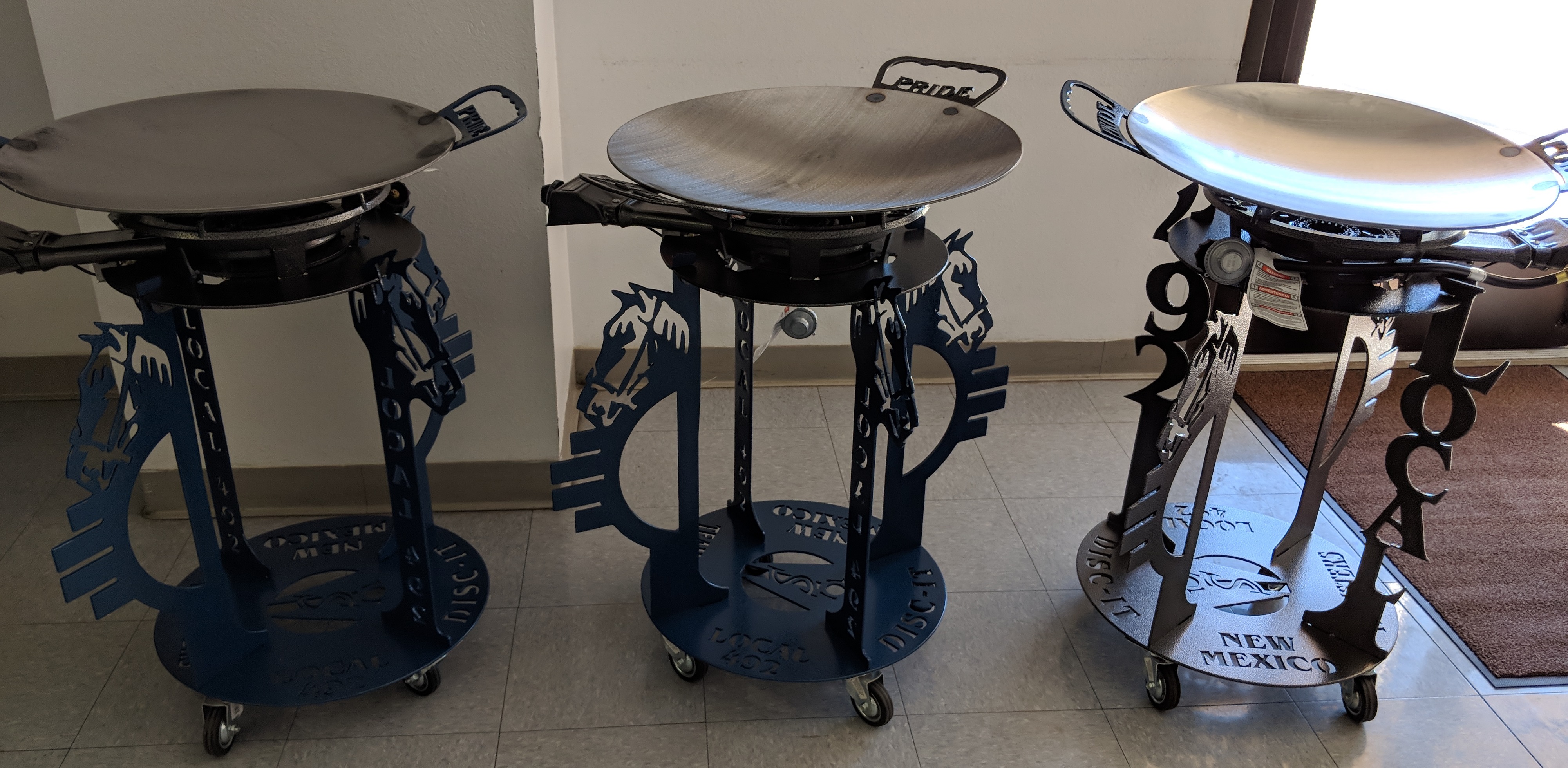 This year, we have 3 custom 492 Teamster Disc-it's that will be raffled off, $1 will get you 3 chances to win! This year the food will be from Firehouse subs. Enjoy free food with music and fun for the kids!
Also, come get your free NMTAD Teamster shirt, and win great free raffle prizes including six steel 18" x 18" 492 Cut Outs (see pic below), a 50" 4K Roku TV, Patio Heater and much more!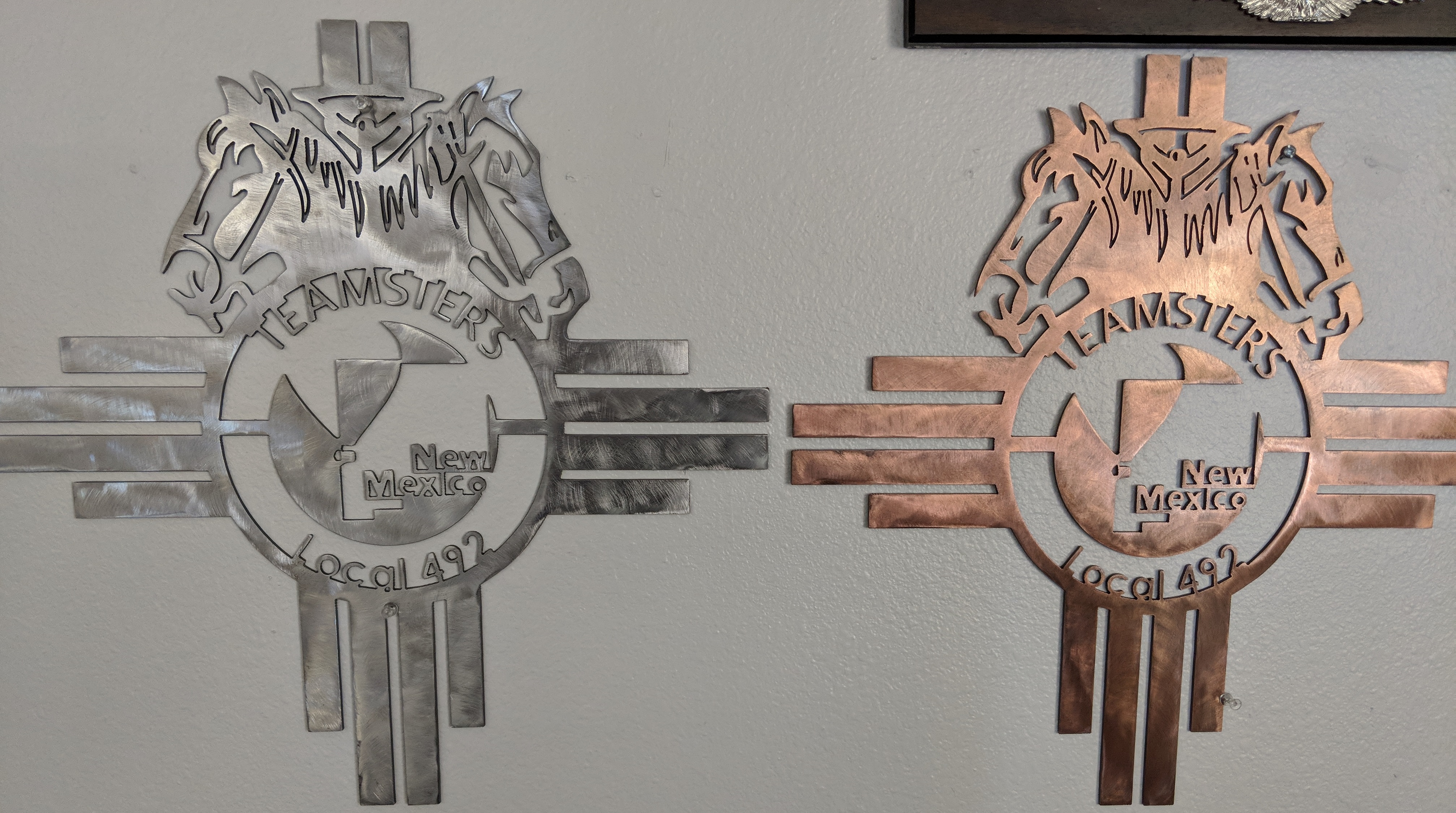 We will also have lots of great Local 492 Teamster Merchandise for sale again this year (priced at cost, Click Here for a list). Make sure to bring your Family and get to know The 492 Teamsters Executive Board, Business Agents & Staff. 4269 Balloon Park Road NE, Alb NM 87109 Ph# 505-344-1925. Members that win a prize who are not present at the time of raffle will be notified (by phone or email) to pick up their prize, so make sure you write legibly with your current info.
To speed up the registration process, you can fill out the registration form by downloading here, filling out and print, then bring it with you on Saturday.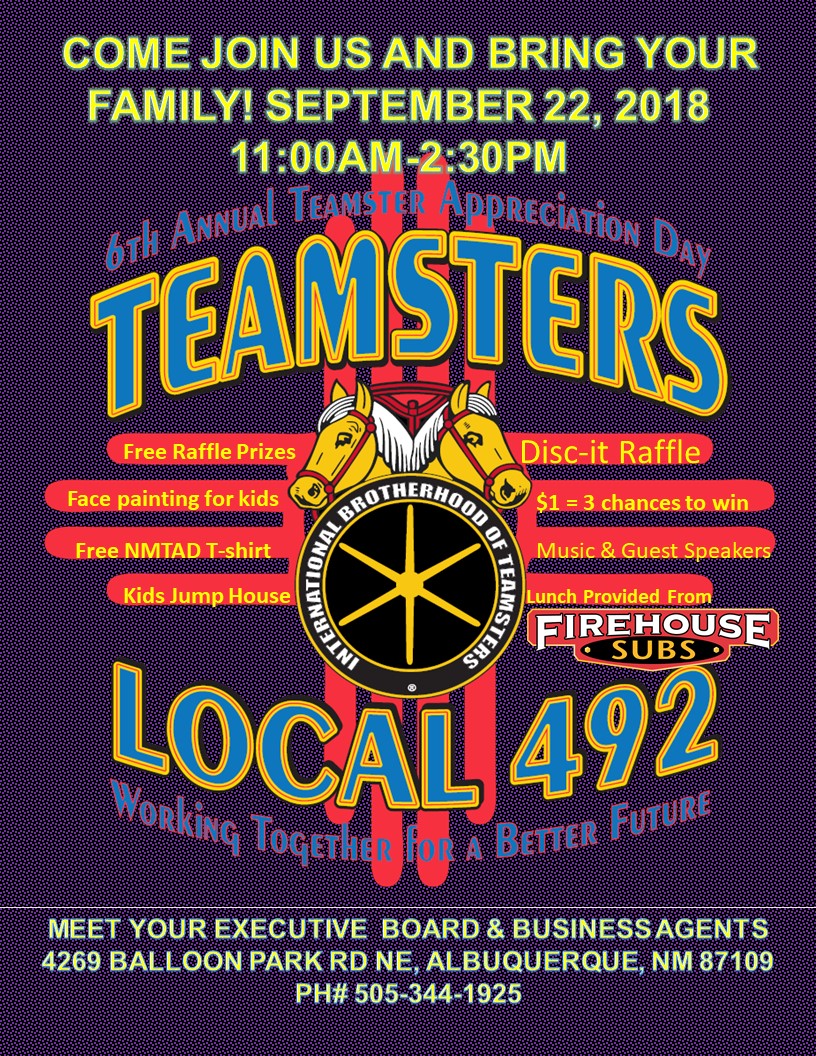 Download:

NMTAD2018RegistrationFormONLINE.pdf
Highlights of the UPS Freight Tentative Agreement
Updated On: Oct 05, 2018 (22:38:00)
Highlights of the UPS Freight

Tentative Agreement

There are currently nearly 12,000 employees covered by the National UPS Freight Agreement. During bargaining, the company committed to adding more bargaining unit drivers and growing the bargaining unit. Under the tentative agreement, UPS Freight's wage and benefit packages will continue to be among the highest in the LTL industry. Furthermore, contractual protections and benefits to the bargaining unit have been greatly enhanced. In fact, it is estimated that the overall costs of the tentative agreement to the company are more than 33 percent higher than the costs under the current agreement.
Click Here to Read the National Master UPS Freight Tentative Agreement (Changes)
Click Here to Read the National Master UPS Freight Tentative Agreement (Highlights in Detail)
Below is a list of highlights:
New Restrictions on Subcontracting
Wage Increases
Pension Multiplier Increases
No Increase for Health Care Premium Co-Pays
Increased Paid Leave for Casuals
Vacation Blackout Weeks
CDL Training
Supervisors Working
Penalty Pay
Protections Against Excessive Forced Overtime for Full-Time Local Cartage and Clericals:
Identified Serious Accidents
Trigger for Creating New Full-Time Clerical Jobs Added
All bids Will Now Have Full Bump and Roll Monitored by Union Stewards
Provisions Added to Allow Transfer for Spouses of Military Persons Who are Relocated
Change of Operations Language Improved
ABF Contract Fully Ratified
Posted On: Jul 25, 2018 (21:09:25)

The last supplement to the ABF NMFA has now been ratified. Consequently, the new collective bargaining agreement has been approved and will take effect. Pay increases will be retroactive to July 1, 2018 as per the new agreement.
It is our understanding that the Company will actually implement the new agreement on Sunday, July 29. Also, pay for week ending 7-28-2018 will be processed at the pay rate that includes the July 1, 2018 increase.
Retro pay for weeks ending 7-7-2018, 7-14-2018 and 7-21-2018 will be paid by a separate check processed on or about 8-2-2018, and distributed with the paychecks for the week ending 7-28-2018. The ratification bonus will be processed and distributed within the next 30 days.
Article Archives:
Next of 269 articles