Article Archives:
Next of 333 articles

Film Teamsters Forklift Certified at 492 Union Hall
Teamsters Local 492 conducted 3 free forklift classes on January 7, 8, & 9th, 2022. The classes were at the Union Hall. There were 36 Teamsters that successfully completed the Forklift Certification/training classes and were certified in Class 4, 5 and even Class 7 which is the reach-forklift. These classes were conducted for free for our Film Teamsters because they do not have a fixed employer to rely on for training and need the certification, not just the safety training.

About James R. Hoffa Memorial Scholarship Fund
James R. Hoffa became a Teamster member in 1934 and served as General President for 14 years, and, in recognition of his tireless service to the union and its members, was honored as General President Emeritus for life. At the November 1999 General Executive Board meeting, then-General Secretary-Treasurer C. Thomas Keegel presented a resolution to establish the new scholarship fund. This site describes the James R. Hoffa Memorial Scholarship Fund (JRHMSF) and outlines eligibility requirements and application procedures. Please click here.
The James R. Hoffa Memorial Scholarship Fund is an independent organization established and registered as a tax-exempt entity under Section 501(c)(3) of the Internal Revenue Code. The Fund is established solely to provide scholarships to the child or dependent of a member of the International Brotherhood of Teamsters, and contributions to the Fund are deductible as charitable contributions to the extent permitted by law.
The application process is now OPEN. Please use this address to access the system: https://aim.applyists.net/JRHMSF *the KEY for applying is "JRHMSF"
Eligibility: For the sons, daughters and financial dependents of Teamster members (including the BMWED, BLET, GCC and TCRC). Academic scholarships ranging from $1,000 to $10,000 for high school seniors planning to attend a four-year college or university and Training/Vocational program awards of up to $2,000 for use at community colleges and trade schools.
(Membership verification for the parent of the applicant will be completed by the IBT (Teamsters), BLET, BMWED and GCC headquarters data.) The children or financial dependents of full-time local union officers or full-time staff of local unions are ineligible.
Apply here: https://aim.applyISTS.net/JRHMSF *the KEY for applying on-line is JRHMSF
For general questions about the James R. Hoffa Memorial Scholarship Fund, please call 855-670-ISTS (4787) or Email: ContactUs@applyISTS.com or JRHfund@gmail.com
College Tuition Discount Network
*As a Teamster member, there is a college tuition discount program that is available to you and members of your family. The ISTS Tuition Discount Network (TDN) is a list of For-Profit and Non-Profit colleges and universities that offer reduced tuition. The amount of the reduction can vary by school and can sometimes be as specific as major. Make sure you identify yourself as a Teamster when applying.
The link to the TDN is http://www.applyISTS.com/tuition-discount-network/ Click on the school's logo to view the discount.

YRC Freight 2021 Combined Rail/PT Percentage
2/24/2022 - To Update you on the notice we sent out in December (shown below) about TNFINC resolving an issue with YRC Freight about YRC Freight's use of excessive purchased transportation in 2021. Specifically, each YRC Freight Road driver who was on the seniority list as of December 31, 2021 and who ran at least 15 trips during 2021 will receive a payment from the Company in the amount of $1,250 (subject to applicable taxes and withholdings). Those payments should be forthcoming in the next couple of weeks.
12/14/2022 - YRC Inc. (d/b/a YRC Freight) (the "Company") and the Teamsters National Freight Industry Negotiating Committee ("TNFINC") enter into this Memorandum of Agreement concerning the Company's use of purchased transportation service under Article 29, Section 6 of the Yellow National Master Freight Agreement. In connection with TNFINC's ongoing monitoring and review of the Company's use of purchased transportation, it was determined that the Company has exceed the 29% maximum allowed road and rail purchased transportation for 2021.
The Company exceeded the 29% limitation largely as a result of the COVID-19 pandemic and the related shortage of employees in driving positions. This was confirmed through a detailed analysis of purchased transportation usage and vacant driver positions at the Company both during and prior to the COVID-19 pandemic, as well as the Company's ongoing recruitment and retention efforts. It also was determined that the overage in 2021 was due to an increased use of rail service when compared to prior years, rather than the use of road purchased transportation.
If the COVID-19 pandemic had not occurred or if the Company had decided to embargo or otherwise decline to service freight, the amount by which the Company would have exceeded the 29% maximum would have been substantially less – if any at all. Given this, and the fact that Article 29, Section 6 specifically contemplates adjustments based on Acts of God or other extraordinary circumstances, the parties agree as follows:
1. The Company shall pay $1,250 to eligible road drivers for having exceeded the 29% maximum in Article 29, Section 6 for 2021. Payments shall be subject to applicable taxes and withholdings.
2. A road driver shall be eligible for payment under this Agreement if he or she (a) ran at least fifteen (15) trips during 2021; and (b) is on the seniority list as of December 31,2021.
3. The Company and TNFINC shall work together to develop a list of those road drivers who are eligible for payment and a reasonable timeline for payment in the first quarter of 2022.
4. This Agreement is a full and final resolution of all issues related to the Company having exceeded the 29% limitation in Article 29, Section 6 for 2021
Download:

YRC_Freight_MOA2021_PT.pdf

Congratulations to all of our Teamsters at Los Alamos Labs working for TRIAD. We were able to get the largest raise for these hard-working men and women that they have ever seen including a $2 raise in July of 2022 and then another estimated $2 in Oct of 2022. When you add the $1 they just received last month, by October of 2022 most of our LANL Teamsters will be $5 over what they were before negotiations started in 2021. There was also a $2000 ratification bonus paid to everyone as well. There were a lot of other great improvements made to the CBA and I was proud to bring this agreement to our Teamsters to vote on. After about 2 hours of review of the Tentative Agreement On 9/17/2021 as well as a Q&A period, the TRIAD-LANL Teamster Members voted by secret ballot overwhelmingly in favor of ratifying the Master and 492 Appendix tentative agreements by over 95%. – Teamsters Local 492 Principal Officer/Secretary Treasurer and Lead Contract Negotiator, Trey White III, 12/6/2021
Photo above courtesy of LANL. Below is an article released today by LANL about the CBA signing event that held place on 12/2/2021:
LANL NEWS RELEASE 12/6/2021 - Twelve labor unions signed their collective bargaining agreements on Dec. 2, completing their negotiations with Triad National Security, which operates Los Alamos National Laboratory. These contracts represent about 1,200 essential workers in the skilled building trades including electricians, pipefitters, mechanics, sheet metal workers, operators, iron workers, painters, carpenters, roofers, laborers, teamsters, insulators and masons. .
"The skilled building trades represent approximately 10 percent of the Laboratory workforce," said Thom Mason, Laboratory director. "As the Lab expands its mission and invests in its facilities, these tradespeople are more essential than ever. I am grateful we have reached an agreement that benefits these employees, the New Mexico economy and our country's national security."
At the Laboratory, such collective bargaining negotiations take place every five years and involve an immense amount of collaboration. This process began in the summer of 2021; the new contracts go into effect in July 2022, effective through June 2027. Skilled building trades are high-paying, secure jobs, and are in demand in New Mexico and nationwide.
"We want our employees in the skilled building trades to make the Laboratory their lifelong career home," said Deputy Laboratory Director for Operations Kelly Beierschmitt. "Providing good, high-paying, sustainable jobs is one way we can drive folks to come to Northern New Mexico — and stay here long-term."
"I believe we have the best contracts in the state, the best skilled tradesmen and women in the region and one of the safest work places in the nation," said Logistics Division Director Brian Watkins. "The ratification of these contracts will improve on all three of those elements, and enable the Laboratory to meet the challenges of today and tomorrow."
We have some Teamster Employers who have asked us to post job openings:
TRIAD-LANL (Los Alamos) is looking for CDL Drivers. CLICK HERE to Apply
ABF is looking for CDL Drivers for the Dock/PU&D and also the OTR Line operations. CLICK HERE to Apply
YRC is looking for CDL Drivers for the Dock/PU&D and also the OTR Line operations. CLICK HERE to Apply
Hertz is looking for CSA for cleaning the cars and also needs Utility Mechanics. CLICK HERE to Apply
Creamland is looking for both CDL and NON-CDL (plant) personnel. CLICK HERE to Apply
UPS is looking for both Inside workers. CLICK HERE to Apply
For information on other Teamster employers in NM, Click Here
Local 492 Updates
Trey White, Principal Officer/Secretary-Treasurer- As some of you may already know, I took over the Local as the Principal Officer/Secretary-Treasurer of Local 492 in September of 2021 due to Brother Mike Butler's planned retirement at the end of this year. Brother Butler is a veteran of the Marine Corps and a third generation Teamster who began his Teamster career at Sysco in 1982 and was then elected Sysco Steward 1986-2004. Mike started as a 492 Business Agent for white paper contracts in February 2004 until January 2005 when he started as the UPS Business Agent. Mike served as Recording Secretary from 2007-June 2011, then Vice-President from 2012 until he was appointed 492 President June 2015, then elected President in December 2017. Upon the retirement of Brother Maestas, Mike began serving as Secretary-Treasurer January 1, 2020 until September 16, 2021. Mike has also served as a 2016 and 2021 IBT Convention 492 Delegate. Brother Butler proudly served on the 2018 UPS Western and UPS National Negotiating Committees. In January of 2020, Mike was appointed Trustee of JC#3. I hope everyone will join me in congratulating Brother Mike on his retirement and thank him for his long service to this Local Union.
The Executive Board has approved my appointments of Brother Andrew Palmer as President and sister Melissa A. Malcom-Chavez and Brother Travis Keim as 492 Trustees. I would like to take this opportunity to tell you a little bit about them both:
Brother Palmer (505-344-1925 ext. 19) is a long time UPSer and has been on the Teamsters Local 492 Executive Board for over 10 years. Union Leadership runs in his family as his Father was the Principal Officer of the IBEW 611 in Albuquerque. As most of you may already know, in January of 2021, Brother Palmer began serving as the Business Agent for UPS in the Southern part of NM, UPS Aspen/Rio Rancho and also Los Alamos Labs (Triad & N3B). Brother Palmer started his career as a Teamster over 28 years ago as a part timer at the UPS Hub in February of 1993, then a UPS driver in July 2000, then Feeders in 2014. Brother Palmer began serving as a UPS Hub day sort Steward in 1997. From 2006-2014 he served as an Alternate Steward. In June 2011, he was appointed as a 492 Trustee, then elected in December of 2011, then re-elected in 2014 and 2017 and 2020. In 2020, Andrew was elected Steward for the UPS Feeder Drivers. In September of 2021, as Principal Officer/Sec. Treasurer, I appointed Brother Palmer to the open position of President. Brother Palmer also served as a 2021 IBT Convention 492 Delegate. Brother Palmer has picked up a vast knowledge of the UPS contract and local practices over his 28-year career at UPS. Since he has done just about everything at one point or another at UPS, Brother Andrew has knowledge and experience needed to be a great BA. Along with his long tenure on the 492 Executive Board, Brother Palmer will serve the 492 members well now that he has transition from Steward at UPS to Business Agent and President for Teamsters Local 492.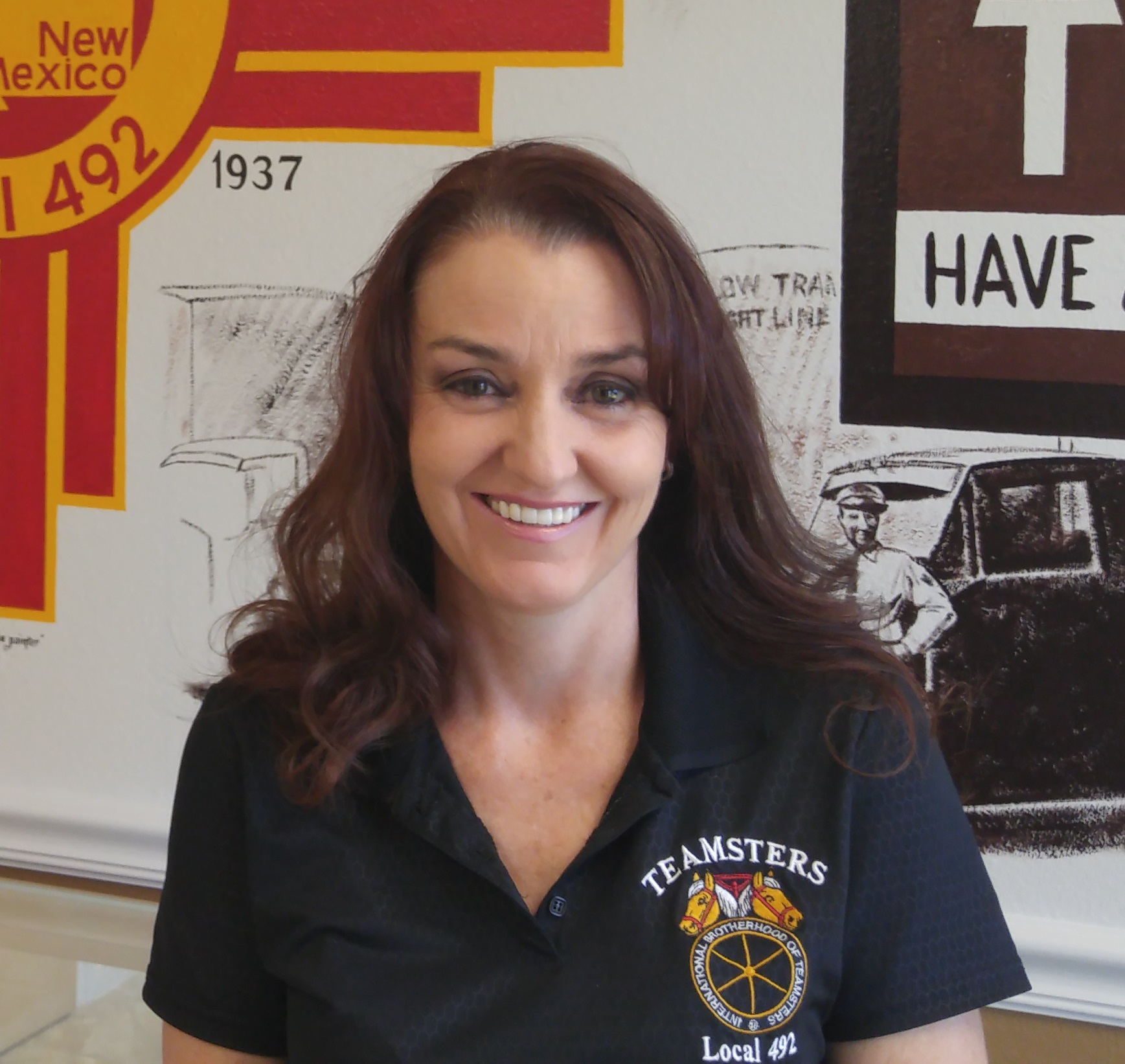 Sister Melissa A. Malcom-Chavez (505-344-1925 ext. 14) is the BA for the Movie Industry, UPS Gateway, Eldorado Area Water & Sanitation and also ATF. She is also the 492 Political Coordinator and serves on the Boards of the New Mexico Federation of Labor, Sandia Metal Trades, Southwest Multi-Craft Health Care Fund and the NM Building Trades Council. Sister Malcom-Chavez started as a Local 492 Teamster in the Movie Industry in 2004, wrangling horses, driving 18 wheelers, stake beds and even the big movie stars as a Cast Driver and also as a Captain. Sister Malcom-Chavez is the 3rd Generation of 4 Generations of Teamsters in her Family including her Grandfather, Dad, Uncle, child and several cousins. Melissa served as a Union Steward on movie productions and also served on 3 separate committees in 2015-2016 for the movie industry. In June of 2015, Sister Malcom-Chavez was appointed as a Trustee on the Teamsters Local 492 Executive Board. Melissa as the first woman to serve on the Executive Board for Teamsters Local 492. Then in January of 2017, Sister Malcom-Chavez started as the 492 Business Agent for the Movie Industry. Melissa represented Local 492 at the Teamsters Women's Conference in 2015, 2017, 2018 and 2019. In August of 2017, Sister Malcom-Chavez was chosen by the NM Film Commission to serve on the Union Panel at the NM Film & Media Industry Conference. Melissa has served on the panel in 2018 & 2019 as well. On Nov 9, 2019, Sister Malcom-Chavez also served as a Union Panelist for the Film & Television Career Connection at the South Broadway Cultural Center which was sponsored by the ONE Albuquerque Film Office. In July of 2019, she began serving as a Vice-President on the Executive Board for the New Mexico Federation of Labor. In January of 2020, Melissa began serving as a Delegate for Sandia Metal Trades. In February of 2020, she began serving as a Labor Trustee on the Board of Trustees for Southwest Multi-Craft Health & Welfare Fund. In February of 2020, Sister Malcom-Chavez began serving as the 492 Representative for NM Building Trades Council. In 2021, she began serving as the Chairperson for the ABQ Workers First Measure Finance Committee. In September of 2021, as Principal Officer/Sec. Treasurer, I appointed Melissa to the open position of Trustee and also assigned her as the Office Manager. Sister Malcom-Chavez has an unmatched knowledge of the Movie Industry, she is willing to stick her neck out to fight for NM Movie Jobs, and has proven to be an integral part of Teamsters Local 492. Melissa never turns down any tasks I give her and has dedicated so much of her personal time to get the job done for the members and Local 492.
On November 18th, 2021, I appointed Brother Travis Keim to begin serving as Trustee on the Teamsters Local 492 Executive Board. Brother Keim first became a Teamster Member in 1998 working for UPS at the Comanche Hub as a Part-timer on Twilight. Brother Keim then transferred to the Aspen facility and accepted a driver position in Feb 2006. Brother Keim has a family history of union members including his Grandpa and Mother and his uncle was a Teamster. Travis is one of those guys that always volunteers to help before I even know we needed help. He comes up with innovative ideas to help and communicate with fellow Teamsters that I may not have ever thought of it wasn't for his input. He will make a great addition to the Executive Board and I look forward to see his impact on the local now that he is a Trustee.
I would like to take this opportunity to congratulate Brother Palmer, Sister Malcom-Chavez and Brother Travis Keim on their new positions on the 492 Executive Board.
General Membership Union Meeting Schedules
As the new Principal Officer/Secretary-Treasurer of Local 492, I will be working on the General Membership Union Meeting schedule for 2022 and will hopefully be sending it out before the end of the year to your Union Stewards and Alternate Stewards for posting in your work locations. I plan on scheduling the General Membership Union Meeting at staggered times/days in an attempt to accommodate everybody's different work schedules. We will have a few Saturday meetings for those of you who work Monday through Friday as well. So, make sure to look in your Union bulletin boards or on the Teamsters492.org website for the latest information on General Membership Union Meeting schedules.
New Mobile Phone 492 Application
A new form of communication is now available! We have created a new Mobile Phone 492 Application that is available for download on the Google Play and Apple App Store. This mobile app has direct "push" notifications that go straight to you phone. No more spam! If you download the app to your phone, you will always get our communications. It takes the same username and password as your teamster492.org login info. Once you login in, you never have to login again because it keeps your info stored. We highly encourage you to download the 492 mobile app today!
You may have noticed we don't send out many emails anymore. The reason is spam. The major email companies will flag any "bulk" email of 100 addresses or more as potential spam. The more we send out, the more likely our domain address (@teamsters492.org) will get flagged as spam. We have been trying to limit the bulk emails sent to avoid this issue. There are a lot of things we have been doing to combat this including educating the members to look in the spam folder and mark "not spam," which improves our spam rating with the major 3 email companies; Gmail, Microsoft (Outlook/Live/Hotmail/MSN) and Yahoo/AOL. We have also been in contact with "the big 3", which helps for a while but is not a permanent solution. So, download the 492 mobile app and avoid the spam!
New 492 Bookkeeper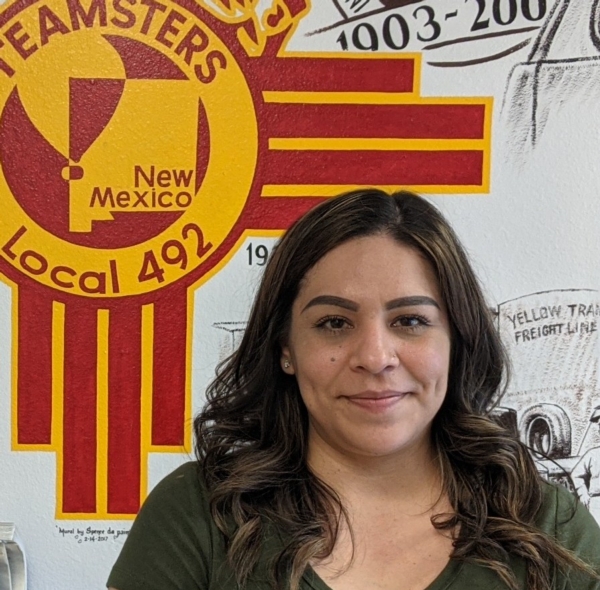 I would like to take this time to introduce to you, our new 492 bookkeeper, Sister Monique Montoya. Monique is incredibly smart, hardworking and has impressively picked up the very complex job quite quickly. Sister Montoya was trained by the IBT and has made a lot of positive changes to old style bookkeeping practices to become more efficient.
Last year, due to the increased number of members that have Joined Local 492, we have been experiencing, we had to bring on a second bookkeeper to help out our long-serving bookkeeper. After the departure of the long-term bookkeeper, in January of this year, we hired Sister Montoya, who started working for the Local in February of 2021. She has been a lifesaver at this Local as we have been going through the transition from the two prior bookkeepers that were working last year. Due to some efficiencies/changes we have made at the Local and our new talented bookkeeper, we have been able to save your Union dues by only having one bookkeeper again. Monique can be reached at 505-344-1925 extension 12. Please welcome her into the Teamster family.
New 492 UPS & OMI/Jacobs Business Agent
Finally, I would also like to introduce you to our newest Business Agent, David Trujillo. Brother Trujillo (505-344-1925 ext. 20) is currently in training to be the Business Agent for UPS in Northern NM & the Pre-loaders and Drivers in the UPS Comanche Center (8710) and also OMI/Jacobs in Rio Rancho. Brother Trujillo started working at UPS in 1994 as a loader, then Package Car Driver and then Feeder Driver. In September of 2021, Dave began serving as a Business Agent for Teamsters Local 492. David will be taking over Mike Butler's territory which includes UPS Comanche drivers, and all of the UPSers in the northern part of New Mexico. He will also be handling the Teamster members working at OMI/Jacobs in Rio Rancho. David is highly motivated and is willing to put in the long hours that this job requires to help the members of this Local. Brother Trujillo has already shown over the last few months that he has what it takes to handle the high-pressure Business Agent job. Please make sure you thank him for taking on this challenging position the next time you talk to him. Brother David makes an excellent addition to the 492 Team and I look forward to working with him over the coming years.
New T-Shirts, hats and other 492 Items Ordered
I am currently in the process of restocking and ordering new 492 merchandise that you, the members have been requesting. We plan on having several T-Shirt options and also other popular items that will be available soon. Check the teamsters492.org for up-to-date available items.
Finally, I hope all of you have a great holiday season and you are able to enjoy some time with your loved ones. Please be safe out there, take some extra time on those dangerous roads and take care of yourselves and your family. This is a rough time of year for some of your fellow Teamsters, so please be kind to one another and remember to take a deep breath when you are feeling anxious. We are all Brothers & Sisters of this great Union, we are all Teamsters!!!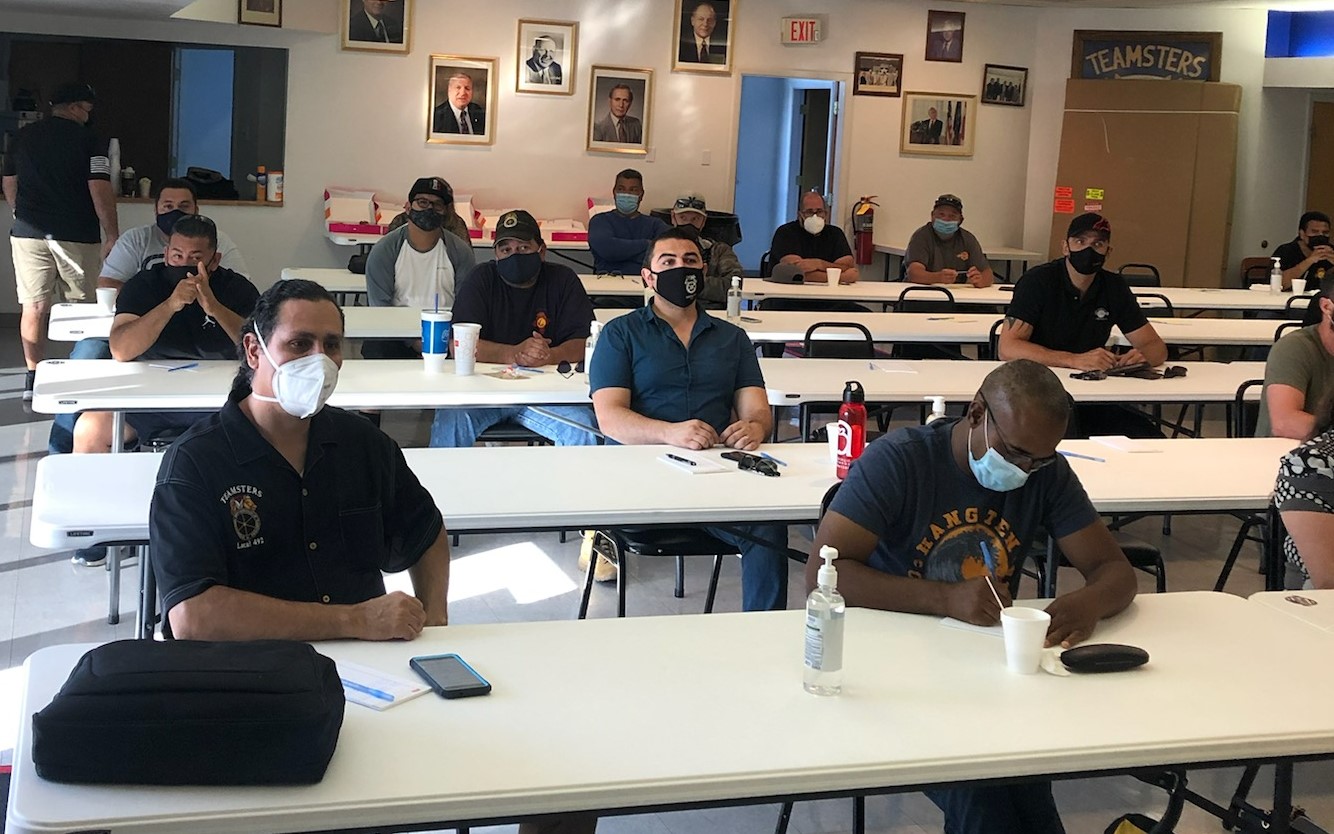 On 9/25/2021 Teamsters Local 492 conducted a Steward Seminar where Business Agents Mike Butler, Trey White, Melissa Malcom, Tracy McCarty, Andrew Palmer, and David Trujillo taught the attendees various important topics and subjects revolving around Stewards for about 4 hours and also answered the Steward's questions. A special guest, Shane Youtz, who is the labor attorney for most New Mexico labor institutions, also spoke to the Stewards and answered questions.
Lunch was served from Popeye's Chicken and each attendee was given a Steward shirt and Steward Pin.
We want to thank everyone who attended the seminar this year!

IASTE Strike Update
October 16, 2021 - IATSE and AMPTP have reached a tentative agreement, which means there will be no strike on Monday. Production will continue on all shows.
Melissa A Malcom-Chavez
Trustee/Business Agent
Teamsters Local 492
505-344-1925 Ext 14
October 15, 2021 - As most of you have already heard, IATSE is set to strike at 12:01 am on Monday October 18, should they fail to reach an agreement with AMPTP.
Everyone must understand that the Teamsters are NOT on strike! However, we will stand in solidarity with our sisters and brothers of IATSE. Most productions will be shut completely down, but not all are bound by the strike. Movie of the Week productions are exempt from the strike, so if you are working on "Maggie Moore(s)" or "Rust", you may continue to work. HOWEVER, nobody is to cross a picket line for any reason. There has been no confirmation about where the picket lines will be set up, but the assumption is that there will definitely be pickets at all of the studios.
Since the Teamsters are NOT on strike, if you are currently working and get called to work, you must make an attempt to report. That means that you will have to go as far as the picket lines and let your Captain know that you are at the picket line, but will not be crossing for safety reasons.
As far as strike benefits, there are none because the Teamsters are NOT on strike. However, if you are working and the strike commences on Monday, you will be eligible to apply for unemployment benefits.
Should the strike happen, it is unknown how long it will last. We can all speculate, but nobody knows for sure, so everyone needs to prepare to support our IATSE family for the long haul.
We are Teamsters Local 492 strong, union strong and we stand in solidarity with IATSE during their fight for a good contract and better conditions. Better conditions for them means better conditions for us.
I will keep everyone updated as I get information, but feel free to reach out to me with any questions you may have.
September 27, 2021 - Local 492 would like to give an update on what everyone is hearing regarding the upcoming "strike authorization vote" that IATSE will be taking soon. This vote will encompass all Hollywood locals and 13 unions covered by the Basic and Videotape agreements. At this point, negotiations between AMPTP and IATSE have stalled and IATSE President Matt Loeb will not be recommending a contract to his membership that does not resolve its core priorities. IATSE is not making unreasonable requests, including reasonable rest during and between workdays and weekends and equitable pay on streaming and "New Media", plus a living wage for the lowest paid workers. We, as Teamsters, know what it is like to not have enough rest at night and be on the road tired and falling asleep. We have even lost some of our own when they fell asleep at the wheel after working 18+ hours.
On October 1st, 2021, IATSE will be holding a "strike authorization" vote with its membership. On October 4th, 2021, IATSE will go back to the table with AMPTP. If the membership authorizes a strike and things do not progress on Monday, IATSE might go on strike as early as Tuesday October 5th. Please prepare yourselves for this, as Teamsters Local 492, the IBT and all Teamsters Locals across the country will stand in SOLIDARITY with our sisters and brothers in IATSE. Productions in NM will shut down during the strike and Teamsters will NOT cross picket lines.
It is unknown how long the strike will last if/when it happens. Since the Teamsters are not on strike, you will not be eligible for strike benefits. However, you will be eligible for unemployment.
IATSE is paving the way for better safety, respect and dignity in the workplace, as the Teamster negotiations will follow. Their fight will make ours easier when the time comes, so please let your fellow IATSE family know that the Teamsters stand with them in their fight and will keep and will fight the fight along side of them. We are one film family in NM and we are all in this together.
Updates will send out as I receive them, so please check in with either myself or the stewards.
In Solidarity,
Melissa A. Malcom-Chavez
Teamsters Local 492 Trustee/Film BA

492 Teamsters Leaflet XPO Freight in Albuquerque
8/2/2021 - Today, Teamsters Local 492 President Trey White, Freight Business Agent Tracy McCarty and Trustee/BA Andrew Palmer spent about 3 hours leafleting the XPO facility on the west side of Albuquerque. We handed out flyers to the XPO drivers to let them know about the recent contracts that were ratified in Miami and in New Jersey after a 6 to 7 yearlong battle to get a contract with this company.
Following a six-year battle, from organizing to completed contract, workers at XPO Logistics in Miami made history on Saturday, July 10 when they voted unanimously to ratify the first Teamsters contract at the transportation and logistics giant, which puts the workers' rights and work lives in a legally binding written contract for the first time.
"XPO management said workers in the U.S. would never ratify a contract, but never is now," said Jim Hoffa, Teamsters General President. "I applaud the workers who stood strong and united over the past six years, despite the company's horrific anti-worker actions and delays."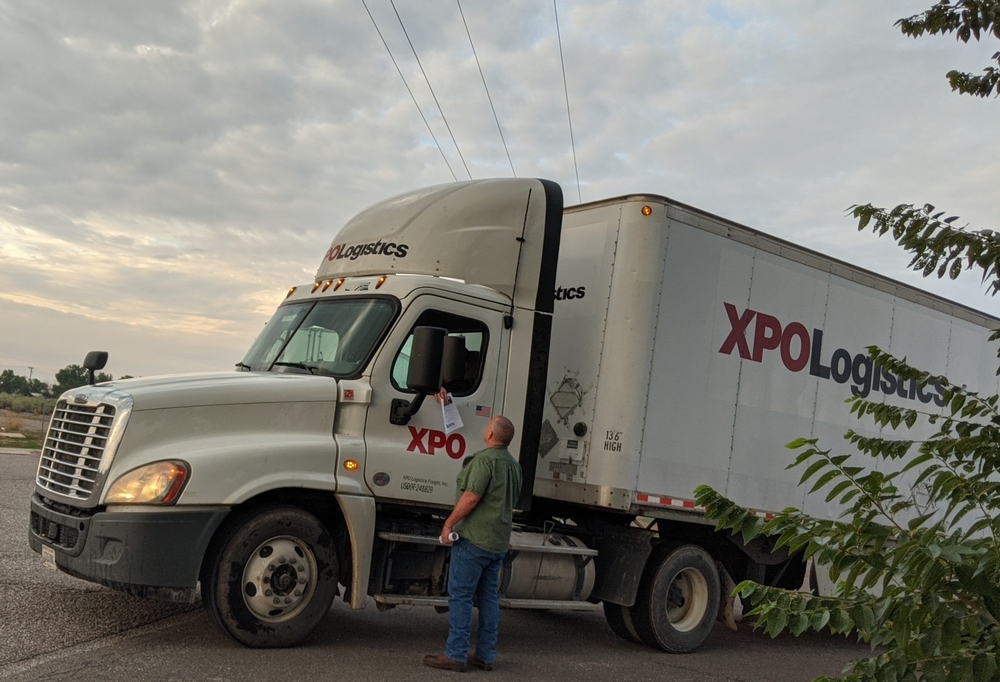 "This historic event is the result of nearly six years of bargaining, company law breaking, and delays by XPO, which purchased Con-way Freight in late 2015," said Ernie Soehl, Director of the Teamsters National Freight Division.
The drivers and dockworkers at the former Con-way Freight voted to join Local 769 in December 2014. While thousands of workers at XPO in Europe belong to unions, this is the first ever Teamster contract at the company and paves the way for more to come.
"Workers have picketed, leafletted, filed labor charges, testified in court, filed lawsuits, conducted a ULP strike and more to win justice, and now that justice is here with the ratification of their first contract," said Josh Zivalich, President of Teamsters Local 769 in Miami.
"We remained strong, united and focused here in Miami and we never quit our fight for justice," said Mike Zangrillo, a driver. "I urge my coworkers in other locations to fight for a fair contract and to not give up."
The contract includes "just-cause" protections, a grievance process, successorship language, job protection language and retirement protections, among other improvements.
To hear more about the recent ratified contracts at XPO, click here.

Creation of Federal Paid Day Off is Recognition of National Scourge of Slavery
(WASHINGTON) – The following is a statement from Teamsters General President Jim Hoffa and Marcus King, Director of the Teamsters' Human Rights and Diversity Commission, on the signing of legislation that would memorialize Juneteenth, the June 19 anniversary of the day in 1865 when enslaved African Americans in Texas were finally notified they had been freed as a result of the end of the Civil War two months earlier, as a paid federal holiday.
"One year ago, in the wake of unjustified deadly actions taken by some members of law enforcement against Black Americans across the country, the Teamsters endorsed a Juneteenth federal holiday to recognize the day more than a century and a half ago when the last of those enslaved received their legal freedom. We are pleased to see President Biden and Congress follow through with its creation.
"But just as real justice for African Americans didn't result from that notification in 1865, the fight for equality doesn't end here either. This union recognizes that we all must do more to ensure people of color can live their lives and have full access to the same rights and freedoms that so many of us enjoy without fear of reprisal. Creating a Juneteenth holiday doesn't do that by itself, but it will continue America's evolution towards truly bringing liberty and justice for all, and acknowledging our shared history.
"For more than a century, the Teamsters have stood for racial equality. And we remain resolute in continuing to serve as leaders in ensuring that all workers, no matter their race, ethnicity, religion, gender identity or sexual orientation, receive equal pay and protections on the job. That's what this union can do to make sure our nation lives up to its promise."
Article Archives:
Next of 333 articles