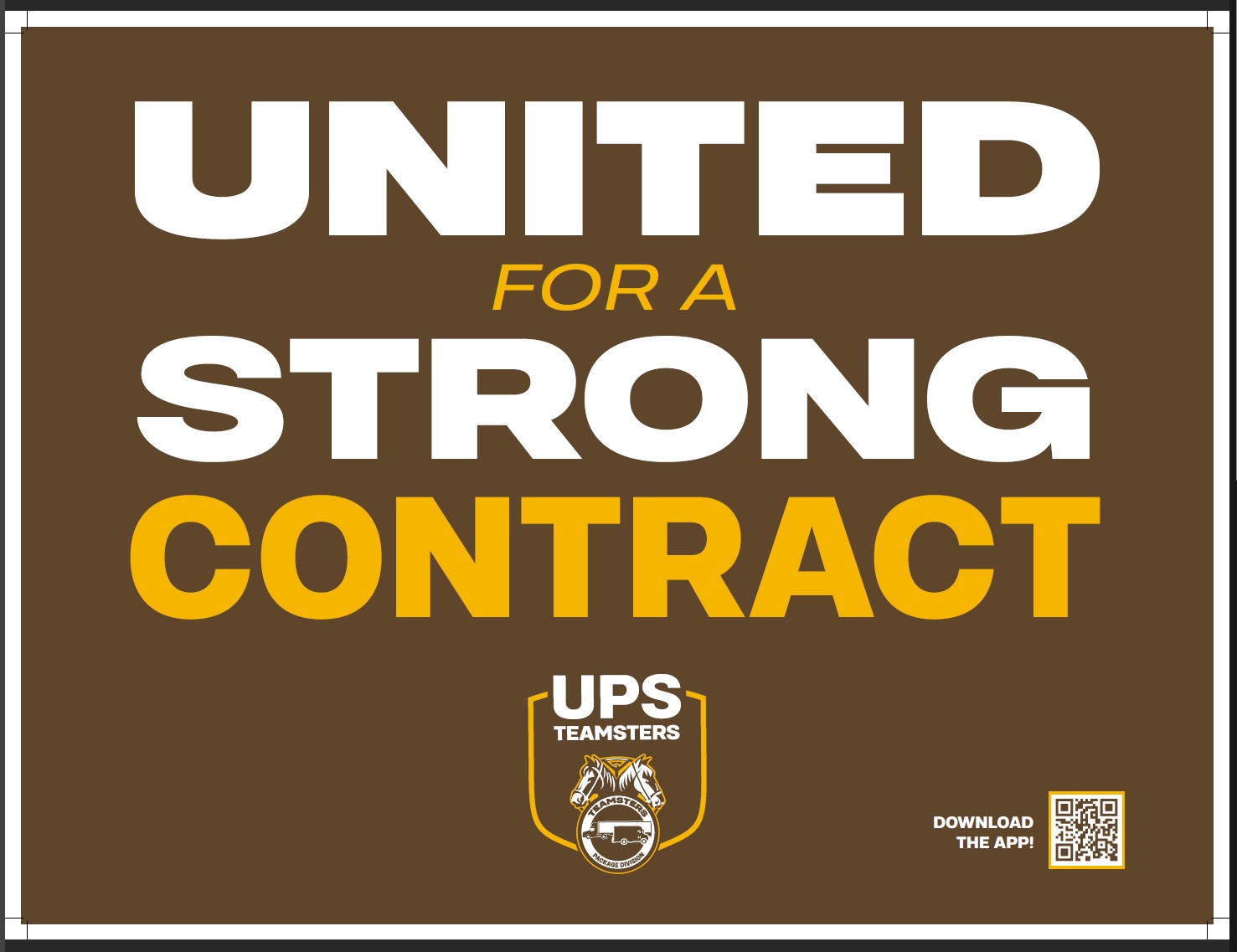 New UPS Teamster App Now Available
UPS Teamsters are united in our fight for a strong contract in 2023. Fighting for a strong Teamster contract at UPS is a battle for job security, more full-time jobs, and a better life for workers across America. UPS Teamsters have been working PEAK hours for more than two years straight. And UPS profits increased $11.2 billion! Before the past Teamster contract was negotiated in 2018, UPS made $4.9 billion. Last year, UPS profits were more than $12.8 billion. UPS overworks its current employees, so it doesn't have to pay benefits and pensions to more workers. To meet quotas, employees are forced to work up to 12-hour days through COVID and extreme heat. The Teamsters are here to show UPS we're in this together — full-time package drivers, inside part-time workers, feeder drivers, mechanics, air drivers. UPS Teamsters are subjected to constant harassment by management. Managers constantly try to divide us based on discriminatory wage schemes. We are not going to allow UPS to use bad managers and predatory cameras and sensors to dehumanize us and strip away the dignity of our jobs. Teamsters are the hardest working people in the country, and we are standing up to end two-tier wages for package drivers, excessive overtime, subcontracting, and poverty wages for part-time workers. This contract fight is about hard work being rewarded with a better life for all UPS Teamsters and our families. With the nation's largest union contract at stake, UPS Teamsters are mobilized. We have the power of a new militant Teamsters Union behind us. Together, we will end the concessions, win a stronger contract, and protect good jobs in America.
GET THE APP. GET READY. GET ACTIVE.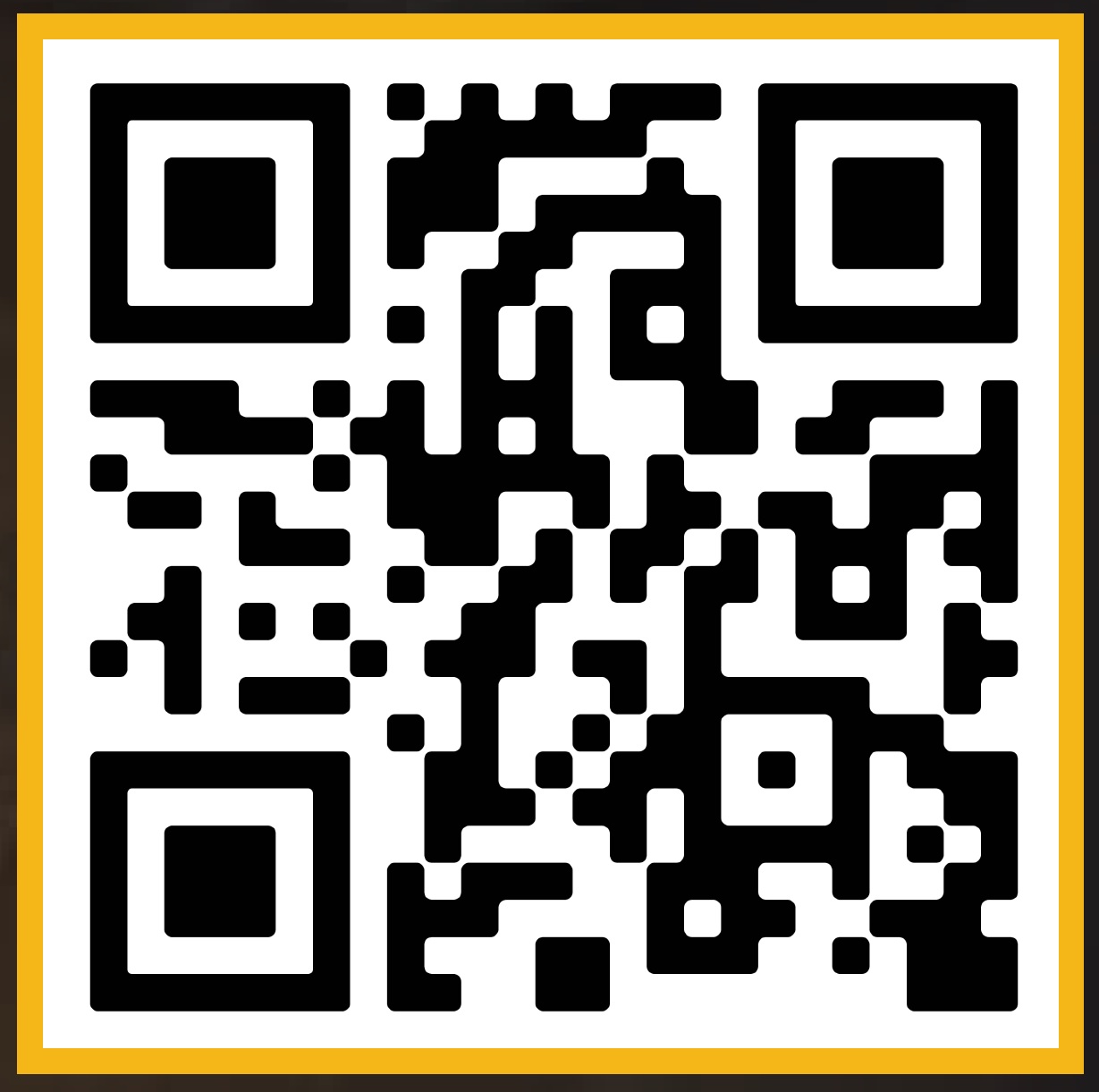 The new UPS Teamsters App is now available in the App Store and Google Play. Scan the code with your mobile device or go to ibt.io/UPSteamsters to download it today. Stay Up-to-Date on the Fight for a Strong UPS Contract! The app is your one-stop shop for everything related to UPS Teamsters and the fight for a strong contract in 2023, including:
Bargaining Poll
Mark your top issues that you want your union to address in the 2023 contract.
National Agreement – all Supplements and Riders
Pull up and search for the National Master Agreement as well as all supplements, riders, and addendums that apply to your local and job classification.
Grievance Notes Form
Build your case in real-time with this tool that allows you to record the facts of any violation by the company, immediately send the info to your steward and pull up previous entries in the app.
Package & Feeder Driver Logs
Keeping an accurate record is one of your best defenses when management tries to take any action against you.
Strike Savings Calculator
This in-app tool helps you budget your savings so you are prepared in the event that we need to strike UPS for the contract we deserve.
Steward's Guide
Helpful insights for stewards and all UPS workers to enforce the contract and protect your rights.
Contract Timeline
What's next? Learn about the various stages of the campaign and what's ahead as we fight for a strong contract.
Updates & News on Negotiations
Get regular updates from the campaign on the app and through app notifications to your phone.
Get Involved
Learn how you can plug in to the campaign, attend future actions and download printable campaign materials from the app.
As we prepare to take on UPS, we need all UPS Teamsters informed, engaged and ready to take action. With regular updates throughout the campaign, this app will be your home for this historic fight.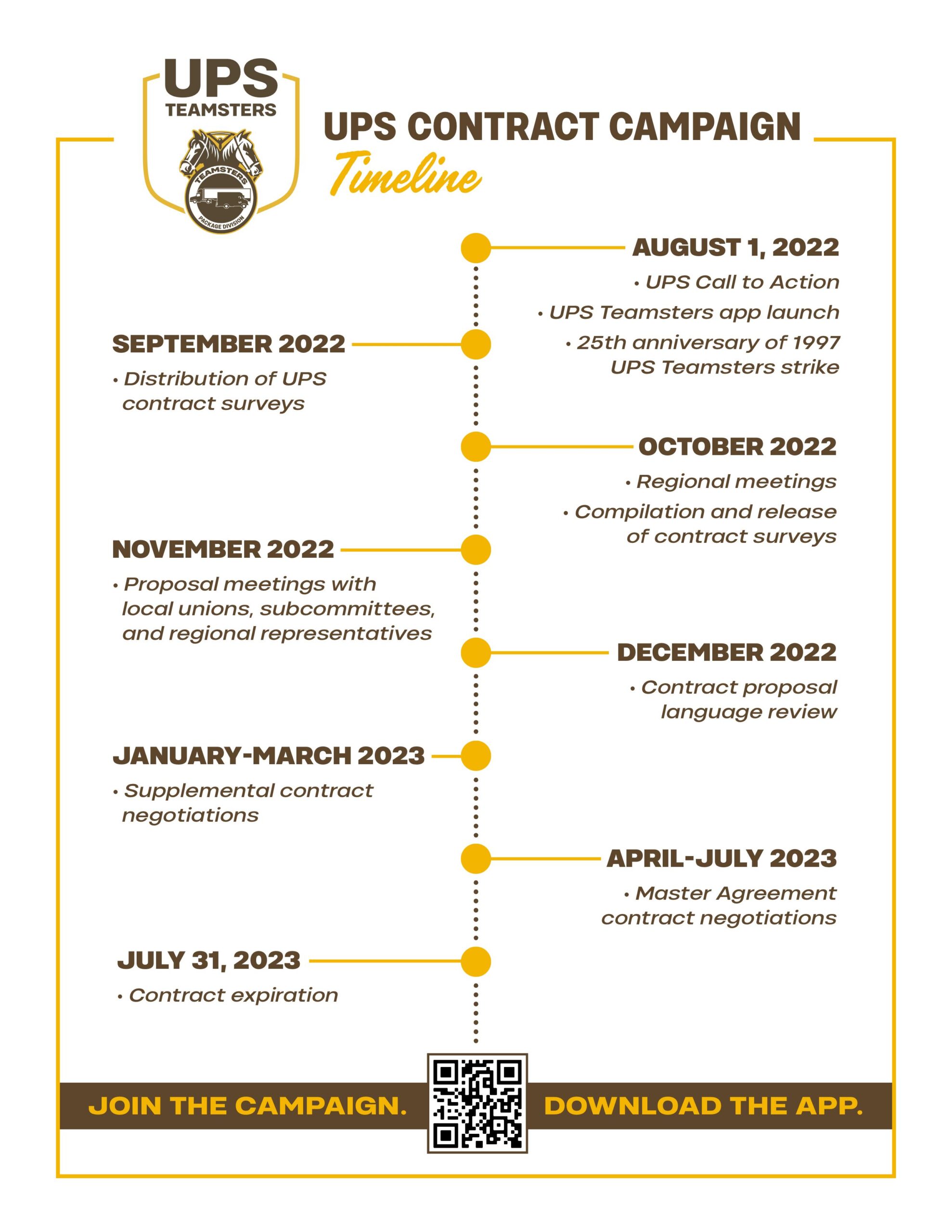 UPS Article 33 Cost-Of-Living COLA for August 1, 2022
A COLA increase effective August 1, 2022, is calculated as follows. The contract specifies a one (1) cent per hour and one-fourth (0.25) mills per mile increase for every two-tenths (0.2) point increase in the CPI-W Index in excess of 3.0% and at least totaling $0.05. Reaching an Index level of 288.022 in May 2022, the Index increased 16.502 points above the May 2021 Index plus 3.0%, and that translates to the following COLA increases:
$0.82 per hour
2.05 cents per mile
The COLA will be applied as outlined in Article 33.
Please note these increases are in addition to the negotiated increases per the 2018 – 2023 National Master UPS Agreement which are effective August 1, 2022:
$1.00 per hour
2.28 cents per mile single rate
2.33 cents per mile double rate
2.38 cents per mile triple rate
Essentially, this means that total hourly wages are scheduled to increase by:
$1.82 per hour
4.33 cents per mile single rate
4.38 cents per mile double rate
4.43 cents per mile triple rate

ABF Teamsters to Receive COLA plus Annual Scheduled Raise
ABF-NMFA Article 33, Sec. 4 – COLA
Based on the Consumer Price Index (CPI-W) figures released February 10th, by the Bureau of Labor Statistics, the Teamster membership covered by the 2018 – 2023 ABF NMFA will be due a cost-of-living allowance per Article 33, Section 4 when the next scheduled hourly and mileage increase takes place on July 1, 2022.
As you know, ABF Teamsters covered by this agreement are eligible for an annual COLA in 2022 that allows a one cent ($0.01) per hour and .25 mils per mile increase for every 0.2-point increase in the index in excess of 3.5% and at least totaling $0.05. Reaching an index level of 276.296 in January 2022, the CPI-W increased 12.065 points above the January 2021 Index plus 3.5%, and that translates to the following COLA increases:
$0.05 per hour
0.125 cents per mile
Please note these increases are in addition to the negotiated increases per the 2018 – 2023 ABF NMFA settlement which are effective July 1, 2022:
$0.50 per hour
1.250 cents per mile
Essentially, this means that hourly wages are scheduled to increase by $0.55 per hour and 1.375 cents per mile on July 1, 2022. The annual ABF COLA increase is contractually capped at $0.05 cents per hour. As previously indicated, however, qualified ABF workers have received a profit-sharing bonus this year in the amount of 3% of their 2021 W-2 earnings.
Please note this is the first wage COLA payable to our ABF freight members since 2006.
Download:

2022-5-25ABF_COLA.pdf

Teamsters to Receive Bonus Pool at Yellow Operating Companies
Yellow has indicated that it is paying certain bonuses to various Company officers and/or executives. In the last agreement, TNFINC negotiated a "two for one" provision in the national agreement for executive bonuses. Specifically, for every dollar that gets paid in executive bonuses, qualified represented workers get two dollars put into a pool to split up. This year, the Teamster represented employees' pool is $9,879,434.00; with about 20,033 individual eligible members, each member will receive $493.16. The checks to members will likely go out within the week. You must have worked 1000 hours or more in 2021 to be eligible for the bonus.
Download:

YRCSection16Payout2022.pdf
The YRCW Members will be getting a $1.00 pay raise in April of this year (2.500 cents per mile) instead of the scheduled .40¢ (1.00 cents per mile) because the COLA was triggered. To read more about this, CLICK HERE.
YRC raises are in April, ABF raises are in July. We expect there will also be an ABF COLA triggered for the July raise, but we have not received a notification from the IBT as of yet.
Download:

2022YRCW-COLA.pdf
Teamsters Local 492 Store
Items below are shown at a 25% discount price for 492 Teamsters. Click On the Picture to zoom in to photos. These items are available to be purchased at the Union hall (no shipping available)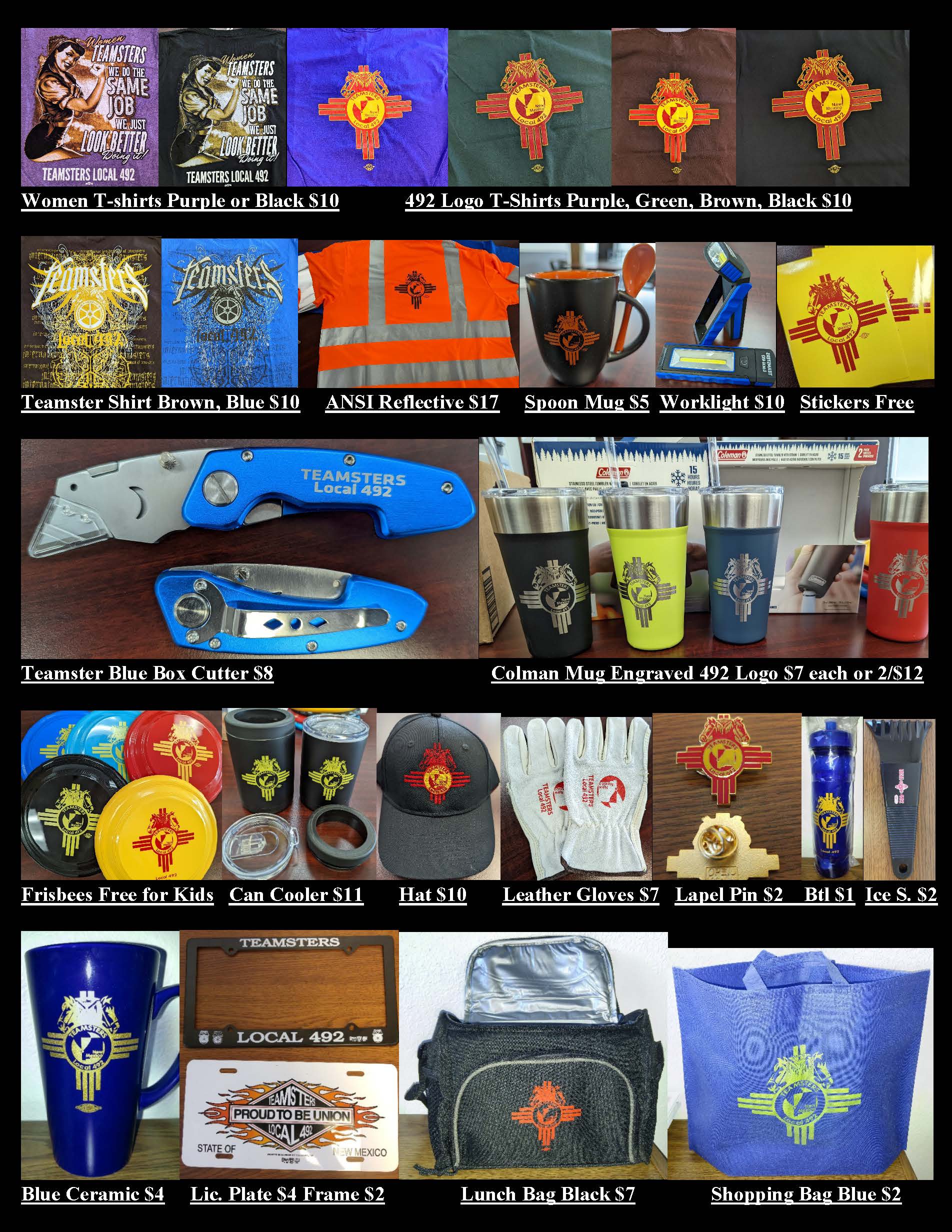 Teamster Jackets (Special Order Only)
Jackets can only be bought as a pre-paid pre-order, which is currently $93. Options include: Size, embroidered Name with or without the Company Name. Call Monique Montoya at 505-344-1925 ex 12 for more details.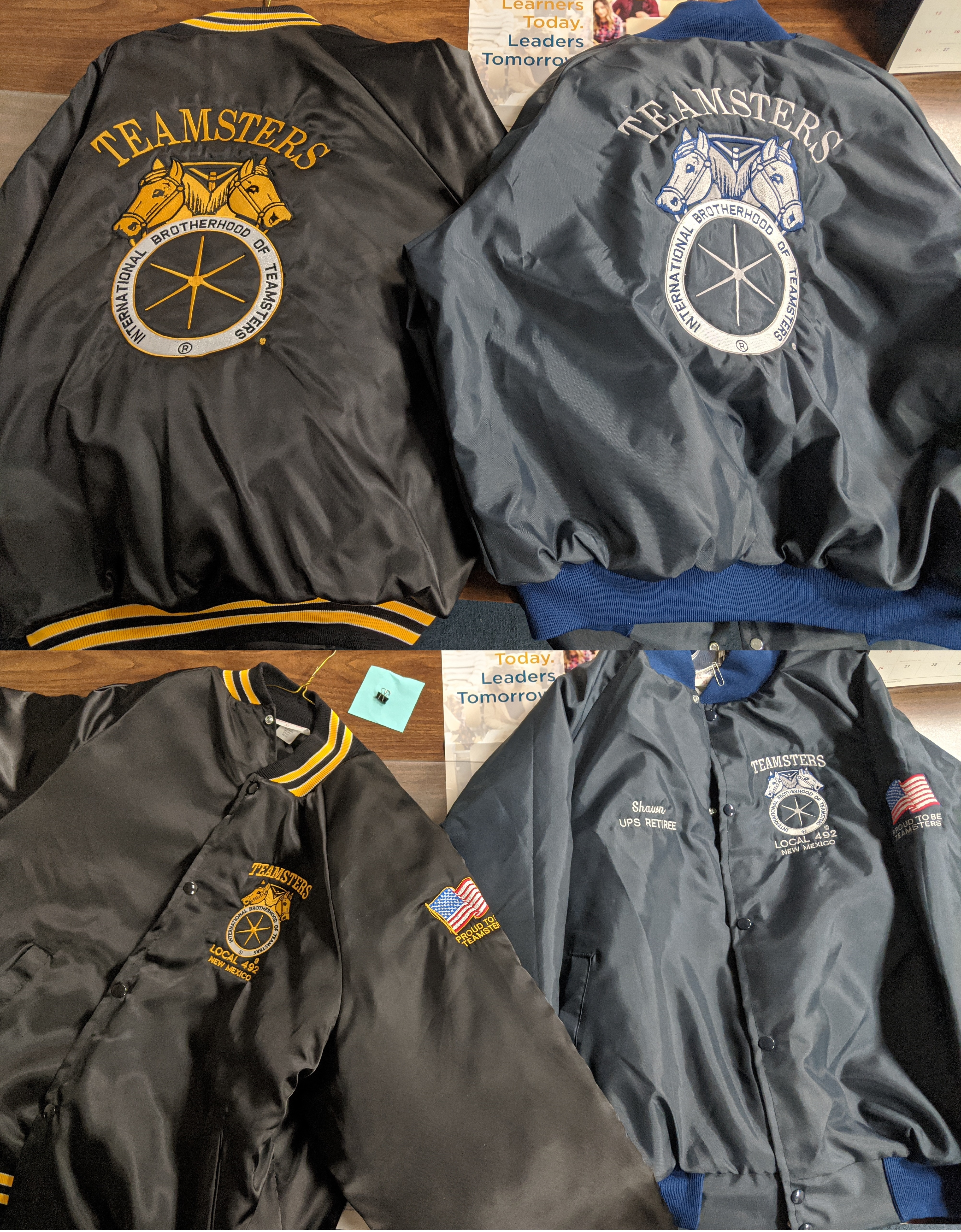 Black history is American history. But throughout our nation's long existence, it has been overlooked and glossed over, often not considered important enough to teach in schools. That's why celebrating Black History Month every February is so essential – it focuses on what, for many, are the untold stories of great Americans that were disregarded because of the color of their skin.
The Teamsters have a long record of standing in solidarity with African-Americans on civil rights issues. Early on in the union's history, the Teamsters advocated for "no color lines" within the labor movement and would not hold up with the practice of separate unions for Black members. Women and minorities were part of the membership from the beginning, with Black Teamsters attending the founding convention. Teamster contracts included provisions for equal pay as early as 1917. That year, the union won a clause in a contract for women laundry workers that employees would be paid the same regardless of race.
Over the years, the Teamsters Union has been privileged to both lead and support civil rights struggles that helped build the foundation of our great union and helped make the U.S. a better place for all of us.
But there is still a lot of work in this country that needs to be done. This week, more than a dozen Historically Black Colleges and Universities (HBCUs) have faced bomb threats just for their mere existence.
Saigan Boyd, a student at Spellman College in Georgia, told CNN these latest threats show how far this nation still needs to go. "I'm just ultimately tired of dealing with this level of unsolicited hatred," she said. "I'm just tired of being terrorized like how my grandparents were."
America needs to learn its history. That includes more than a century of lynchings that took place where mob violence was allowed to serve as a racially-motivated judge and jury across the country.
We can't go back. And the Teamsters are here to say that we won't allow it.
ABF announced on 2/1/2022 that it achieved an 89.9% operating ratio* for 2021. As a result, the profit-sharing provisions of the 2018-23 ABF NMFA have triggered. See Profit Sharing MOU Here
Specifically, qualified members (generally those employees who were on the seniority list from January 1, 2021 to December 31, 2021) will receive a bonus of 3% of their 2021 earnings. This is the third year in a row that ABF Freight members have received a profit-sharing bonus. This year's bonus, however, is the largest so far. The Company's success is due to the hard work and dedication of ABF's Teamsters who worked through the challenges of 2021. The profit-sharing bonuses will be paid on or about February 16, 2022.
*Operating ratio refers to the ratio of operating expenses to operating revenue and is generally considered a measure of profitability and efficiency in the trucking industry.
Read the Feb 2021 Article about the 2020 95.3% Operating Ratio Year Resulting in 1% Bonus Paid
Read the Feb 2020 Article about the 2019 95.2% Operating Ratio Year Resulting in 1% Bonus Paid

Film Teamsters Forklift Certified at 492 Union Hall
Teamsters Local 492 conducted 3 free forklift classes on January 7, 8, & 9th, 2022. The classes were at the Union Hall. There were 36 Teamsters that successfully completed the Forklift Certification/training classes and were certified in Class 4, 5 and even Class 7 which is the reach-forklift. These classes were conducted for free for our Film Teamsters because they do not have a fixed employer to rely on for training and need the certification, not just the safety training.

About James R. Hoffa Memorial Scholarship Fund
James R. Hoffa became a Teamster member in 1934 and served as General President for 14 years, and, in recognition of his tireless service to the union and its members, was honored as General President Emeritus for life. At the November 1999 General Executive Board meeting, then-General Secretary-Treasurer C. Thomas Keegel presented a resolution to establish the new scholarship fund. This site describes the James R. Hoffa Memorial Scholarship Fund (JRHMSF) and outlines eligibility requirements and application procedures. Please click here.
The James R. Hoffa Memorial Scholarship Fund is an independent organization established and registered as a tax-exempt entity under Section 501(c)(3) of the Internal Revenue Code. The Fund is established solely to provide scholarships to the child or dependent of a member of the International Brotherhood of Teamsters, and contributions to the Fund are deductible as charitable contributions to the extent permitted by law.
The application process is now OPEN. Please use this address to access the system: https://aim.applyists.net/JRHMSF *the KEY for applying is "JRHMSF"
Eligibility: For the sons, daughters and financial dependents of Teamster members (including the BMWED, BLET, GCC and TCRC). Academic scholarships ranging from $1,000 to $10,000 for high school seniors planning to attend a four-year college or university and Training/Vocational program awards of up to $2,000 for use at community colleges and trade schools.
(Membership verification for the parent of the applicant will be completed by the IBT (Teamsters), BLET, BMWED and GCC headquarters data.) The children or financial dependents of full-time local union officers or full-time staff of local unions are ineligible.
Apply here: https://aim.applyISTS.net/JRHMSF *the KEY for applying on-line is JRHMSF
For general questions about the James R. Hoffa Memorial Scholarship Fund, please call 855-670-ISTS (4787) or Email: ContactUs@applyISTS.com or JRHfund@gmail.com
College Tuition Discount Network
*As a Teamster member, there is a college tuition discount program that is available to you and members of your family. The ISTS Tuition Discount Network (TDN) is a list of For-Profit and Non-Profit colleges and universities that offer reduced tuition. The amount of the reduction can vary by school and can sometimes be as specific as major. Make sure you identify yourself as a Teamster when applying.
The link to the TDN is http://www.applyISTS.com/tuition-discount-network/ Click on the school's logo to view the discount.