IASTE Strike Update
October 16, 2021 - IATSE and AMPTP have reached a tentative agreement, which means there will be no strike on Monday. Production will continue on all shows.
Melissa A Malcom-Chavez
Trustee/Business Agent
Teamsters Local 492
505-344-1925 Ext 14
October 15, 2021 - As most of you have already heard, IATSE is set to strike at 12:01 am on Monday October 18, should they fail to reach an agreement with AMPTP.
Everyone must understand that the Teamsters are NOT on strike! However, we will stand in solidarity with our sisters and brothers of IATSE. Most productions will be shut completely down, but not all are bound by the strike. Movie of the Week productions are exempt from the strike, so if you are working on "Maggie Moore(s)" or "Rust", you may continue to work. HOWEVER, nobody is to cross a picket line for any reason. There has been no confirmation about where the picket lines will be set up, but the assumption is that there will definitely be pickets at all of the studios.
Since the Teamsters are NOT on strike, if you are currently working and get called to work, you must make an attempt to report. That means that you will have to go as far as the picket lines and let your Captain know that you are at the picket line, but will not be crossing for safety reasons.
As far as strike benefits, there are none because the Teamsters are NOT on strike. However, if you are working and the strike commences on Monday, you will be eligible to apply for unemployment benefits.
Should the strike happen, it is unknown how long it will last. We can all speculate, but nobody knows for sure, so everyone needs to prepare to support our IATSE family for the long haul.
We are Teamsters Local 492 strong, union strong and we stand in solidarity with IATSE during their fight for a good contract and better conditions. Better conditions for them means better conditions for us.
I will keep everyone updated as I get information, but feel free to reach out to me with any questions you may have.
September 27, 2021 - Local 492 would like to give an update on what everyone is hearing regarding the upcoming "strike authorization vote" that IATSE will be taking soon. This vote will encompass all Hollywood locals and 13 unions covered by the Basic and Videotape agreements. At this point, negotiations between AMPTP and IATSE have stalled and IATSE President Matt Loeb will not be recommending a contract to his membership that does not resolve its core priorities. IATSE is not making unreasonable requests, including reasonable rest during and between workdays and weekends and equitable pay on streaming and "New Media", plus a living wage for the lowest paid workers. We, as Teamsters, know what it is like to not have enough rest at night and be on the road tired and falling asleep. We have even lost some of our own when they fell asleep at the wheel after working 18+ hours.
On October 1st, 2021, IATSE will be holding a "strike authorization" vote with its membership. On October 4th, 2021, IATSE will go back to the table with AMPTP. If the membership authorizes a strike and things do not progress on Monday, IATSE might go on strike as early as Tuesday October 5th. Please prepare yourselves for this, as Teamsters Local 492, the IBT and all Teamsters Locals across the country will stand in SOLIDARITY with our sisters and brothers in IATSE. Productions in NM will shut down during the strike and Teamsters will NOT cross picket lines.
It is unknown how long the strike will last if/when it happens. Since the Teamsters are not on strike, you will not be eligible for strike benefits. However, you will be eligible for unemployment.
IATSE is paving the way for better safety, respect and dignity in the workplace, as the Teamster negotiations will follow. Their fight will make ours easier when the time comes, so please let your fellow IATSE family know that the Teamsters stand with them in their fight and will keep and will fight the fight along side of them. We are one film family in NM and we are all in this together.
Updates will send out as I receive them, so please check in with either myself or the stewards.
In Solidarity,
Melissa A. Malcom-Chavez
Teamsters Local 492 Trustee/Film BA

492 Teamsters Leaflet XPO Freight in Albuquerque
8/2/2021 - Today, Teamsters Local 492 President Trey White, Freight Business Agent Tracy McCarty and Trustee/BA Andrew Palmer spent about 3 hours leafleting the XPO facility on the west side of Albuquerque. We handed out flyers to the XPO drivers to let them know about the recent contracts that were ratified in Miami and in New Jersey after a 6 to 7 yearlong battle to get a contract with this company.
Following a six-year battle, from organizing to completed contract, workers at XPO Logistics in Miami made history on Saturday, July 10 when they voted unanimously to ratify the first Teamsters contract at the transportation and logistics giant, which puts the workers' rights and work lives in a legally binding written contract for the first time.
"XPO management said workers in the U.S. would never ratify a contract, but never is now," said Jim Hoffa, Teamsters General President. "I applaud the workers who stood strong and united over the past six years, despite the company's horrific anti-worker actions and delays."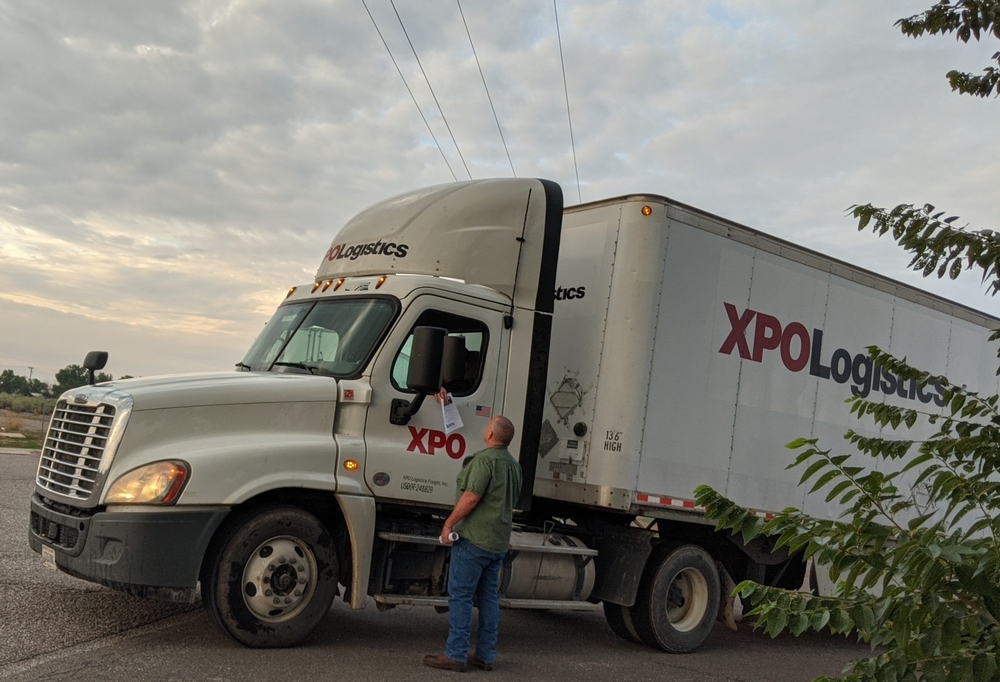 "This historic event is the result of nearly six years of bargaining, company law breaking, and delays by XPO, which purchased Con-way Freight in late 2015," said Ernie Soehl, Director of the Teamsters National Freight Division.
The drivers and dockworkers at the former Con-way Freight voted to join Local 769 in December 2014. While thousands of workers at XPO in Europe belong to unions, this is the first ever Teamster contract at the company and paves the way for more to come.
"Workers have picketed, leafletted, filed labor charges, testified in court, filed lawsuits, conducted a ULP strike and more to win justice, and now that justice is here with the ratification of their first contract," said Josh Zivalich, President of Teamsters Local 769 in Miami.
"We remained strong, united and focused here in Miami and we never quit our fight for justice," said Mike Zangrillo, a driver. "I urge my coworkers in other locations to fight for a fair contract and to not give up."
The contract includes "just-cause" protections, a grievance process, successorship language, job protection language and retirement protections, among other improvements.
To hear more about the recent ratified contracts at XPO, click here.

Creation of Federal Paid Day Off is Recognition of National Scourge of Slavery
(WASHINGTON) – The following is a statement from Teamsters General President Jim Hoffa and Marcus King, Director of the Teamsters' Human Rights and Diversity Commission, on the signing of legislation that would memorialize Juneteenth, the June 19 anniversary of the day in 1865 when enslaved African Americans in Texas were finally notified they had been freed as a result of the end of the Civil War two months earlier, as a paid federal holiday.
"One year ago, in the wake of unjustified deadly actions taken by some members of law enforcement against Black Americans across the country, the Teamsters endorsed a Juneteenth federal holiday to recognize the day more than a century and a half ago when the last of those enslaved received their legal freedom. We are pleased to see President Biden and Congress follow through with its creation.
"But just as real justice for African Americans didn't result from that notification in 1865, the fight for equality doesn't end here either. This union recognizes that we all must do more to ensure people of color can live their lives and have full access to the same rights and freedoms that so many of us enjoy without fear of reprisal. Creating a Juneteenth holiday doesn't do that by itself, but it will continue America's evolution towards truly bringing liberty and justice for all, and acknowledging our shared history.
"For more than a century, the Teamsters have stood for racial equality. And we remain resolute in continuing to serve as leaders in ensuring that all workers, no matter their race, ethnicity, religion, gender identity or sexual orientation, receive equal pay and protections on the job. That's what this union can do to make sure our nation lives up to its promise."

UPS Teamsters Will Get A COLA Increase in 2021
In accordance with Article 33 of the National Master UPS Agreement and with the release of the May Consumer Price Index (CPI), there will be a .33¢ per hour (0.8250 cents per mile for mileage pay) Cost of Living Allowance on August 1, 2021 for all seniority employees who have completed their appropriate wage progression schedule. The COLA increase is in addition to the negotiated annual wage increase.
Employees who have not completed their appropriate wage progression on the effective date of the COLA increase, shall receive the adjustment on a prospective basis on the date they complete their wage progression schedule.

Eldorado Area Water and Sanitation District Ratify First Contract!
Teamsters Local 492 would like to announce the newest Members added to the Teamster family in New Mexico.
Today, 5/19/2021, the workers at Eldorado Area Water and Sanitation District have unanimously voted to ratify their first ever contract! In an NLRB representational election in August of 2020, the workers at Eldorado Area Water and Sanitation District also voted unanimously in favor of having Teamsters Local 492 represent them. We have spent about a year in total between the start of the organizing campaign, the contract negotiations, to finally getting these new Teamsters a great first contract tentatively agreed to and then ratified.
The Eldorado Area Water and Sanitation District provides safe and clean reliable water services for customers in the Eldorado area of Santa Fe county New Mexico. Melissa Malcolm-Chavez** will be the Business Agent for this new group. Melissa along with President Trey White*, organized this new group and also negotiated their new contract.
Teamsters Local 492 would like to congratulate these new Teamsters and we look forward to working with this new group of members now and in the future!
Teamsters Local 492 now represents about 3400 Teamsters covering 28 different contracts at 65 locations across the entire State of New Mexico plus the numerous additional contracts and locations in the movie and pipeline industries.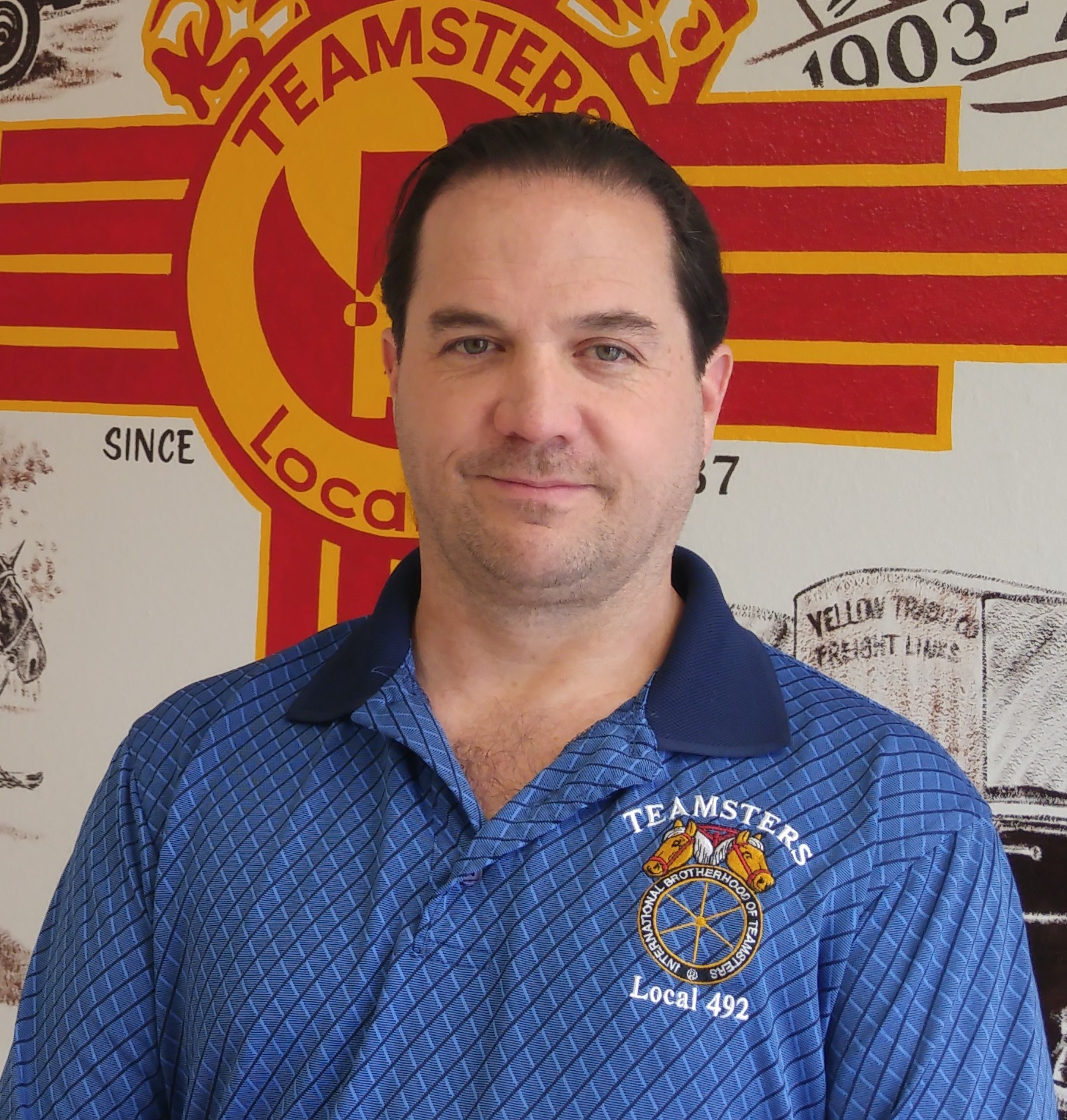 *Trey White is the 492 President & Business Agent for UPS Feeder Drivers and the UPS Comanche HUB ABF & YRC Dock, Office, Shop, & City Drivers and also covers Sandia Metal Trades & PAE-Perini. Trey also serves as the 492 Organizer, Administrator for both 492 Websites (Teamsters492.org & Local492film.org), Negotiator for all Local Contracts, Event & Training Coordinator, and he also handles all IT issues, Communications and Building/Property Maintenance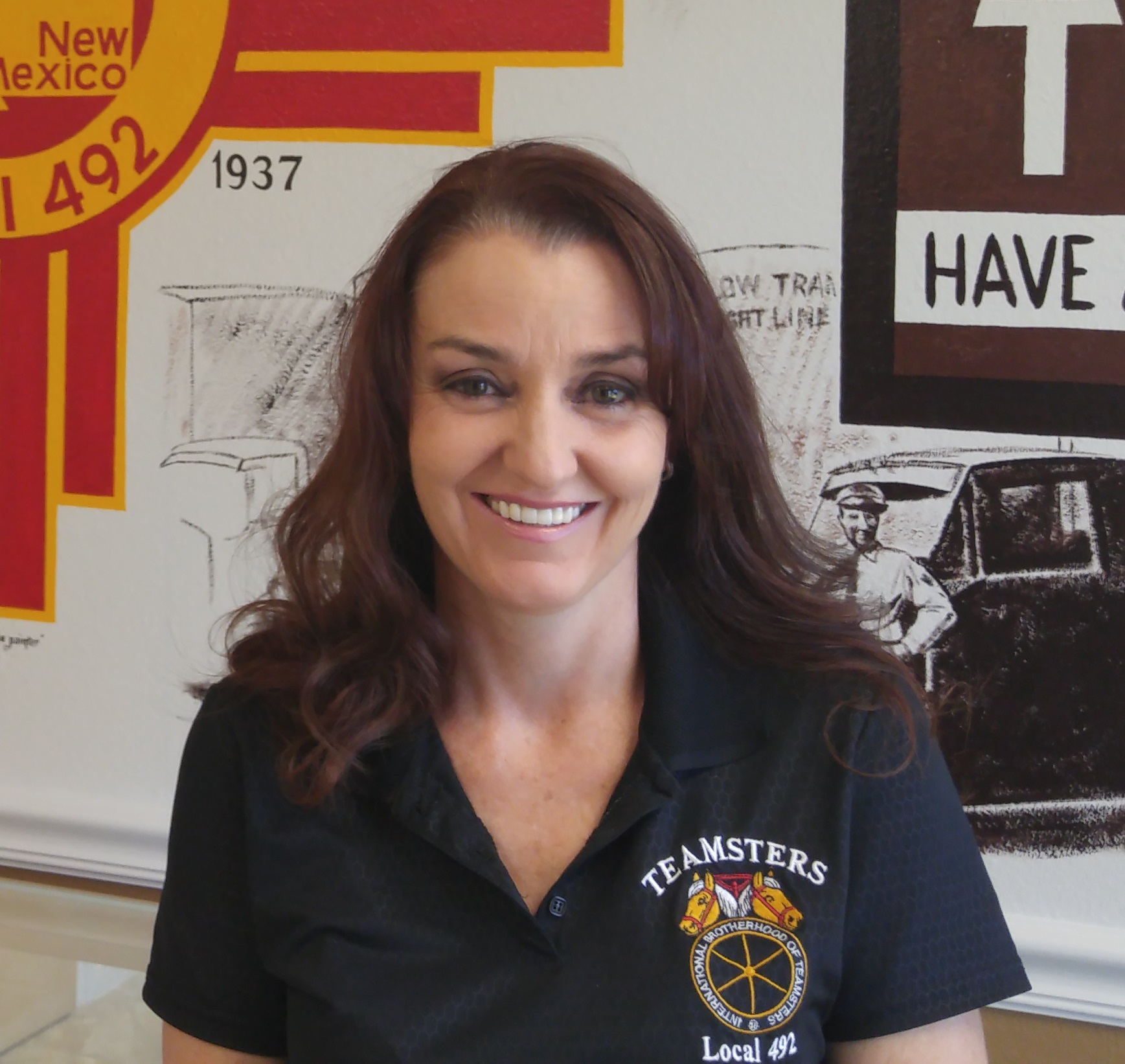 **Melissa Malcom–Chavez is the Business Agent for the Movie/Film Division, UPS Gateway, Eldorado Area Water & Sanitation District and ATF. She is also the 492 Political Coordinator and serves on the Boards of the New Mexico Federation of Labor, Sandia Metal Trades, Southwest Multi-Craft Health Care Fund and the NM Building Trades.

33% Western Teamsters Pension Bonus Granted for Service in Years 2021 – 2023
The Trustees of The Western Conference of Teamsters (WCT) Pension Plan have granted a special three-year 33% pension bonus under the Plan's contribution account benefit formula for each of the years 2021, 2022, and 2023, increasing the benefit percentage from 1.2% to 1.6% of contributions for those three years. Therefore, Plan participants will earn a higher pension for every hour of covered work for 2021, 2022, and 2023. This is on top of the 25% pension bonus granted for covered work in 2020 at the accrual rate of 1.5% of contributions. The Trustees were pleased to grant this additional bonus in light of the Plan's continued funding improvements and accelerated path toward its funding targets.

Opinion - by 492 Teamsters President Trey White
Amazon Warehouse Election in Alabama
4/9/2021 - Over 2,000 people signed cards asking the NLRB for an election at the Alabama Amazon facility, but in the end, a majorty of those people either didn't vote or were intimidated into changing their minds.
Unfortunately, less than 50% of the 6,000 workers at the Alabama Amazon Warehouse voted in this election. 738 voted for going union, but 1798 workers voted against. The fact that 3,000 of these workers didn't even vote is disturbing but predictable since the corporations have all of the advantages right now when it comes to Union representation elections.
If workers are ever going to be able to rise up, labor laws must be changed so that companies cannot intimidate workers during elections and the elections are conducted much quicker. Then, ALL the workers must cast their ballots in order for there to be real change in the work place.
In a statement, Retail, Wholesale and Department Store Union (RWDSU) President Stuart Appelbaum said Amazon "left no stone unturned in its efforts to gaslight its own employees. We won't let Amazon's lies, deception and illegal activities go unchallenged, which is why we are formally filing charges against all of the egregious and blatantly illegal actions taken by Amazon during the union vote," Appelbaum said. "We demand a comprehensive investigation over Amazon's behavior in corrupting this election."
TEAMSTERS STATEMENT ON THE ELECTION RESULTS FROM THE VOTE AT THE AMAZON FACILITY IN BESSEMER, ALABAMA
"The Teamsters commend the efforts of Amazon workers in Bessemer who came together to fight for respect and to provide a better life for themselves and their families," said Randy Korgan, the International Brotherhood of Teamsters National Director for Amazon. "Despite going up against one of the world's richest men in a country with weak labor laws, the workers in Bessemer brought national attention to issues that many non-union workers face in this industry. This fight is not over, and the Teamsters will always support workers who want to build power by standing together and demanding dignity, a safe workplace, and a fair return on their work."
YRC Freight, Holland and New Penn Local Unions FROM: National Freight Division DATE: March 17, 2021 RE: Teamsters to Receive Bonus Pool at YRC Freight, Holland and New Penn We have been advised that YRCW (Yellow) has indicated that it is paying certain bonuses to various Company officers and/or executives.
Download:

YRCW_Bonus2021.pdf

President Biden Just Protected Pensions!!!!
In the last election we asked every candidate, regardless of their party affiliation, if they would work to secure our pensions. Then we got to work to elect those who made that promise.
Democrats in the House and Senate wasted no time fulfilling that promise. The pension plans for millions of Teamsters were already vulnerable and the impact of COVID-19 only worsened the situation, so lawmakers included a solution in the American Relief Plan. And now President Biden just signed it into law — delivering on that promise and securing more than 1.4 million pensions for years to come!
For more the two decades, the Teamsters – led by General President Jim Hoffa – have been working to secure a pension fix. The union has spent the last six-plus years pushing back on terrible pension legislation enacted in late 2014 that allowed struggling multiemployer pensions to cut earned benefits. [To read more about the Teamsters' efforts, click here.] Today's signing brings to a close that chapter and can bring peace-of-mind to workers and retirees who only want to enjoy their golden years.
"President Biden's signature on this legislation is the culmination of years of hard work by so many with ties to this union," Hoffa said. "But no one fought harder than affected members and retirees who attended countless meetings, repeatedly lobbied lawmakers and rallied to the cause. The Teamsters are grateful for their dedication to get this done."
The Teamsters also want to thank Rep. Richard Neal (D-Mass.) and Sen. Sherrod Brown (D-Ohio) for sponsoring legislation and recognize the resolve that Rep. Neal showed by filing pension legislation as his first act when he became chairman of the House Ways & Means Committee.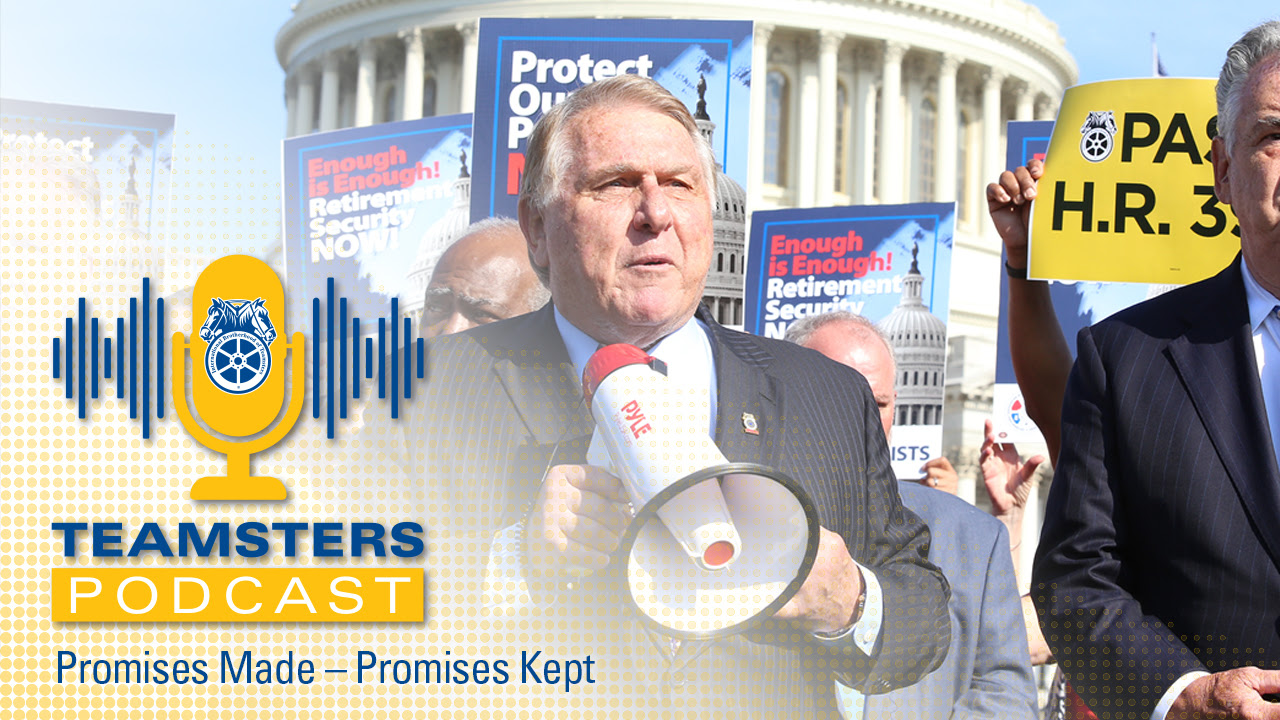 Listen to this special edition of the Teamsters Podcast and hear how President Biden and Congress delivered pension relief to more than 1 million Americans after years of lobbying on the issue by the Teamsters.
As part of the ARP, more than 50 Teamster pension plans – including its largest, the Central States Pension Fund – are eligible for assistance at the outset of the bill's enactment, with more of the union's plans becoming eligible in 2022. Under the measure, money to assist eligible plans will come directly from the U.S. Treasury Department in the form of grants which would not need to be repaid. Plan participants will receive 100 percent of their earned pension benefits. The culmination of those efforts came rather swiftly after many previous starts and stops that had at times raised the hopes of affected families, only to dash them again. The President, working with House Speaker Nancy Pelosi and Senate Majority Leader Chuck Schumer, had promised to tackle pension reform in the lead up to the 2020 election if given the reins of power. And some 50 days after Biden took office, they did just that.
"Teamster members told the union as it ramped up its election efforts that pension security was their top concern," Teamsters General President Jim Hoffa said. "With that in mind, the union put together a plan to help elect President Biden and other lawmakers who promised to prioritize the retirements of hardworking Americans. They followed through with that promise and delivered for us."
As part of the ARP, more than 50 Teamster pension plans – including its largest, the Central States Pension Fund – are eligible for assistance at the outset of the bill's enactment, with more of the union's plans becoming eligible in 2022. [To read more about how the ARP will help workers, click here.]
Under the new law, money to assist eligible plans will come directly from the U.S. Treasury Department in the form of grants which would not need to be repaid. Plan participants will receive 100 percent of their earned pension benefits. Affected members and retirees are encouraged to contact their pension fund in the coming days to find out more information specific to their benefits.
How it Happened
The COVID-19 stimulus bill that included multiemployer pensions was considered under reconciliation, a legislative process that allowed the Senate to pass the legislation with a simple majority of votes instead of the 60 votes needed under regular rules.
Under the leadership of House Ways & Means Chairman Richard Neal, a long-time pension reform advocate, pension language was inserted in the broader House bill in committee and cleared legislative attempts to have it removed.
Teamster members, retirees and officials had spent countless hours in recent years attending meetings, lobbying lawmakers on Capitol Hill and even testifying before Congress trying get elected officials to implement changes that would preserve the retirements they contributed to throughout their working days.
The Teamsters and other unions had fought off efforts to slash multiemployer pension benefits for struggling plans that would have cut benefits in excess of two-thirds in some cases. The move jeopardized the financial security of hundreds of thousands of retirees and those nearing retirement who had planned to live off their pensions during their golden years.
Several came to Washington to tell their stories. They were people like Rita Lewis, widow of former Local 100 President Butch Lewis, who told members of the Senate Finance Committee in March 2016 how her husband was so stressed by the efforts to cut benefits to his family and other retirees that it led him to have a massive stroke that killed him. Legislation to save pensions was later named after him.
"These cuts are hitting us like a ton of bricks and none of us has time to prepare for the cuts or make additional accommodations like we might have done if we were still young," she said. "It's cruel to cut our pensions now when few of us can go back to work, leaving us without options to make up the difference in our incomes."
Kenny Stribling, a retiree with Local 200 in Wisconsin who also serves as co-chair of the Milwaukee Committee to Protect Pensions, told a similar story to members of the Joint Select Committee on Solvency of Multiemployer Pension Plans when he testified before it in July 2018. He said uncertainty over the financial status of the Central States plan wore on his health and that of his wife, who had terminal cancer at the time. She has since passed away.
"This is an issue of fairness, of keeping promises to working Americans who did everything right," he said. "We did our part, forgoing raises and job improvements for our retirement security. And we are simply asking you to preserve what is due to us."
Beyond speaking before Congress, Teamsters also came by the thousands to rallies on Capitol Hill in April 2016 and the Ohio State Capitol in Columbus in July 2018 to stress the importance to lawmakers about finding a pension solution that would allow them to support their families.
And that doesn't even take into account the Washington, D.C. visits by members and retirees over the past six-plus years that were almost too many to count. Many traveled repeatedly on their own dime to let their elected officials know finding a solution was critical to more than a million hardworking Americans.
Efforts to reform multiemployer pensions did make progress during the last session of Congress, when a bipartisan collection of members of the House approved legislation in July 2019 to fix them. But the bill languished in the Senate and was never taken up, despite pleas to then-Senate Majority Leader Mitch McConnell to do so.
Election was Key
That's why Teamster members themselves decided they had to make changes at the ballot box as part of the 2020 election to get this done. Many got out on the campaign trail in fall 2019 and let candidates know that pension relief was essential and needed to be supported.
And candidates in turn responded. All six of those who participated in the Teamsters Presidential Candidate Forum held in Cedar Rapids, Iowa in December 2019 pledged to support pension reforms that would save these hard-earned retirements, including now-President Biden. It was a message Biden would repeat frequently after becoming the Democratic nominee, and even did so in a special video to Teamster members in the closing days of the campaign.
This is how the Teamsters reached their goal of having pension reform enacted. Promises made, promises kept.

Amazon's Anti-Union Drive Shows Why US Labor Law Is Broken
2/24/2021 - Article by David Doorey from Jacobinmag.com
Amazon workers in Alabama are voting on whether to unionize, but the company is able to bombard them with anti-union propaganda. In Canada, by contrast, union votes are held quickly, making it harder for companies to stack the deck — a model that can work in the United States.
In February 2020, a Canadian labor tribunal ruled that couriers delivering food for delivery service Foodora in Toronto were, in fact, employees, not independent contractors. This decision entitled Foodora workers to unionize and engage in collective bargaining.
The Foodora campaign in Toronto stands in stark contrast to the story unfolding in Bessemer, Alabama, where some 5,800 Amazon employees began voting last week on whether to be represented by the Retail, Wholesale and Department Store Union (RWDSU).
In an attempt to fight off its workers' attempt to organize, Amazon requested that the election be held in person, despite the threat of COVID-19. The bid proved unsuccessful and election ballots have been mailed to workers. However, the company still has weeks to argue its position while the voting takes place. In January, it secured the services of an anti-union consultant.
If Ontario's labor laws were in effect in Alabama, the employees would have voted a week or so after the union filed its petition with the National Labor Review Board on November 20. There would still be ongoing litigation about various matters related to the vote, but the ballots themselves would have been cast months ago, frozen until they are ready to be counted.
Amazon would have no motivation to campaign against the RWDSU after the employees had already voted, so there would be relative peace in Bessemer right now. Instead, the National Labor Relations Act allows for a pitched battle, permitting Amazon to hold its employees captive in a months-long propaganda campaign to dissuade them from choosing collective bargaining.
The Canadian Model
In Ontario, votes are usually conducted within a week of the date a union petitions to represent workers. In the Foodora case, the vote was delayed an extra day to account for the time needed to organize an electronic ballot of nearly 1,200 couriers scattered across the greater Toronto area. Because of COVID-19 health measures, the Labor Board accepted Foodora's argument that an electronic ballot was appropriate.
Electronic certification ballots are relatively new to Canada, but the pandemic has demonstrated that they work just fine. In-person voting will remain the norm once the pandemic is past, but the much slower mail-in certification vote option is now all but dead.
In the Canadian system, the ballots are cast quickly. If any legal disputes relating to the vote remain, the ballots are "sealed" (not counted) until those issues are litigated afterward. This simple rule eliminates any practical impediment to conducting votes within a week or so of the union's petition.
In the Foodora case, the ballots were counted months after they were cast and after voter eligibility issues were resolved. In the end, approximately eight hundred workers voted, with almost 90 percent voting in favor of being represented by the Canadian Union of Postal Workers.
Employers Aren't Short on Time
Critics have long identified the delay in holding union elections as a major problem with the US model of freedom of association. Employers argue that an extended campaign period is necessary to ensure that employees have the opportunity to receive both sides of the story. The business lobby describes proposals to hold votes less than a month from the date of a union's petition as "ambush" elections.
Recently, the CEO of the National Association of Manufacturers (NAM) argued that shorter time frames deprive workers of the time they need for making "important and informed decisions like whether or not to join a union." More revealingly perhaps, the NAM chief also said that short campaigns deny employers "adequate time to prepare." Employers claim that they need months, not days or weeks, to explain to employees why they should reject collective bargaining.
In Canada, the notion that months would be required for this process seems preposterous. Canadian employers, including many US-based multinationals operating in Canada, have had no difficulty conveying their anti-union messages to employees in the space of one week. Employer-side labor law firms have boilerplate seven-day plans ready to go, outlining steps that employers should take on each day preceding the vote.
Anti-union messaging is not rocket science. The message from employers is always the same: they prefer to deal with workers individually rather than collectively through a union ("an outside third party") and claim that employees will be better off without unionization. They remind their workers that you can still vote against unionization if you signed a union card, depict the union as a business that will try to collect union dues, and warn that a union cannot guarantee everything it might promise during the campaign.
In one form or another, that is the extent of the employers' lawful message every time. True, an astounding number of US employers go further and make unlawful promises or threats, linking a vote to unionize with adverse job-related consequences. But no one argues — publicly at least — that votes should be delayed so that employers have more opportunity to engage in unlawful conduct.
Undue Influence
The Canadian model is by no means ideal for unions, of course. Conservative governments introduced the "quick vote" model that today is used in most Canadian jurisdictions in the 1980s and '90s. They did so against strong resistance from the labor movement, since quick votes replaced the previously dominant model of "card check" union certification.
In a card check model, a union can be certified without the need for a vote if a majority of employees sign union membership cards. Studies have found that the move from card check to mandatory quick certification votes in several Canadian provinces led to a significant drop in successful unionization efforts.
Card check makes it harder for employers to wage lengthy anti-union campaigns, which is why unions in Canada and the United States prefer it to mandatory certification votes. For the same reason, right-wing politicians and the business lobby in Canada are generally quite happy with the quick vote model and in no particular hurry to extend the length of time needed.
In the 1990s, the United Steelworkers petitioned to represent workers at a Walmart store in Windsor, Ontario — just across the border from Detroit. Walmart executives conducted daily captive audience meetings, engaged in one-on-one conversations with employees, and flooded employees with "vote no" literature for six straight days preceding the certification vote.
No one dared suggest that the Walmart employees had not received their employer's message when they cast their ballots on the seventh day. In fact, the Labor Board ruled that Walmart's anti-union messaging was so overwhelming and oppressive during those six days that it constituted illegal "undue influence," undermining the Board's capacity to measure the true wishes of the employees through a ballot. Because of Walmart's unlawful conduct, the Board certified the union.
In Alabama, the RWDSU filed its petition to represent Amazon employees in November, but the voting will be conducted between February 8 and March 29. At four months, the time between the filing of the petition and the close of the vote is a shockingly long period, during which the law permits Amazon to subject its employees to an onslaught of negative messaging that will dominate their lives for weeks on end.
The company has taken full advantage of this opportunity, ordering employees to attend captive audience meetings during their working hours, barraging employees with up to five texts per day, engaging in one-on-one discussions with employees, and even posting anti-union flyers in bathroom stalls.
With the exception of the captive audience meetings, which are prohibited once the ballots are mailed out, this can all continue until the end of the voting period in late March. US labor law grants Amazon months to bombard its employees with the identical message Walmart managed to convey effectively in just seven days in Canada.
Amazon's behavior no longer has anything to do with conveying information. By now, every Amazon employee knows full well the company's position. They have known for months. There is a line between conveying relevant information and smashing employees over the head with propaganda. Amazon is well past that line, with the full support and encouragement of a failed legal model that is in desperate need of reform.