TEAMSTERS AUTHORIZE STRIKE AT UPS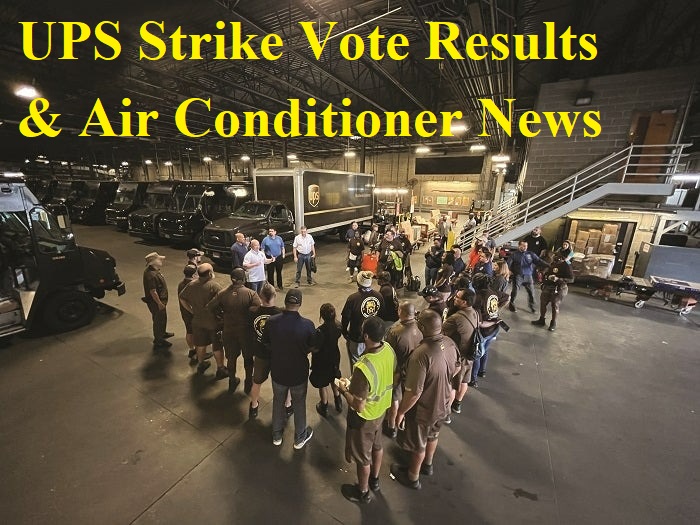 Teamsters Vote By 97 Percent to Strike if UPS Fails to Deliver Strong Contract
6/16/23 - UPS Teamsters have voted by an overwhelming 97 percent to authorize a strike, giving the union maximum leverage to win demands at the bargaining table.
The powerful vote allows the UPS Teamsters National Negotiating Committee to call a strike should UPS fail to come to terms on a strong new contract by July 31, when the union's current National Master Agreement expires. The Teamsters represent more than 340,000 UPS package delivery drivers and warehouse logistics workers nationwide.
"This vote shows that hundreds of thousands of Teamsters are united and determined to get the best contract in our history at UPS. If this multibillion-dollar corporation fails to deliver on the contract that our hardworking members deserve, UPS will be striking itself," said Teamsters General President Sean M. O'Brien. "The strongest leverage our members have is their labor and they are prepared to withhold it to ensure UPS acts accordingly."
National negotiations between the Teamsters and UPS began April 17. Union representatives and rank-and-file members serve on the national negotiating committee.
The UPS Teamsters National Master Agreement is the largest private-sector contract in North America. Full- and part-time UPS Teamsters are working in lockstep for a new five-year agreement that guarantees higher wages for all workers, more full-time jobs, an end to forced overtime and harassment from management, elimination of a two-tier wage system, and protection from heat and other workplace hazards.
"This strike authorization vote sends a clear message to UPS that our members are damned and determined to take necessary action to secure a historic contract that respects their dedication and sacrifice," said Teamsters General Secretary-Treasurer Fred Zuckerman. "Our members are the backbone of UPS, and they are the reason this corporation hauled in more than $100 billion in revenue just last year. It's time for UPS to pay up."
6/14/2023- TEAMSTERS SECURE AIR CONDITIONING FOR UPS FLEET IN MAJOR TENTATIVE DEAL
Agreement on Air Conditioning Comes as UPS Teamsters Turn Out in Overwhelming Numbers for National Strike Vote
The Teamsters and UPS agreed to tentative language to equip the delivery and logistics company's fleet of vehicles with air conditioning systems, new heat shields, and additional fans during national contract negotiations on Tuesday.
The tentative agreement follows a week of intense lobbying by the Teamsters National Negotiating Committee on UPS negotiators to recognize the enormous dangers of heat-related issues facing UPS Teamsters nationwide. The new contract language would mandate UPS equip in-cab air conditioning systems in all larger delivery vehicles, smaller sprinter vans, and all of UPS' most recognizable brown package cars purchased after Jan. 1, 2024. Regular package cars make up the majority of the company's 93,000 vehicles within its fleet.
Two fans would also be installed in the cab of all package cars following ratification of a new contract. All newer non-electric UPS package cars and vans would be installed with exhaust heat shields, further protecting Teamsters from dangerous heat. Additionally, newly existing and purchased package cars going forward would be retrofitted or equipped with air induction vents in the cargo compartments to alleviate extreme temperatures in the back of the vehicles.
"Air conditioning is coming to UPS, and Teamster members in these vehicles will get the relief and protection they've been fighting for," said Teamsters General President Sean M. O'Brien, following a long day of negotiations. "The union's entire national committee and our rank-and-filers should be commended for staying in this fight and making their priorities known to this company. We are here to protect more than 340,000 UPS Teamsters and get the best contract in the history of our union with this company. Today's progress was a significant step towards a stronger new reality for so many workers and their families."
Negotiating subcommittees continue to meet. The Teamsters on Tuesday also reached tentative agreements on more than a dozen issues within subcommittees and are preparing new proposals to present to UPS at the national table. Bargaining will resume on June 14 in Virginia.
Meanwhile, local unions continue to report overwhelming turnout nationwide among rank-and-file UPS Teamsters participating in the strike authorization vote.
In just the last eight days, a national groundswell of Teamster action has erupted, stirring UPS hubs in major cities, remote rural barns, and everywhere in between. UPS Teamsters are packing union halls and forming lines that spill into the parking lots as they eagerly cast their votes to authorize a strike at the world's largest package delivery company.
More than 170 Teamster local unions representing UPS members snapped into action after the National Negotiating Committee announced the start of the strike vote last week. Rapid coordinated balloting nationwide has demonstrated the unity and power of UPS Teamsters in every city and state. Authorization results will be announced on Friday, June 16.
All UPS Teamsters are strongly encouraged to vote YES to authorize the National Negotiating Committee to call a strike if UPS fails to deliver the best contract Teamsters have earned and deserve. A resounding YES vote means more leverage at the bargaining table, signaling to the company that Teamsters are ready to deploy the full strength of our union to win this fight.